Cairns Queenslander

Popular Holiday Accommodation
Multi Million $ Refurb | FREE Wi-Fi
Kids Stay FREE | Quiet & Clean
Popularity

Service

Value

Overall

Based on 75 ratings
Cairns Queenslander Rooms
Standard Suite
FROM $113 per night
Deluxe Hotel Room
FROM $131 per night
2 Bedroom Standard
FROM $143 per night
1 Bedroom Deluxe
FROM $158 per night
2 Bed Deluxe (dual key)
FROM $195 per night
Cairns Queenslander Info
CAIRNS QUEENSLANDER

The Cairns Queenslander Hotel & Apartments offers affordable accommodation for one to six adults. Families are most welcome. Choose from modern hotel rooms, serviced apartments, suites and family apartments. Children to 14 years stay FREE In existing bedding. The property is situated within easy walking distance to Cairns Esplanade, and provides an ideal comfortable base from which to explore the surrounding Tropical North region.
What makes it Great?
Ideal for families and couples
FREE Wi-Fi
Children to 14 yrs stay FREE in existing bedding
Honeymooners receive bottle of Australian Sparkling Wine
10% discount when dining for dinner at Steak on Lake
Cairns Queenslander Facilities:
2 outdoor swimming pools
2 Elevators
Restaurant "Steak on Lake"
Room Service - Dinner 5:30pm to 9:30pm
Off-Street car parking
Late check-out shower room and luggage storage
Safety deposit boxes
Guest coin operated laundries
Poolside barbeque areas
Guest luggage storage
Wi-Fi Internet Access (fee applies)
24 hour reception
Same Day Laundry / Dry Cleaning Service
Sleep Easy - Prior to guest arrival bed mattress & pillows naturally sanitised for guest health & well-being.
Housekeeping daily room tidy (full service 7th day of stay)
Room Facilities include:
Private bathroom facilities
Refrigerator
Ceiling Fans & Air-Conditioning
Direct Dial Phone (STD/ISD)
TV/Radio/Clock Alarm
Iron and Ironing Board
Hair Dryer
Tea and Coffee Facilities
Balcony with table & chairs
Satellite TV
Wi Fi Available
Additionally:
Deluxe Hotel Room (Jasmine) :
A spacious contemporary Hotel room with balcony.
FREE light breakfast daily
Bedding consists of King or Twin bedding. Additionally a Single Bed (Triple) combined and a sofa bed (Quad) can be provided. Rate is for 2 people but can accommodate up to 4 people.
Standard Suite (Hibiscus):
Spacious open plan room with a kitchenette and dining area plus a balcony
Private facilities include a shower above bathtub
Kitchenette includes a microwave and refrigerator
Traditional tropical furnishings
Bedding options are one king bed or one queen bed (double) or two singles (Twin) plus one single bed (Triple). Can accommodate a maximum of 3 guests.
1 Bedroom Deluxe Apartment (Orchid):
Contemporary One bedroom apartment designed for guests who may wish to self-cater.
King bed or two king single beds (twin) or combined with a deluxe sofa bed (Triple)
Modern kitchen featuring microwave, stove top & full size refrigerator
Monsoon Shower in Bathroom
Washing Machine / Dryer
2 Bedroom Deluxe "Dual Key" Apartment (Frangipani):
Combining a Deluxe Hotel Room and a 1 Bedroom Deluxe Apartment make up a 2 Bedroom Deluxe Apartment
2 Bedroom Standard Apartment (Mimosa):
Traditional style 2 Bedroom Apartment with Tropical furnishings
Kitchen includes refrigerator and microwave and 2 burner cooktop
Private Bathroom Facilities include one bathroom only, shower above bath tub
Washing Machine / Dryer
Hair Dryer
Balcony or Garden Terrace (not guaranteed)
1 Queen + 2 Singles, or 1 Queen + 1 Single + 2 Bunk Beds
Cairns Queenslander Locality:
Cairns City / CBD – 25 min walk
Cairns Esplanade – 80 metres
Cairns Airport - 10 min drive
Reef Departure Point – 25 min walk
Grocery store (Woolworths) – 25 min walk
Cairns Central – 30 min walk
DFO – 10 min drive
Skyrail Caravonica – 15 min drive
Freshwater Station – 15 min drive
Trinity Beach – 25 min drive
Palm Cove – 30 min drive
Port Douglas – 1 hour drive
GREAT NEWS! All payments made to Travstar do not incur a credit card surcharge.
Cairns Queenslander Packages
Queenslander Getaway Package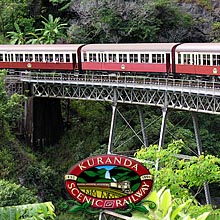 4 NIGHTS ACCOMMODATION
CAIRNS QUEENSLANDER
BREAKFAST DAILY
KURANDA TRAIN & SKYRAIL
GREEN ISLAND DAY TRIP

BASED ON
2 ADULTS
Cairns Queenslander Guest Reviews (15)

Monday, September 30, 2013
It was really too easy to book with Travstar. Thanks for making it easy.

Wednesday, September 25, 2013
We all hade a fantastic time the staff were just so helpful and happy to accommodate us on all levels. Great rooms good food. Thank you.

Wednesday, July 24, 2013
Close to the airport. Great value for your money. Bathrooms brand new and very modern. The desk staff were very helpful
Read all reviews

Friday, October 12, 2012
Thanks it was great your resort is in a great spot its very clean and well managed the staff were freindly we had a quick but good stay.

Thursday, September 20, 2012
Could not have found more suitable accommodation for our needs at such a reasonable rate.Would reccommend to others. Only negative was rowdy guests above us on our last night.

Friday, May 25, 2012
Loved it.

Friday, July 15, 2011
The staff at the Cairns Queenslander were helpful and friendly. They looked after us well and we were pleased with our stay. Thanks very much.

Saturday, May 08, 2010
The location is great for the price. The facilities is old and need repair and emprovment.

Tuesday, September 29, 2009
Huge two bedroom apartment. Everything you need for a self-contained stay. Would stay again.

Monday, July 27, 2009
a very good value for money choice for the lower budget traveller

Friday, July 10, 2009
You get what you pay for. Daily service did not always happen.

Saturday, April 25, 2009
Site states easy stroll & pleasurable walk from esplanade, shops etc. Unfortunatley the end were all the activities are i.e. the reef terminal, shops etc. Unless good walker needed a taxi.

Tuesday, July 15, 2008
Suited our needs very well.Cooking facilities and BBQ were good and saved the expense of eating out. The IGA store at the end of the Charles street was very convenient and it may be helpful to prospective clients if you mentioned this.

Tuesday, November 13, 2007
Enjoyable stay at ageing accommodation.

Friday, October 19, 2007
cairnsinfo.com internet site was easy to understand, and any questions that needed answered were done quickly.
Cairns Queenslander Rates
*** SPECIAL RATES - All prices shown in Australian Dollars
Prices valid from now until 31 March 2015
Standard Suite
PER NIGHT
Standard Suite (Hibiscus) | 1+ nights
$150
» STAY 4 PAY 3


(rate is average rate per night for 4 nights)

$113

(avg)

Deluxe Hotel Room
PER NIGHT
Deluxe Hotel Room + Breakfast (Jasmine) | 1+nights
$175
» STAY 4 PAY 3


(rate is average rate per night for 4 nights)

$131

(avg)

2 Bedroom Standard
PER NIGHT
Standard 2 Bed Apt (Mimosa) | 1+ night
$190
» STAY 4 PAY 3


(rate is average rate per night for 4 nights)

$143

(avg)

1 Bedroom Deluxe
PER NIGHT
Deluxe 1 Bed (Orchid) | 1+ nights
$210
» STAY 4 PAY 3


(rate is average rate per night for 4 nights)

$158

(avg)

2 Bed Deluxe (dual key)
PER NIGHT
2 Bed Deluxe Dual Key (Frangipani), 1+ nights
$260
» STAY 4 PAY 3


(rate is average rate per night for 4 nights)

$195

(avg)
All prices shown in Australian Dollars
Prices valid from now until 31 March 2015
Standard Suite
PER NIGHT
Standard Suite (Hibiscus) | 1+ nights
$150
Deluxe Hotel Room
PER NIGHT
Deluxe Hotel Room + Breakfast (Jasmine) | 1+nights
$175
2 Bedroom Standard
PER NIGHT
Standard 2 Bed Apt (Mimosa) | 1+ night
$190
1 Bedroom Deluxe
PER NIGHT
Deluxe 1 Bed (Orchid) | 1+ nights
$210
2 Bed Deluxe (dual key)
PER NIGHT
2 Bed Deluxe Dual Key (Frangipani), 1+ nights
$260
All prices shown in Australian Dollars
Prices valid from 01 April 2015 until 31 May 2015
Standard Suite
PER NIGHT
Standard Suite (Hibiscus) | 1+ nights
$155
All prices shown in Australian Dollars
Prices valid from 01 June 2015 until 31 October 2015
Standard Suite
PER NIGHT
Standard Suite (Hibiscus) | 1+ nights
$165
All prices shown in Australian Dollars
Prices valid from 01 November 2015 until 31 March 2016
Standard Suite
PER NIGHT
Standard Suite (Hibiscus) | 1+ nights
$155
CURRENCY CONVERTER
WE DO NOT CHARGE BOOKING FEES OR CREDIT CARD SURCHARGES
CALL US AND SPEAK TO ONE OF OUR LOCAL CONSULTANTS FOR
EXCELLENT PERSONALISED SERVICE AND LOCAL KNOWLEDGE
FREECALL: 1800 663 396
INTERNATIONAL CALLERS: +617 40402100
Cairns Queenslander Location Map
Cairns Queenslander Simple Enquiry
Need Help With Your Enquiry
Our Cairns Office is open again in 9 hours