The Hotel Cairns Info
THE HOTEL CAIRNS:
The Hotel Cairns offers travellers a tropical experience with a contemporary ambience. Located only one block from the Esplanade, and only a 10 minute walk to the marina, The Hotel Cairns is shaded by towering palm trees and maintains a secure environment with excellent facilities.

Why we like it?
Spacious rooms in a Queenslander style
Ideal for couples or solo travellers
Great Location - walk to restaurants and Esplanade
HOTEL FACILITIES:
24 hour reception
Check-in 2pm, Check-out 10am
Swimming Pool and Spa
New cardio-gym
Bike Hire
Reef and Pool Towels to use free of charge
Sun Lounge Area/ Terrace Lounge
Business Facilities
Free internet
Safety Deposit Boxes
Free Undercover Parking
Guest Laundry (charges apply)
Self rated 4 Star Hotel
Breakfast is served between 6.00am and 9.00am daily. Breakfasts feature an extensive choice of seasonal tropical fruits, pastries, cereals and a freshly cooked hot buffet.
---
ROOM FACILITIES:
Air Conditioning & Ceiling Fans
Bath and Shower combined
Flat Screen TV (Satellite/Cable), DVD/CD Player
Desk
Direct Dial Telephones
Hairdryer
Iron & ironing board
Linen and Towels provided
Refrigerator - bar size
Tea & Coffee making facilities
Plantation Rooms
Occupying the ground and first floor levels , the 22sqm Plantation Rooms are fully equipped hotel style rooms. Available in either 2 king single beds OR 1 king size bed configuration. Maximum 2 guests per room.
Tower Rooms

Located on the 2nd, 3rd and 4th level of the hotel, Tower Rooms have 33sqm of living area making them ideal for longer stays. Relax on your own private and spacious 7sqm balcony with views over Cairns to the Esplanade. Available in either a queen size bed OR the option for an extra single bed configuration. Maximum 4 guests (additional fees apply)
---
LOCALITY: Cnr Abbott & Florence St, Cairns
Cairns City / CBD – 3 min walk
Cairns Esplanade – 2 min walk
Cairns Airport - 10 minute drive
Barrier Reef Departure Point–3 min drive, 10 min walk
Woolworths – 3 min drive or 9 min walk
Cairns Central – 3 min drive or 14 min walk
Skyrail Caravonica – 15 min drive
Freshwater Station – 15 min drive
Trinity Beach – 25 min drive
Palm Cove – 30 min drive
Port Douglas – 1 hour drive
The Hotel Cairns Packages
Hotel Cairns Getaway Package






4 NIGHTS @ THE HOTEL CAIRNS
FULL BREAKFAST DAILY
GREEN ISLAND DAY TRIP INCLUDING
SNORKEL OR GLASS BOTTOM BOAT TOUR
KURANDA TRAIN & SKYRAIL RAINFOREST CABLEWAY

BASED ON
1 ADULT
4 night Outback, Reef & Rainforest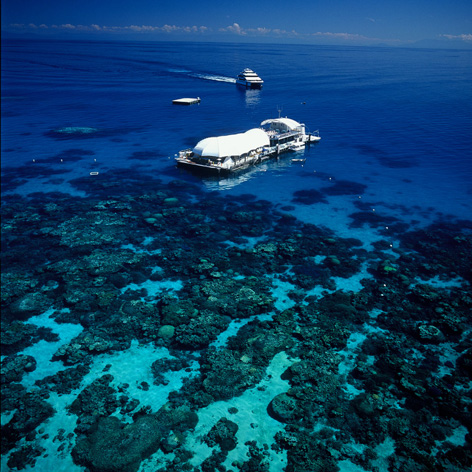 4 NIGHTS @ THE HOTEL CAIRNS & BREAKFAST
LUXURY GREEN ISLAND & OUTER REEF TOUR
EXPLORE CHILLAGOE CAVES & OUTBACK
4WD SAFARI TO CAPE TRIBULATION
FAR NORTH'S UNPREDICTABLE BEAUTY

BASED ON
1 ADULT
The Hotel Cairns Guest Reviews (143)

Friday, March 17, 2017
This hotel was an older facility but nice and clean and very convenient to the esplanade, reef terminal, shopping and restaurants. It had a nice breakfast each morning included in the package, pool, and laundry facilities.

Monday, November 14, 2016
front desk always friendly and helpful

Tuesday, November 01, 2016
We had a lovely room that would sleep 4 it was down on the first floor although it seemed to be on the ground we had table and chairs out on the patio. i felt we had gone on an overseas trip instead of in cairns
Read all reviews

Thursday, March 17, 2016
The hotel room was very nice but feel they could tidy up the pool area, chairs need fixing and could do with a good sweep other wise nice. Breakfast was good.

Sunday, August 23, 2015
Could not wish for better

Saturday, July 11, 2015
We had a nice stay. Breakfast was good. Friendly staff. Have no complaints.

Sunday, June 14, 2015
Sarah from reception was friendly and helpful excellent service

Tuesday, November 25, 2014
Location was excellent. Rooms very nice.

Saturday, September 20, 2014
Had a great stay, staff were extremely helpful and 4th floor room had fabulous view through to the harbour.

Thursday, August 07, 2014
The staff,inclusive breakfast,hotel and grounds were great. Excellent value for money and will not hesitate to book there for next years trip to Cairns.

Sunday, June 29, 2014
Very quiet and comfortable hotel. The bed was comfortable and the room large. It was convenient for all excursions and restaurants.

Saturday, March 15, 2014
Great location and value. Nice breakfast buffet. Service desk excellent, very helpful and friendly.

Tuesday, January 28, 2014
It was our second visit and we will be back. Good rooms , food and facilities and service.

Monday, January 27, 2014
Outstanding...staff excellent, hygiene excellent food excellent

Monday, January 27, 2014
Great , 2 minutes to town with easy walking. Hotel is a bit tired but suited our needs very well

Thursday, January 23, 2014
Defiantly not a 4 star hotel. Was a pleasant enough stay and breakfast had a good selection, staff were friendly and helpful.

Tuesday, January 21, 2014
Excellent staff, clean and nice rooms. Staff well informed on activities and what to do around cairns when you have no plans.

Saturday, January 11, 2014
Located in the heart of cairns, staff were helpful with any questions we had. Pool and rooms were relaxing and catered for all needs.

Tuesday, January 07, 2014
Our stay was magical. A big thank you to Kieran Forsythes who made our stay tops! We chose to use the smart car on the last day there and it was amazing. We drove to Milla Milla falls and back for only $30-great saving and the car was awesome. The buffet breakfast included was great - fruit was fresh, everything was tasty !

Saturday, January 04, 2014
Clean and tidy. Breakfast was good.

Saturday, October 05, 2013
The buffet breakfast was good but it could have more variety of healthy choices.

Thursday, September 12, 2013
Just loved The Hotel Cairns perfect location staff were just the best friendly, helpful and welcoming, always acknowledging that we were there with a hello, the room was lovely and clean will be staying there again in the near future!

Sunday, April 07, 2013
An awesome property and nothing was too much trouble for the friendly and helpful staff.

Wednesday, April 03, 2013
Great place to stay and nice people

Tuesday, March 05, 2013
Will stay there again when we come back

Friday, January 11, 2013
The hotel is situated in a great position, it is very easy to walk to most places

Tuesday, January 08, 2013
Lovely place. At first sight, the carpets in the corridors looked a tad musty. But the room itself was very spacious, clean bath/toilets, prompt room service, exceptionally helpful staff - all of these set the hotel apart.

We were traveling with two young kids and the staff made sure we got what we needed to make our travel comfortable.

Friday, November 23, 2012
Very handy position . Love the Smart car included.Very friendly staff particularly Tom the handyman and jack of all trades !

Wednesday, November 21, 2012
A good hotel well positioned for the esplanade and within easy walking distance of the harbour.

Thursday, November 15, 2012
Thank you for a really well organised package to Cairns. Everything went like clockwork and exceeded our expectations.

Monday, November 12, 2012
Awesome location, great breakfast and comformatable rooms made for a very enjoyable stay

Wednesday, October 31, 2012
Have stayed there twice and would again. It is so well situated and offers for free push bikes and smart cars plus a good breakfast. The rooms are roomy and have good quality towels and bed linen

Wednesday, October 17, 2012
Breakfast was more than adequate, pool area restful and gave a sense of separation from rest of hotel. Loved being able to have use of the Smart cars

Tuesday, October 09, 2012
The front desk staff were excellent

Wednesday, September 26, 2012
What a great hotel,the building has so much character and the surroundings beautiful.Food was great, and the barramundi at the restaurant was the best meal of my trip.Thanks to the staff for such great service.

Monday, September 17, 2012
A wonderful convenient place to stay, was just dissappointed with the view from the room. Otherwise a lovely hotel.

Friday, August 31, 2012
Good central location. Clean & tidy rooms. Smart car was excellent. The word Hotel implies a pub with a lot of noise, but it was a Motel & very quiet. Would stay there again.
The package you gave me was excellent - everything ran to schedule, & all your documentation & tickets were perfect. Well done.

Thursday, August 30, 2012
All facilities,services,and location of the Hotel Cairns are of the highest standard.
This whole package is definitely fantastic value for money Well done the team at Travstar.

Friday, August 17, 2012
Rooms a little tired. Air con was noisy(reported to counter), A little more information on arrival would be helpful. Restaurant staff friendly, good service, lovely food

Wednesday, July 11, 2012
We had a great day in beautiful Cairns.The location is fantastic for strolling the esplanade and enjoying all the activities. Our 4th floor tower room was large and pleasant water glimpses from the deck.

Tuesday, May 01, 2012
Great accomodation, staff and package deal. will recommend to friends and family.

Thursday, April 19, 2012
Pleasant Hotel. Restaurant meal was excellent.
Staff friendly and rooms very comfortable.

Thursday, March 22, 2012
Very impressed with the package that Travstar put together
Good value for money and all went as planned
Not really your fault that the weather was so amazingly wet - we are not use to monsoons in the UK!
M Doffman

Saturday, March 17, 2012
Our stay was arranged as part of a four night package deal arranged by Travstar. The whole package was excellent value for money. Particularly enjoyed having the use of a Smart car at no additional cost. A really good day out for just the cost of the fuel.

Monday, February 27, 2012
Breakfast was too expensive even with $10 vouchers. The use of Smart car was great but no-one offered any assistance with how it worked and we had no idea about gears etc.

Sunday, January 22, 2012
The staff were very helpful, the room was comfortable, and the facillities were wonderful the smart car was useful. I realise this is not 5 Star but it was every bit as good. as the service was so personalised.

Monday, December 19, 2011
The breakfast package was fantastic,I do think the dinner meal prices are a bit rich,but I would stay again.The loction is perfect close to everything.

Wednesday, December 07, 2011
Enjoyed our stay, but the shutters do not block out the light enough, they need to fix that. We arrived at 4.30am and they let us go into our room 9 hours early! The service is fantastic, rooms are nice, bed, b/fast and aircon is nice, the car was awesome. I would stay again if the light was blocked out more.

Wednesday, October 19, 2011
Great stay, handy to city. Food was great, good service, clean rooms. Air conditioning could of worked better, but overall stay was fantastic.

Saturday, September 03, 2011
Great central location.Use of Smart Car was great. Large room. Would definitely stay there again.

Monday, August 29, 2011
We loved everything about the hotel Cairns, from the accomadation,staff and close location to the esplanade and shops, and the buffet breakfast was tops too. Will stay here gain.

Tuesday, August 23, 2011
Well positioned Hotel with very helpful staff.Rooms could be better lit and working exhaust fans fitted to bathrooms.

Sunday, August 21, 2011
Enjoyed our stay here - location handy - meals excellent - service excellent - again have reccommended to friends. Was just what we wanted. Really enjoyed Cairns City as a whole - great weather - great facilities - friendly people

Tuesday, August 16, 2011
My stay was a good experience. The room was upgraded because I stayed for more than 10 days. THe rental car was a good incentive. The dining facility was slightly disappointing because the service was slow and prices are too high. My internet connection was not available in the room, I had to do it in the hallway. Overall, a very good experience.

Monday, August 15, 2011
Great restaurant attached and great location.

Tuesday, July 26, 2011
Really nice staff, great breakfasts, nice room. Would have loved a tv in the gym as there is nothing to look at down there. Would also love for the doors to be double glazed as the room was quite noisy. The car was fantastic and provided a very fun day out. Once again, great staff that really make it a nice place to be!!

Saturday, July 23, 2011
having the Smart car available was a definate benefit

Monday, June 20, 2011
Meals and service great pool evening staff lovely nothing to much trouble car was a blessing all was great

Saturday, June 04, 2011
After a week working in Cairns and staying in more corporate style accommodation I was relieved to stay at The Hotel Cairns with its more old world ambience, tropical NQ style, and enjoy a living space that had been very tastefully renovated with love and attention to detail and with consideration of climate and place. Loved the shutters and appreciated the personal service.

Sunday, April 10, 2011
Great hotel and facilities! Great location. Would definitely stay again and will recommend to friends and family. Enjoyed the hire car, glad this was available to us.

Friday, April 08, 2011
Staff were very friendly and helpful

Monday, January 10, 2011
Loved the Smart car and laundry facilities on site.

Tuesday, December 28, 2010
Use of Smart car was great. Rooms were functional and well appointed. Counter staff were helpful and friendly. My son tells me he liked the pool and spa. Meals at the resturant were overpriced for what was on offer. The restuarant would be the only reason I may not use this hotel again.

Saturday, December 18, 2010
I was very impressed with the ease of booking, the rates, the hotel and your customer service....thank you, we had a great holiday :)

Friday, December 17, 2010
We stayed four nights at the Hotel Cairns in one of their well-appointed but value-priced rooms. We must say that this hotel more than exceeded our expectations. The room and its bathroom were exceptionally clean with premium furnishings. The grounds were well attended to, and the receptionists very helpful. The Smart car fleet was available to us each day and there were no catches - just a ton of fun. I would recommend this hotel to everybody. To sum up - they over-delivered - thank you!

Wednesday, November 10, 2010
Had a fabulous time the facilities were great and the service was excellent

Sunday, November 07, 2010
A great quality restaurant and a lovely, secluded pool.

Thursday, October 07, 2010
Great location,nice & clean & good daily service, could do with some shelving/cupboards for clothes, loved the use of the smart car. We would recommend it & visit again.

Thursday, September 30, 2010
The location of Hotel Cairns is A1, making it so easy to enjoy all the dining & shopping experiences. Smartcar was a great advantage when exploring the city & further North. We found the rooms and facilities adequate and good value for money. The Staff, particularly the cleaners were meticulous. But I was disturbed by the garbage truck each morning, perhaps because my room was opposite the Restaurant and storage area. I look forward to staying here again, but I will be asking for a room away from this area.

Thursday, September 23, 2010
This venue captures the essence of Cairns.Beautiful tropical surrounds . Charming room outlook to palm covered patio. Plantation shutters add atraction.Immaculate and inviting.Close to the action. Avery personable place.Great staff.Wish our stay was just beginning. Thanks again.

Tuesday, September 07, 2010
The convertable Smart Car is AWESOME!!!!!

Saturday, August 28, 2010
Excellent Service and great pricing. We loved the accommodation.

Friday, August 27, 2010
Hotel staff on every shift were exteremly helpful and friendly, I felt at home and very safe.
The location was close to everything and very central.
I will stay there again for sure.

Monday, August 23, 2010
A great hotel with friendly staff and a good all round ambience.

Tuesday, August 17, 2010
Very nice hotel with great service and good value priced breakfast with the daily $10.00 voucher. Complimentary use of the Smart Car was very much appreciated. Perfect walking distance to the Esplanade.

Sunday, July 11, 2010
Smart car a real bonus!!

Tuesday, July 06, 2010
Awesome! Clean and very good value for the money. The room was big and spacious. Location was within 10-15 minutes from everywhere.

Friday, May 21, 2010
Reception staff were helpful and the hotel was located close enough to everything without being too close.
Absolutley LOVED the Smart Car inclusion in the apckage. We will definitely visit again.

Thursday, May 20, 2010
Loved the big bathroom!!

Sunday, May 16, 2010
Perfect location, close to everything but at a reasonable price. Very attractive facility. Recommend highly.

Saturday, May 15, 2010
Great hotel and fantastic value for money resturant.

Wednesday, May 12, 2010
The rooms were a bit small but the hotel was in an excellent location and it was absolutely lovely!

Saturday, March 20, 2010
highly recomend this hotel, staff very professional pleasent and always courtious nothing was to much trouble. Plantation room perfect, surroundings and atmosphere excellent.

Saturday, March 13, 2010
Very clean hotel good facilities not sure about the breakfast voucher it is misleading as the breakfast is very expensive there

Wednesday, February 17, 2010
Great hotel very comfortable staff very friendly. would certainly stay there again.

Sunday, January 24, 2010
We loved this hotel. Very central and within walking distance to everything. We recommend it and will stay there again.

Tuesday, January 05, 2010
The smart car ride could not be availed as they insisted rightfully so on a driving licence.We could have been informed about this requirement.

Tuesday, December 29, 2009
The hotel was execellent and the staff friendly. The use of the Smart Car was great.

Wednesday, December 23, 2009
Clean, neat, tidy and fabulous location. Handy to everything we needed, bars, shops, restaurants. We hired the smart car for two days and were able to experience the Mosman gorge and the Daintree in the north and Innisfail in the south. We had the convertible and laughed all the way its such a cute way to travel.

Monday, December 21, 2009
I was so impressed with The Hotel Cairns staff and facilities that I suggested to my company that we hold our conference at the Cairns Hotel this year.

Tuesday, December 01, 2009
very nice clean hotel with great staff, made our holiday, thank you.

Saturday, November 21, 2009
Trouble relating to the Manager, but all other staff fantastic. Loved the smart cars - a valuable easy option

Sunday, November 08, 2009
absolutely first class accomodation and service, food outstanding thanks kim for choosing this hotel for us!

travstar have also been brilliant no hiccups and everything organised as per schedule a big big thank you. we will visit again
john & carol

Monday, November 02, 2009
Only stayed for 2 nights but worth it A lovely hotel, great room, had the breakfast option which was excellent.

Wednesday, October 28, 2009
Highly recommend as the perfect place to stay - will make it my destinantion for accomodation next time

Monday, October 26, 2009
Use of the smart car was great, the hotel was in walking distance to shops food and the marina

Wednesday, October 21, 2009
It was a very well located Hotel with clean comfy rooms. They do not have rooms facing the ocean. Staff is excellent. Smart car is useful but you have to buy insurance for 30$ to reduce your deductible to 500$ or risk about 1500$. Like anywhere else in Australia you have to pay for the internet.

Friday, October 16, 2009
I cannot praise this hotel highly enough. My wife and I just loved it. Great staff, great atmosphere and so well run. The use of a Smart car on 2 days free of charge was much appreciated.

Saturday, October 10, 2009
Hotel location, spaciousness and cleanliness of rooms made this a wonderful base to explore the Cairns area. The free one day use of a smart car was an incredible bonus.

Tuesday, September 15, 2009
Hotel is well positioned, service was great as was the breakfast. The Friday night supper including live band was fantastic.

Wednesday, September 09, 2009
Excellent location. Deluxe Tower room was very nice. The bathroom was nicely appointed but very small. The complimentary Smart Car would have cost $30.00 per day for insurance had we used it.

Tuesday, September 01, 2009
Lovely rooms, very clean and airy. Our son loved the pool. Location excellent close to esplanade and few minutes walk to lagoon and lots of places to eat. Would recommend it and will stay there on our next visit.

Tuesday, August 25, 2009
One of the best we have stayed in our 50 years of hotel experences.

Monday, August 24, 2009
Really enjoyed the food at the restaurant. Great location - close to town.

Monday, August 24, 2009
Though not luxurious, our room was very comfortable and clean and the staff very friendly and helpful. Availability of the Smart car was a bonus. We were able to see a lot more than we thought we would be able to. The hotel is in a very convenient position for walking to shops, restaurants etc. but is away from the noisy spots, so we were not disturbed by street noise.

Monday, August 03, 2009
Clean, well appointed and excellently located.

Friday, July 24, 2009
What wonderful staff, very helpful, very good breakfast, and lovely room. Would return without any hesitation. To be commmended

Tuesday, July 21, 2009
I love that they lend you the smart car for one day~ I drove that to the flying doctor and Port Douglas...and the fuel was just AUD$6 for the whole day driving!

Monday, June 22, 2009
Thought the Smart Car was great. When next in Cairns I will stay here.

Wednesday, June 10, 2009
we love our stay at your hotel and really enjoy the wonderful breakfast

Thursday, May 14, 2009
Great Hotel, friendly laid back staff comfortable room superb dinners. Loved the Smart Car!!!!!

Friday, April 17, 2009
We both liked this place, nice service, clean, lovely pool, great breakfast. we would stay here again on our next trip, next time we will stay 2 nights to enjoy the sights of Cairns more.

Monday, March 02, 2009
An interesting hotel with good facilities whilst being centrally placed for the areas of activity. Good breakfast and a fabulous restaurant.

Tuesday, December 23, 2008
The Hotel Cairns could NOT have been any nicer!  We just loved the plantation styling and comfort, plus the staff was so wonderfully friendly and welcoming to us - I would recommend it to anyone traveling there!

Monday, October 20, 2008
The Hotel Cairns was a wonderful place to stay and use as a hub. The staff are very knowledgable about the area and helpful in organising our adventures from the hotel.

Friday, October 17, 2008
this hotel stay was brief but was great as the restaurant was really good and the room and pool were as we needed - calm, central and clean.

Thursday, October 16, 2008
Great location, lovely refurbishment. Bathroom a bit old and small but otherwise lovely.

Sunday, October 05, 2008
Excellent stay, the food was superb, altogether a wonderful experience and plenty of happy memories

Saturday, September 27, 2008
good location one block away from the esplanade.
excellent breakfast

Monday, September 15, 2008
We would gladly stay there again.

Wednesday, July 23, 2008
Would have liked the option not to have included breakfast. Good location close to amenities but not among them.

Wednesday, June 18, 2008
very happy with the hotel

Thursday, June 12, 2008
Lovely hotel.

Wednesday, May 07, 2008
VERY VERY NICE FOOD GREAT ROOM LOVELY WOULD DEFINATLY GO BACK

Saturday, April 12, 2008
The Plantation Restaurant absolutely fabulous... Wonderful food and a great breakfast...

Monday, April 07, 2008
We had a wonderful time in Cairns and were most pleased with all aspects of our bookings. Great job, Travstar

Wednesday, March 12, 2008
Nice hotel in good location.

Wednesday, March 05, 2008
The first night was noisy (badly educated neighbours who fortunately departed the next day). We particularely appreciated the restaurant for its excellent food and service.

Saturday, March 01, 2008
This was our holiday within our holiday....the hotel facilities were amazing and the location is excellent .....if we ever return to Cairns we would go back to this hotel.............overall the package we bought was excellent value for money !

Wednesday, February 06, 2008
Very pleasant and helpful staff and their immaculate rooms are well air-conditioned. It was 40+ degrees and humid in January.

Thursday, January 10, 2008
Great place to stay.

Tuesday, January 08, 2008
Excellent service and very secure and prompt service.

Tuesday, January 08, 2008
I think its a little overpriced for what it is but the staff were friendly, breakfast was supurb and the room was clean.

Wednesday, January 02, 2008
Very nice and helpful staff

Tuesday, December 11, 2007
The hotel was great. Everyone was happy with their accomodation. The desk was most helpful in securing transportation and dinner reservations for us. We give them a \"thumbs up\"!

Wednesday, November 28, 2007
The hotel staff were very helpful and hotel in an ideal location.

Wednesday, November 28, 2007
Friendly staff, great rates, great facilities

Wednesday, November 07, 2007
Great location, extremely helpful and friendly staff on reception who act on the saying \"going the extra mile\" without a second thought. Lovely clean facilities.

Thursday, October 25, 2007
A great place to stay, clean friendly, quiet, just what you need after your adventures in Cairns, Food was beautiful, compliments to the Chefs.

Sunday, October 21, 2007
Lovely stay. Just what we expected. Thanks

Friday, October 19, 2007
The hotel was very well maintained and clean and a perfect location to the city and harbor. The staff was wonderful. I highly recommend.

Wednesday, October 17, 2007
First holiday for my husband and I in 13 years. What a great place in stay great service, great restraurant and the staff couldnt help us enough. Recommend staying at the Hotel Cairns to anyone visiting Cairns.

Friday, August 03, 2007
Hi Jo,We had such a fab time! Thank you so much for all your help with our holiday!
The Hotel Cairns - was a real treat for us. We got upgraded to a spa room!!!! Fantastic! Breakfasts were wonderful and the Hot Rock dinner was excellent, We still talk about it! Felt spoilt at the hotel, enjoyed the stay there as it was a smaller accommodation, we don't really big Resorts. Oh yes, absolutely amazing location, we could get to the Pier in less than 15 minutes, we felt lucky to have accommodation within such easy distance to the city.We would definitely recommend all these tours to others and The Hotel Cairns. We had a great time in Cairns and now feel more familar with the area and are keen to go up again to explore further.
Jo, your help with all our holiday plans really made the experience very stressless. We felt that we were in very capable hands.Thanks again for the last minute help you gave us with changing our tour dates, we know you stayed back and we really appreciate the assistance you gave us. Just wanted to add also, how hard all the tour guides work, driving us around, sharing loads of info, preparing morning tea, lunch etc. They were always cheerful and there to help! I really admired them and their positive attitudes in showing people around beautiful Cairns. Thank you!
Emma & Chris Reeve
The Hotel Cairns Location Map
The Hotel Cairns Simple Enquiry
Need Help With Your Enquiry
Our Cairns Office is open again in 15 hours