The Beach Club - BC

Luxury Beachfront Resort
Huge Lagoon Pool
Located opposite the beach
Popularity

Service

Value

Overall

Based on 18 ratings
The Beach Club - BC Rooms
Hotel Rooms
FROM $118 per night
1 Bedroom Apartments
FROM $207 per night
2 Bedroom Apartments
FROM $236 per night
The Beach Club - BC Info
The Beach Club captures the leisurely tropical lifestyle that makes a holiday in the tropics.
The Beach Club is surrounded by beautifully sculpted gardens and water fountains, providing a perfect setting for your spa treatments.
Dining options at The Beach Club are excellent, serving spectacular food and Australian fine wines.
Resort Facilities:
3 Swimming Pools including:
Formal pool with spa & waterfall
Large beach pool with sand beach
Lap pool
Swim up bar
Fitness Centre
Tennis Court
Secure underground parking

Shops And Restaurants on-site

Day Spa
With contemporary luxury hotel furnishings in natural fabrics and luxury facilities youíll be surrounded by all the comforts you desire.

Hotel Spa Room Features:
King bed

Spa bath on balcony

Ensuite with shower

Tea and coffee making facilities

Balcony with outdoor furniture

Cable TV/DVD

Air conditioning & ceiling fans

Hair dryer

Iron & ironing board

Toiletries starter pack

Linen and towels

Pool towels supplied.

Additional towels available for $2.50

Rooms are serviced every 8 days

Daily service available at additional cost.
Additionally Apartment Feature:
Fully equipped kitchen
Electric stove, microwave & fridge

Lounge and dining area

Washing machine and dryer
Penthouse Apartments also feature:
Private rooftop terrace

BBQ

Rooftop pool or jacuzzi

Beautiful views

Ocean Views from the apartment
BC - Beach Club Locality:
Palm Cove Beach & Esplanade -Beachfront
Palm Cove Shopping Village - 1 Min Walk
Golf Course - 5 Min Drive
Great Barrier Reef Departure Point - 25 Min drive or pick up from resort
Wildlife Park & Night Zoo - 10 Min Drive
Clifton Beach Shopping Centre - 10 Min Drive
Cairns Airport - 20 Min Drive
Cairns City / CBD - 25 Min Drive
Port Douglas - 35 Min Drive
Freshwater Train Station - 20 Min Drive
Skyrail Caravonica - 15 Min Drive
Kuranda Rainforest Village - 30 Min Drive
PLEASE NOTE:
The apartments are located with the Peppers Beach Club complex but are privately managed by Boutique Collection. The only difference is the check in location, no room charge and no daily service.
The Boutique Collection offers a selection of exclusive hand picked apartments in Palm Cove. All apartments included in the collection are privately owned and individually decorated which adds to their uniqueness. Only those properties offering premium facilities within their range are chosen to become members of this collection - this is your guarantee of the high standard of accommodation you can expect with unsurpassed value.
The Beach Club - BC Packages
4 Night Escape To Palm Cove






4 NIGHTS AT THE BEACH CLUB PALM COVE
HOTEL SPA ROOM
GREAT BARRIER REEF DAY TOUR INC INTRO DIVE
2 FREE DAYS TO RELAX & EXPLORE
RETURN AIRPORT TRANSFERS

BASED ON
2 ADULTS
The Beach Club - BC Guest Reviews (3)

Monday, May 23, 2011
Please pass on our thanks to the team at The Boutique Collection for our wonderful stay in Palm Cove. Every aspect from the initial web booking, personally being shown to our room on arrival and the pleasant manner in which my telephone queries were answered was handled with the utmost of friendliness & professionalism.

I took your brochure from the room and will tell as many people as possible what a wonderful service you provide in FNQ and what great cost saving we enjoyed.

It was the best holiday we have had in many recently.


Wednesday, June 16, 2010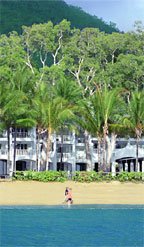 Just writing to say that I had a wonderful time at the Beach Club last week. The two-bedroom apartment was really spacious and modern, with two balconies, one overlooking the pool area. It was great having a washing machine and dryer and a kitchen, dining and living area. I really enjoyed the pools - fun and so relaxing. The Beach Club has a lovely entrance and is so convenient to the beach and restaurants. No lift, which may be a problem for some people. I did a lot of day trips with tour companies, and relaxed on days in between. <BR>The staff were very friendly.

Friday, April 30, 2010
Just wanted to thank you for encouraging us to stay at Beach Club Palm Cove. We absolutely LOVED it to bits and will definitely go back again. Palm Cove is superb. The weather was dodgy but it didnít matter.

The Beach Club - BC Videos (4)
The Beach Club - BC Rates
*** SPECIAL RATES - All prices shown in Australian Dollars
Prices valid from now until 19 June 2014
Hotel Rooms
PER NIGHT
Hotel Spa, 3+ nights
$165
» STAY 4 PAY 3


(rate is average rate per night for 4 nights)

$124

(avg)

» STAY 7 PAY 5


(rate is average rate per night for 7 nights)

$118

(avg)

Premium Studio, 3+ nights
$180
» STAY 4 PAY 3


(rate is average rate per night for 4 nights)

$135

(avg)

» STAY 7 PAY 5


(rate is average rate per night for 7 nights)

$129

(avg)

1 Bedroom Apartments
PER NIGHT
1 Bedroom Apt, 3+ nights
$290
» STAY 4 PAY 3


(rate is average rate per night for 4 nights)

$218

(avg)

» STAY 7 PAY 5


(rate is average rate per night for 7 nights)

$207

(avg)

1 Bed Swimout, 3+ nights
$350
» STAY 4 PAY 3


(rate is average rate per night for 4 nights)

$263

(avg)

» STAY 7 PAY 5


(rate is average rate per night for 7 nights)

$250

(avg)

2 Bedroom Apartments
PER NIGHT
2 Bedroom Apt, 3+ nights
$330
» STAY 4 PAY 3


(rate is average rate per night for 4 nights)

$248

(avg)

» STAY 7 PAY 5


(rate is average rate per night for 7 nights)

$236

(avg)

2 Bed Swimout, 3+ nights
$420
» STAY 4 PAY 3


(rate is average rate per night for 4 nights)

$315

(avg)

» STAY 7 PAY 5


(rate is average rate per night for 7 nights)

$300

(avg)

*** SPECIAL RATES - All prices shown in Australian Dollars
Prices valid from 16 October 2014 until 24 December 2014
Hotel Rooms
PER NIGHT
Hotel Spa, 3+ nights
$165
» STAY 7 PAY 5


(rate is average rate per night for 7 nights)

$118

(avg)

» STAY 4 PAY 3


(rate is average rate per night for 4 nights)

$124

(avg)

Premium Studio, 3+ nights
$180
» STAY 7 PAY 5


(rate is average rate per night for 7 nights)

$129

(avg)

» STAY 4 PAY 3


(rate is average rate per night for 4 nights)

$135

(avg)

1 Bedroom Apartments
PER NIGHT
1 Bedroom Apt, 3+ nights
$290
» STAY 7 PAY 5


(rate is average rate per night for 7 nights)

$207

(avg)

» STAY 4 PAY 3


(rate is average rate per night for 4 nights)

$218

(avg)

1 Bed Swimout, 3+ nights
$350
» STAY 7 PAY 5


(rate is average rate per night for 7 nights)

$250

(avg)

» STAY 4 PAY 3


(rate is average rate per night for 4 nights)

$263

(avg)

2 Bedroom Apartments
PER NIGHT
2 Bedroom Apt, 3+ nights
$330
» STAY 7 PAY 5


(rate is average rate per night for 7 nights)

$236

(avg)

» STAY 4 PAY 3


(rate is average rate per night for 4 nights)

$248

(avg)

2 Bed Swimout, 3+ nights
$420
» STAY 7 PAY 5


(rate is average rate per night for 7 nights)

$300

(avg)

» STAY 4 PAY 3


(rate is average rate per night for 4 nights)

$315

(avg)

*** SPECIAL RATES - All prices shown in Australian Dollars
Prices valid from 05 January 2015 until 31 March 2015
Hotel Rooms
PER NIGHT
Hotel Spa, 3+ nights
$165
» STAY 7 PAY 5


(rate is average rate per night for 7 nights)

$118

(avg)

» STAY 4 PAY 3


(rate is average rate per night for 4 nights)

$124

(avg)

Premium Studio, 3+ nights
$180
» STAY 7 PAY 5


(rate is average rate per night for 7 nights)

$129

(avg)

» STAY 4 PAY 3


(rate is average rate per night for 4 nights)

$135

(avg)

1 Bedroom Apartments
PER NIGHT
1 Bedroom Apt, 3+ nights
$290
» STAY 7 PAY 5


(rate is average rate per night for 7 nights)

$207

(avg)

» STAY 4 PAY 3


(rate is average rate per night for 4 nights)

$218

(avg)

1 Bed Swimout, 3+ nights
$350
» STAY 7 PAY 5


(rate is average rate per night for 7 nights)

$250

(avg)

» STAY 4 PAY 3


(rate is average rate per night for 4 nights)

$263

(avg)

2 Bedroom Apartments
PER NIGHT
2 Bedroom Apt, 3+ nights
$330
» STAY 7 PAY 5


(rate is average rate per night for 7 nights)

$236

(avg)

» STAY 4 PAY 3


(rate is average rate per night for 4 nights)

$248

(avg)

2 Bed Swimout, 3+ nights
$420
» STAY 7 PAY 5


(rate is average rate per night for 7 nights)

$300

(avg)

» STAY 4 PAY 3


(rate is average rate per night for 4 nights)

$315

(avg)
All prices shown in Australian Dollars
Prices valid from now until 19 June 2014
Hotel Rooms
PER NIGHT
Hotel Spa, 3+ nights
$165
Premium Studio, 3+ nights
$180
1 Bedroom Apartments
PER NIGHT
1 Bedroom Apt, 3+ nights
$290
1 Bed Swimout, 3+ nights
$350
2 Bedroom Apartments
PER NIGHT
2 Bedroom Apt, 3+ nights
$330
2 Bed Swimout, 3+ nights
$420
All prices shown in Australian Dollars
Prices valid from 20 June 2014 until 15 October 2014
Hotel Rooms
PER NIGHT
Hotel Spa, 3+ nights
$200
Premium Studio, 3+ nights
$225
1 Bedroom Apartments
PER NIGHT
1 Bedroom Apt, 3+ nights
$340
1 Bed Swimout, 3+ nights
$400
2 Bedroom Apartments
PER NIGHT
2 Bedroom Apt, 3+ nights
$390
2 Bed Swimout, 3+ nights
$500
All prices shown in Australian Dollars
Prices valid from 16 October 2014 until 24 December 2014
Hotel Rooms
PER NIGHT
Hotel Spa, 3+ nights
$165
Premium Studio, 3+ nights
$180
1 Bedroom Apartments
PER NIGHT
1 Bedroom Apt, 3+ nights
$290
1 Bed Swimout, 3+ nights
$350
2 Bedroom Apartments
PER NIGHT
2 Bedroom Apt, 3+ nights
$330
2 Bed Swimout, 3+ nights
$420
All prices shown in Australian Dollars
Prices valid from 25 December 2014 until 04 January 2015
Hotel Rooms
PER NIGHT
Hotel Spa, 3+ nights
$200
Premium Studio, 3+ nights
$225
1 Bedroom Apartments
PER NIGHT
1 Bedroom Apt, 3+ nights
$340
1 Bed Swimout, 3+ nights
$400
2 Bedroom Apartments
PER NIGHT
2 Bedroom Apt, 3+ nights
$390
2 Bed Swimout, 3+ nights
$500
All prices shown in Australian Dollars
Prices valid from 05 January 2015 until 31 March 2015
Hotel Rooms
PER NIGHT
Hotel Spa, 3+ nights
$165
Premium Studio, 3+ nights
$180
1 Bedroom Apartments
PER NIGHT
1 Bedroom Apt, 3+ nights
$290
1 Bed Swimout, 3+ nights
$350
2 Bedroom Apartments
PER NIGHT
2 Bedroom Apt, 3+ nights
$330
2 Bed Swimout, 3+ nights
$420
CURRENCY CONVERTER
WE DO NOT CHARGE BOOKING FEES OR CREDIT CARD SURCHARGES
CALL US AND SPEAK TO ONE OF OUR LOCAL CONSULTANTS FOR
EXCELLENT PERSONALISED SERVICE AND LOCAL KNOWLEDGE
FREECALL: 1800 663 396
INTERNATIONAL CALLERS: +617 40402100
The Beach Club - BC Location Map
The Beach Club - BC Simple Enquiry
Need Help With Your Enquiry
Our Cairns Office is open again in 14 hours