Tully River Rafting Info
TULLY RIVER WHITE WATER RAFTING:

Raft the mighty Tully River, regarded as the best rafting river across Australia and New Zealand. Go Wild with the first company to raft the Tully back in 1985... Raging Thunder offers an excellent full day of white water rafting on the Tully River.
Each raft holds a maximum of seven passengers and one river guide, who teaches you the correct techniques during the day, and who will share with you the history and wonders of this magnificent landscape which few get to see.
The river is rated a Grade 3-4, which means there are some exciting rapids and guaranteed water levels all year round. It really is a very memorable, fun day with the World Heritage rainforest providing an unforgettable backdrop.
With over 27 rapids on the river, this is the longest rafting trip available. No experience is necessary to raft these Grade 4 rapids.
---
Includes:
Return hotel transfers (except self-drive)

Approximately 5 hours of white water rafting grade 3-4 rapids

All tuition, no experience necessary

Safety equipment including life jacket, helmet and spray jacket, 8 man raft

BBQ lunch beside the river

$30.00 rafting levy
---
Departures: Daily
The Tully Gorge is 2.5 hours from Cairns and 1 hour from Mission Beach

Cairns at 6:30am, returns approx. 6pm

Mission Beach at 7:30am, returns approx. 4pm

Self Drive: Please meet at the

El Arish Tavern - Turn right off highway in Ryrie St, to the end on the left in El Arish, no later than 8:30am in the morning.
---
What to Bring:
Lace-up shoes or sandals that won't fall off your feet (can be hired on the day)

Swimming costume

Change of clothes (sweater for bus ride home)

Towel

Sunscreen

Money for souvenirs and snacks, photos etc.

Please do not wear any jewellery - it is recommended that you leave anything of value in your hotel safe for this trip.
---
PLEASE NOTE:
Rafting is not suitable for anyone who is pregnant

Child minimum age for Tully rafting is 13 years.
GOOD NEWS! All payments made to Travstar do not incur a credit card surcharge.
Tully River Rafting Packages
Tully Raft & Evolution Outer Reef






FULL DAY TULLY RAFTING WITH BBQ LUNCH
GRADE 3 & 4 RAPIDS
FULL DAY OUTER REEF ON BRAND NEW EVOLUTION
2 SPECTACULAR OUTER REEF LOCATIONS
SNORKEL GEAR, LUNCH, SEMI-SUBMARINE

BASED ON
1 ADULT
Reef-Balloon-Kuranda-Raft-Daintree






REEF EXPERIENCE - GREAT BARRIER REEF DAY TOUR
HOT AIR BALLOONING
SCENIC KURANDA TRAIN & SKYRAIL
FULL DAY TULLY RAFTING
CAPE TRIB & DAINTREE SAFARI

BASED ON
1 ADULT
Tully Raft, Passions Reef & Daintree






5 HOURS OF RAFTING GRADE 3-4 RAPIDS
VISIT 2 REEF LOCATIONS
DAINTREE RIVER CRUISE
MOSSMAN GORGE
LUNCH INCLUDED IN ALL TOURS

BASED ON
1 ADULT
Balloon, Tully Raft, Passions Reef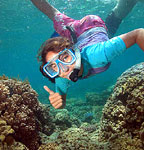 30 MINUTE SCENIC BALLOON FLIGHT
BREATHTAKING SCENERY
TULLY RIVER RAFTING
GRADE 4 RAPIDS
2 UNIQUE REEF LOCATIONS

BASED ON
1 ADULT
Evolution Reef, Tully Raft & Cape Trib






3 FULL DAYS OF ACTION
LUNCH INCLUDED EACH DAY
5 HOURS ON THE REEF
TULLY RIVER RAFTING
MOSSMAN GORGE

BASED ON
1 ADULT
Tully River Rafting Guest Reviews (26)

Tuesday, March 28, 2017
Brilliant day.

Tuesday, September 29, 2015
Another awesome experience delivered by a professional crew. Their expertise and patience made for a great day. My partner was a little nervous beforehand, but the expert tuition and care by \"fish\" our guide, really made it an extremely enjoyable experience.

Wednesday, July 29, 2015
Leon was an awesome River Guide. I went twice! The first time with my my children (aged 18-24). The second time a group of four who were aged 50+. We all had a fantastic time.
Read all reviews

Tuesday, April 28, 2015
Best trip ever! We have crafted five different rivers and this was the best by far.

Sunday, April 26, 2015
I highly recommend this. This was my second experience with Raging Thunder (1988 & 2015). Still a fantastic day with friendly, experienced guides, a great lunch and the photos are always fun to look at. My overseas visitors & I all had a great day with a lot of laughs & memories. Thanks Fisherman!

Friday, September 26, 2014
This was our highlight after 3 weeks in Australia. We had done almost everything but the scenery, the organization and the great energy ( and professionalism) of the guides made it UNFORGETTABLE.
I will recommend this to every one!

Monday, August 11, 2014
Al did a great job as team leader

Wednesday, November 13, 2013
Long way to the Tully River, but a top experience overall. Upgrade to Extreme Team if you dare!

Saturday, January 12, 2013
We had a wonderful time, a brilliant experience. Our guide Darren was a very experienced man who provided a safe but complete rafting experience on the river.

Saturday, December 01, 2012
Best day, best experience. We had so much fun

Wednesday, March 07, 2012
Great staff!! The guys were really nice to teach us the basics. I wish I did the Extreme b/c the boats moved quite slow b/c they waited for each other.

Friday, August 26, 2011
At 68 and over weight,and not as agile as I could have been, I thought I might have been a bit passed it, but everyone was terrific. No one made me feel out of it, or a burden. What a wonderful experience. Thanks team

Wednesday, September 22, 2010
excellent

Monday, July 19, 2010
A great day out, even though it rained most of the day. Good hosts who gave the impression they really wanted you to enjoy yourself.

Wednesday, January 27, 2010
We had great time for rafting, I enjoyed it so much. The water level is very high because of the weather so that makes the trip more exciting!

Friday, January 08, 2010
Did the rafting years ago and the rapids were better then but that would be due to the change in the river due to floods over the years. Still it was a great day out. My Girlfriend loved it.

Wednesday, July 22, 2009
Had a fantastic day. Our team leader catered to the needs of our individual group and his expertise and calm manner helped us to feel safe. Only suggestion - it was impossible to hear the safety points on the bus as our speaker was full of static.

Wednesday, June 17, 2009
It was all very good, safety was very good.

Wednesday, April 22, 2009
Both teenagers had a terrific time on this day tour. Very well organised. Both would do it again.

Monday, April 06, 2009
The experience of the guides was invaluable. They were friendly and knew what they were doing. The lunch could be improved - more organised and more different basic drinks available. We had a great time overall and it was one of the highlights of our holiday.
Regards
Antoinette & Andrew Tsouparidis

Thursday, March 19, 2009
This was the highlight of our holiday, fantastic!!

Saturday, July 26, 2008
this is a life time experience. One of the most exciting things I did in Australia. The boot captains are fantastic. Good spirit.

Friday, July 11, 2008
Thank you for a fun-filled adventurous day. Totally awesome. Will see you again soon.

Thursday, January 03, 2008
Definitely worth doing, so much fun :)

Wednesday, January 02, 2008
A mind blowing experience of fun and thrills.

Wednesday, October 24, 2007
Thank you for coming back to me for my feedback. I booked a white-water rafting tour through Travstar. Every step of the booking to the drop-off after the tour went like clock-work. I was very happy with the tour because each member of my family enjoyed ourselves.

I shall have no hesitation in recommending Travstar to my friend/family. I shall certainly use you again because of the positive experience.
Thanks again
Tully River Rafting Videos (2)
Tully River Rafting Rates
All prices shown in Australian Dollars
Prices valid from now until 31 March 2019
Tully River Rafting
Adult
Child
Family
Tully River ex Mission Beach or Self Drive
$184
Includes Levies
n/a
n/a
Tully River ex Cairns & Northern Beaches
$199
Includes Levies
n/a
n/a
Tully River ex Northern Beaches
$214
Includes Levies
n/a
n/a
All prices shown in Australian Dollars
Prices valid from 01 April 2019 until 31 March 2020
Tully River Rafting
Adult
Child
Family
Tully River ex Mission Beach or Self Drive
$209
Includes Levies
n/a
n/a
Tully River ex Cairns & Northern Beaches
$229
Includes Levies
n/a
n/a
TERMS
minimum age 13 years
Family = 2 Adults & 2 Children
CURRENCY CONVERTER
WE DO NOT CHARGE BOOKING FEES OR CREDIT CARD SURCHARGES
Tully River Rafting Simple Enquiry
Need Help With Your Enquiry
Our Cairns Office is Currently Open
Call one of our friendly local consultants to help with your enquiry over the phone.