Tour Specials!





Get High Up Top, Dive Down Under Truly memorable reef experience to outer edge of the Great Barrier Reef.
Snorkel-Dive-Heli
- 10 min scenic Heli flight
- 1x Certified or Intro Dive
- Glass Bottom Boat tour
- Snorkel gear
- Guided Snorkel tour
- Aussie BBQ Lunch
- 5 hours on the reef
- 2 different reef locations
- Glass of wine and cheese platter on return
- Live on-board entertainment on journey home

SAVE $104!

Travel between now and 31/March/2019





Your choice of 3 reef trips! The 3 Day Ultimate Reef Pass is your ticket to the best and widest range of cruises from Australia's most awarded reef cruise company, the Quicksilver Group.
3 FOR THE PRICE OF 2
Select from:
- Quicksilver Pontoon
- Wavedancer Low Isles
- Silversonic
- Silverswift
- Green Island
- Great Adventures
- Poseidon


3 DAY PACKAGE
SAVE $210

Travel between now and 31/March/2019





Tropic Wings - Ultimate Kuranda Experience The best way to experience everything Kuranda has to offer in one convenient tour. Make the most out of your Australian Experience!!
KURANDA SCENIC RAILWAY & SKYRAIL
- Australian Butterfly Sanctuary
- Rainforestation Nature Park
- BBQ Buffet Lunch
- Koala & Wildlife Park
- Return Hotel transfers


Travel between now and 31/March/2019





Blazing Saddles Meander through rainforest pockets, mangrove wetland, sugarcane fields and native bush!
HORSERIDE & ATV
- 2 hrs Horseriding
- 2 hrs ATV
- Aussie BBQ Sausage Sizzle
- Horses suit all ages & levels
- No experience necessary
- Hotel transfers included

SAVE $40


**Min age for ATV is 12yrs**
Travel between now and 31/March/2019





1 Day Cooktown 4WD Adventure Travel through the rugged terrain of the famous Bloomfield Track from Cape Tribulation to Cooktown
VISIT AUSTRALIA'S FIRST SETTLEMENT
- Cape Tribulation & Daintree
- The Rugged Bloomfield Track
- Lunch at an Aussie Bush Pub
- The Black Mountains
- 2 hours free time in Cooktown

Travel between now and 31/March/2019





Barron River Rafting Special SAVE $39 Two hours of Rafting on the Barron River. A fun experience in Nature's theme park. Perfect introduction to White Water Rafting for first timers.
No experience needed!
Includes:
- Approx 2 hours rafting
- Grade 3 rapids
- All rafting equipment
- Cairns & Beaches accom transfers
- $30 National Park fees included


SAVE $39


Travel between now and 31/March/2019
Wildlife Encounters

The Far North Queensland region is a nature lovers paradise, home to some wonderful and iconic Australian animal species. All of our wildlife parks in the Far North offer an interactive learning experience, with many featuring immersion exhibits whereby the animals are displayed in surroundings that not only reflect their own habitats, but also give the viewers a privileged and exclusive window into the world of the animals daily lives. Guided tours and presentations are conducted by a dedicated team of professional wildlife keepers, which allow visitors the opportunity to really gain an understanding and valuable insight to behavioural characteristics of our species, their interaction and their role within the Wet Tropics region. Striking a balance between entertainment, education and wildlife conservation, many of these presentations are interactive and provide wonderful opportunities to get to know our animal species up close and personal.
Wildlife Parks

Wildlife Habitat and Hartleys Crocodile Adventures are both examples of wildlife parks where the surroundings reflect the natural habitats of the wildlife. Wildlife Habitat in Port Douglas has recreated three dedicated ecosystems where visitors can wander through different and unique environments of the surrounding Rainforest, Wetlands and Grasslands. Breakfast with the Birds at Wildlife Habitat is a must do! Taking place daily within the Wetlands Habitat, guests are treated to a full tropical breakfast buffet whilst being entertained by symphony of sounds and colours of the birdlife as they wander freely amongst the tables. Hartleys Crocodile Park features Hartley's Lagoon, an asset to the attraction which provides visitors with an intimate insight into the biology and behaviour of crocodiles on the boat cruise. Nineteen crocs ranging in size from 2.5m to 5m cruise the waters, laze on the bank or build their nests, interacting with each other just as they would in the wild as well as keeping all the other residents of the lagoon on their toes!
Read more:
Wildlife Habitat - Breakfast with the Birds
Hartleys Crocodile Adventures
Kuranda & Hartleys Croc Park
Intimate Experiences

Smaller more intimate wildlife parks include the Kuranda Koala Gardens, the Australian Butterfly Sanctuary and Birldworld, all located just minutes from each other in Kuranda Village. These attractions can easily be incorporated into your day trip to Kuranda. The Kuranda Koala Gardens is a gorgeous little wildlife park that not only features koalas but also wombats, crocodiles, snakes, lizards and wallabies. Birdworld located next door is home to the largest single collection of free flying birds in Australia (some 500 of them!), visitors can wander through this lush, tropically landscaped bird sanctuary and observe the birds up close in their own natural environment. The Australian Butterfly Sanctuary is home to more than 1,500 tropical butterflies that are hand reared on the premises, many indigenous to Australia. A wonderful treat is viewing the caterpillars breeding nursery. Here you'll see the caterpillars in their various stages of development, and also get to see where the newly emerged butterflies "hang out" before being released into the main aviary.
Read more:
Kuranda Wildlife Experience
4 Park Pass
Ultimate Kuranda Experience
Hands up who wants to cuddle a koala?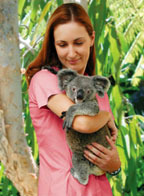 Cuddling a koala is a high priority for many visitors travelling to Australia. Due to a very strict Koala Handling Code of Practice, there are only a handful of places around the world where you can do this. The Cairns Tropical Zoo has the largest Koala colony in Tropical North Queensland and offers visitors the opportunity to 'Cuddle a Koala'. A Koala is a uniquely Australian marsupial; they dine on a very limited diet of eucalyptus leaves, sleep 18+ hours a day and at Cairns Tropical Zoo live a very pleasant life. Other wildlife parks where you can cuddle a koala include the Kuranda Koala Gardens, Rainforestation Nature Park and Wildlife Habitat. Many include a souvenier photo for an additonal fee.
Read more:
Cairns Tropical Zoo
Kuranda Wildlife Experience
4 Park Pass
Sightings in the Wild

For those who are looking for wildlife experiences in a natural environment, we have tours to suit all - from the casual interest and hobbyists to scholars/study groups and professionals. The Wet Tropics region hosts about a third of Australia's 315 mammal species - 13 of these species are found nowhere else in the world, as well as a quarter of Australia's frogs. It is also home to nearly half of Australia's birds - that's more than 370 different species. Unlike the wildlife parks, viewing out in nature is unpredictable, however with a trusty guide and local knowledge you can be assured that a wildlife sighting is a must. The Atherton Tablelands is a treat for wildlife enthusiasts with regular sightings of Possums, Platypus, Musky Rat-Kangaroo and the Lumholtz's Tree–kangaroo which is found only in the rainforest foothills of the Atherton Tablelands and mountains of the central wet tropics region. Day/night wildlife tours visit restricted access rainforest areas, giving the best chance of seeing nocturnal animals in their natural environment.
Read more:
Wait-a-While Tours
Rainforest 4WD Eco Safari
Ulysses Butterfly

The huge and beautiful Ulysses Butterfly is one of the most easily recognised butterflies in Far North Queensland due to its size and brilliant electric blue wings. A prominent symbol of tourism throughout Northern Queensland, the Ulysses Butterfly can be seen from several hundred metres away as it opens and shuts its wings in flight, the flashing of it's brilliant blue is eyecatching. You will often see Ulysses butterflies flying above or on the edge of the rainforest canopy, frequently along river, the side of the road, and more commonly in gardens throughout the region due to the planting of its larval food plant.
Read more:
4 Park Pass
Ultimate Kuranda
Cassowaries

Of three species of cassowaries in the world, only the southern cassowary is found in Australia, predominately in the tropical rainforests of north-east Queensland. The Cassowary is a large flightless bird that stands between 1.5-2 metres in height, featuring a glossy black plumage, a bright blue neck and touches of red. Cassowaries are of great cultural significance to many Indigenous Rainforest people, and are another icon of tourism in Far North Queensland. The cassowary plays an integral part in the maintenance of the rainforest ecosystem, spreading the seeds of rainforest trees over hectares of forest. The Southern Cassowary is endangered in Queensland, and care should be taken if you happen to see any in the wild.
For guaranteed sightings visit:
Wildlife Habitat - Breakfast with the Birds
Cairns Tropical Zoo
Hartleys Croc Park
Crocodiles

Amongst our weird and wonderful creatures of Far North Queensland we are also home to two species of crocodile, the Freshwater Crocodile and the Saltwater Crocodile. In spite of their common names, both species can live in fresh or salt water. These magnificent creatures can be seen in captivity at various wildlife parks, allowing close and safe observation accompanied by entertaining and lively presentations. In their natural habitat crocodiles are often observed basking on the banks of watercourses. Viewing can be accessible through various professionally guided river cruises in Cairns and around the Daintree. The Cairns Harbour Cruise takes you on a calm water journey along Trinity Inlet with waterways that wind through 300sq km maze of mangroves. You will have the chance to spot saltwater crocodiles basking on the muddy banks in their natural habitat. There are many wildlife cruises on the Daintree River also. This is a rare location to see wildlife at play in their native habitat and retrieve knowledge and tales of the area from a local naturalist guide.
Read more:
Cairns Harbour Cruise
Hartleys Croc Park
Cairns Tropical Zoo
Whats Hot!
Travel Tools
Whats Hot!