Tour Specials!





Get High Up Top, Dive Down Under Truly memorable reef experience to outer edge of the Great Barrier Reef.
Snorkel-Dive-Heli
- 10 min scenic Heli flight
- 1x Certified or Intro Dive
- Glass Bottom Boat tour
- Snorkel gear
- Guided Snorkel tour
- Aussie BBQ Lunch
- 5 hours on the reef
- 2 different reef locations
- Glass of wine and cheese platter on return
- Live on-board entertainment on journey home

SAVE $104!

Travel between now and 31/March/2019





Your choice of 3 reef trips! The 3 Day Ultimate Reef Pass is your ticket to the best and widest range of cruises from Australia's most awarded reef cruise company, the Quicksilver Group.
3 FOR THE PRICE OF 2
Select from:
- Quicksilver Pontoon
- Wavedancer Low Isles
- Silversonic
- Silverswift
- Green Island
- Great Adventures
- Poseidon


3 DAY PACKAGE
SAVE $210

Travel between now and 31/March/2019





Tropic Wings - Ultimate Kuranda Experience The best way to experience everything Kuranda has to offer in one convenient tour. Make the most out of your Australian Experience!!
KURANDA SCENIC RAILWAY & SKYRAIL
- Australian Butterfly Sanctuary
- Rainforestation Nature Park
- BBQ Buffet Lunch
- Koala & Wildlife Park
- Return Hotel transfers


Travel between now and 31/March/2019





Blazing Saddles Meander through rainforest pockets, mangrove wetland, sugarcane fields and native bush!
HORSERIDE & ATV
- 2 hrs Horseriding
- 2 hrs ATV
- Aussie BBQ Sausage Sizzle
- Horses suit all ages & levels
- No experience necessary
- Hotel transfers included

SAVE $40


**Min age for ATV is 12yrs**
Travel between now and 31/March/2019





1 Day Cooktown 4WD Adventure Travel through the rugged terrain of the famous Bloomfield Track from Cape Tribulation to Cooktown
VISIT AUSTRALIA'S FIRST SETTLEMENT
- Cape Tribulation & Daintree
- The Rugged Bloomfield Track
- Lunch at an Aussie Bush Pub
- The Black Mountains
- 2 hours free time in Cooktown

Travel between now and 31/March/2019





Barron River Rafting Special SAVE $39 Two hours of Rafting on the Barron River. A fun experience in Nature's theme park. Perfect introduction to White Water Rafting for first timers.
No experience needed!
Includes:
- Approx 2 hours rafting
- Grade 3 rapids
- All rafting equipment
- Cairns & Beaches accom transfers
- $30 National Park fees included


SAVE $39


Travel between now and 31/March/2019
We found 4 tours in the category
Viewing 1 to 4 of 4 tours
Page 1
Cairns Discovery Tours

Afternoon City Sights Tour
Explore Cairns City
Devonshire Tea
Popularity

Service

Value

Overall

Based on 21 ratings
Cairns Discovery Tours presents the ultimate afternoon "City Sights" tour of Cairns and its spectacular tropical environs. Whether you are into Bird watching, Nature, Tropical Plants, History, Industry or Culture, this City Tour has the lot. Everything about this tour experience is designed to delight discerning travellers of all ages and interests.
...
more info
Green Island & Cairns City Sights

City Sights & Green Island in One Day!
Morning Green Island
Afternoon Cairns City Sights
Cairns Big Day Out: Combine a half day Green Island Reef Cruise with an afternoon visiting the city sights of Cairns including the Botanical Gardens, St Monicas Cathedral and the Palm Cove jetty. ...more info

Duck About Tours.

1 Hour Tour
1 Hour Cairns Tour
Ride the ' Croc' Amphibious vehicle
Popularity

Service

Value

Overall

Based on 1 ratings
Duck About Tours
is the ultimate Cairns land and sea adventure tour. You've never toured Cairns in anything that comes close to a Duck About Tour. The fun begins as soon as you board your 'ÄúDUCK'ÄĚ, a LARC amphibious vehicle....
more info
Cruising Cairns

Cairns City half day Bike Tours
A fun active way to explore Cairns
Interactive, small group tour
Popularity

Service

Value

Overall

Based on 1 ratings
Cruising Cairns
half day Bike tour: A personal tour experience of Cairns city. Jump on a bike to explore hidden pathways, popular hot spots & secret gems in town. An active fun way with surprises. We're proud of this little but great city! ...
more info
Viewing 1 to 4 of 4 tours
Page 1
Cairns City Sights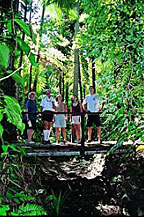 If you're wanting to explore closer to home then hop on a Cairns City sight tour and enjoy a great introduction to our tropical city and region. Cairns City, the waterways and Green Island can all easily be explored in half a day, ideal for those who are short of time also.
To view the city and understand the history of our region, jump onboard the Cairns Discovery Tours "City Sights" tour that will take you on a personalised journey through Cairns City, its history, the busy wharves and industrial areas, as well as through the beautiful Flecker Botanic Gardens. Designed to delight travellers of all ages and interests, you will see more of Cairns with your local tour guide, have the opportunity to meet some lovely people and be fabulously entertained.

Find out more:
Cairns Discovery Tours
Sunset Cruise

The Cairns Sunset Cruise tours the waterways of Trinity Inlet where you can soak in beautiful views of the waterways, mangroves and mountains. Departing daily at 5:30pm from the Cairns Marina, this 90 minute calm water cruise of Trinity Inlet will showcase the stunning natural scenery of Cairns waterways as the sun sets behind the mountains. It's the perfect opportunity to view the city from another perspective, with panoramic views all round.
Find out more:
Sunset Cruise along Trinity Inlet
Green Island

For the complete mix of land and sea, why not head out to Green Island and experience the Great Barrier Reef, just 45 minutes by ferry from Cairns. Green Island is a very unique island, at 37 acres in size, it is one of 300 sand (coral) cays on the Great Barrier Reef, but it is the only one with a rainforest. Even though Green Island is a very small island, it has played an important role in the history of Tropical North Queensland and the Great Barrier Reef region. Green Island's amazing history includes many pioneering 'world firsts', such as the introduction of the first glass bottom boat in 1937 and the first stationary underwater observatory opened in 1954. Green Island Resort is widely regarded as one of the world's most eco-sensitive tourism developments. Structurally, all resort buildings and infrastructure (e.g. boardwalks) were built with minimal vegetation clearing, in many cases the structures were built around the trees. No building extrudes above the tree canopy, therefore preserving the natural appearance of the island from the water, shoreline and air. The convenient ferry service from Cairns will allow you to tailor your day and activities to suit.
Find out more:
Harbour Cruise & Green Island
Cairns Discovery Tours & Green Island
Green Island Adventure
Big Cat Green Island
Whats Hot!
Travel Tools
Whats Hot!