Tour Specials!





Get High Up Top, Dive Down Under Truly memorable reef experience to outer edge of the Great Barrier Reef.
Snorkel-Dive-Heli
- 10 min scenic Heli flight
- 1x Certified or Intro Dive
- Glass Bottom Boat tour
- Snorkel gear
- Guided Snorkel tour
- Aussie BBQ Lunch
- 5 hours on the reef
- 2 different reef locations
- Glass of wine and cheese platter on return
- Live on-board entertainment on journey home

SAVE $104!

Travel between now and 31/March/2019





Your choice of 3 reef trips! The 3 Day Ultimate Reef Pass is your ticket to the best and widest range of cruises from Australia's most awarded reef cruise company, the Quicksilver Group.
3 FOR THE PRICE OF 2
Select from:
- Quicksilver Pontoon
- Wavedancer Low Isles
- Silversonic
- Silverswift
- Green Island
- Great Adventures
- Poseidon


3 DAY PACKAGE
SAVE $210

Travel between now and 31/March/2019





Tropic Wings - Ultimate Kuranda Experience The best way to experience everything Kuranda has to offer in one convenient tour. Make the most out of your Australian Experience!!
KURANDA SCENIC RAILWAY & SKYRAIL
- Australian Butterfly Sanctuary
- Rainforestation Nature Park
- BBQ Buffet Lunch
- Koala & Wildlife Park
- Return Hotel transfers


Travel between now and 31/March/2019





Blazing Saddles Meander through rainforest pockets, mangrove wetland, sugarcane fields and native bush!
HORSERIDE & ATV
- 2 hrs Horseriding
- 2 hrs ATV
- Aussie BBQ Sausage Sizzle
- Horses suit all ages & levels
- No experience necessary
- Hotel transfers included

SAVE $40


**Min age for ATV is 12yrs**
Travel between now and 31/March/2019





1 Day Cooktown 4WD Adventure Travel through the rugged terrain of the famous Bloomfield Track from Cape Tribulation to Cooktown
VISIT AUSTRALIA'S FIRST SETTLEMENT
- Cape Tribulation & Daintree
- The Rugged Bloomfield Track
- Lunch at an Aussie Bush Pub
- The Black Mountains
- 2 hours free time in Cooktown

Travel between now and 31/March/2019





Barron River Rafting Special SAVE $39 Two hours of Rafting on the Barron River. A fun experience in Nature's theme park. Perfect introduction to White Water Rafting for first timers.
No experience needed!
Includes:
- Approx 2 hours rafting
- Grade 3 rapids
- All rafting equipment
- Cairns & Beaches accom transfers
- $30 National Park fees included


SAVE $39


Travel between now and 31/March/2019
Scuba Diving

If you've never tried a dive before, or are thinking of learning how to dive then Cairns is the best destination to start. The region has an unrivalled reputation of being the premier learn to dive destination in Australia, and there are many reasons why. Our tropical climate lends itself as a fantastic destination for beginners with warm, clear waters and excellent visability, which on average is usually between 15-20 metres. From September through to February the conditions tend to be comfortable and calm, and with the Great Barrier Reef's conservative depths, make this an ideal spot for novices. Queensland has some of the highest safety standards in the world, and dive operators are required to conform to strict health and safety regulations specified by the Queensland Government. Our dive instructors and operators are some of the world's most experienced and awarded, providing first class tuition, equipment and safety standards.
Introductory Diving

For those who are curious about giving scuba diving a try, then an Introductory dive is the first step. It requires no previous diving experience, all equipment and tuition is provided, and your dive instructor will be with you at all times throughout the dive. Most reef trips offer the option to include an intro dive in your day. The only requirement is that you are 12 years old or more and you will be asked to fill out some paperwork, including a medical statement. On the journey out to the reef your dive instructor will give you a dive briefing outlining the equipment, hand signals, basic procedures and some of the marine life you may encounter. Group sizes are a maximum of 4 divers to 1 instructor, providing you with personalised attention and assurance. Once at the reef your instructor will run through the basic skills again in the water, then when you feel comfortable, your instructor you will take you on a short shallow dive around beautiful coral gardens. The dive generally lasts 30 minutes depending on your air to a maximum of 12 metres/40 feet. After your dive experience, you'll get a PADI Certificate as a memento of your underwater adventure. This certificate is not a qualification - it is simply a memento of one of the best experiences of your life.
Find out more:
Reef Experience - includes Free Intro Dive!
Reef Magic Cruise Pontoon Reef Cruise
Osprey V Outer Barrier Reef Cruise
Learn to Scuba Dive

If you want to learn to scuba dive, then the first step is to take a PADI Open Water Diver course. Cairns has a number of purpose built dive training centres, with courses starting daily, some in different languages too. This practical course is designed to improve your diving skills and to give a deeper understanding of the principals of diving and diver safety. Within a few days, you can be enjoying the underwater world.
A 4 Day Learn to Dive Course comprises of 2 days pool & theory and 2 day trips to the reef to complete the open water dives. Four dives will complete your open water diver training. The 4 day learn to dive course is an ideal option for those short of time, or who would prefer a land based course. Highly recommended however is the 5 Day PADI Open Water dive course, this is by far the most popular option. The adventure of learning to dive, as well as staying out on the reef for 3 days and 2 nights onboard a liveaboard vessel, is quite unique.
Pro Dive Cairns is Cairns most recognized and highly awarded dive school. Courses start daily at their centrally located, purpose built training centre. The centre provides some of the best diver training facilities available in Australia, with 6 air conditioned classrooms and 2 large 4 metre deep heated diver training pools. Following two days' pool and theory training with your instructor, you will then experience the adventure of three exciting days on the Great Barrier Reef. The 5 day learn to dive course includes 9 dives which gives you the opportunity, once you are certified, to enjoy some dives with your buddy at leisure, for many this is the highlight of the course. Courses in German and Japanese are also available.
Find out more:
Pro Dive 5 Day Learn to Dive Course
Budget Learn to Dive
4 Day Learn to Dive
Liveaboard Dive Trips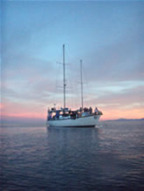 Staying overnight on the Great Barrier Reef is an unforgettable experience. You get much more time to relax, more time for diving, more time for snorkelling and more reef experience - early morning dives and night dives are both amazing times of the day for marinelife.
Liveaboard dive trips visit some of the best dive locations on the Outer Great Barrier Reef, and provide some of the best scuba diving available. With roaming permits, your captain can select the most suitable dive location based on the conditions, water clarity and marine life of the day, so you can get the most out of your dive experience.
Pro Dive offers 3 Day / 2 Night Liveaboard trips where you'll get to participate in up to 11 dives (9 day and 2 night) and experience a large variety of fantastic outer reef locations. The twin/double cabins are comfortable, with all linen, meals and scuba diving equipment supplied.
Rum Runner is 20m Motor Sailing Schooner, offering 2 Day / 1 Night Liveaboard dive trips. Appealing to the budget minded traveller, Rum Runner includes all meals, accommodation plus if you book on as a snorkeller you will receive an Intro or Cert Dive Free!
Find out more:
2 Day / 1 Night Liveaboard Sailing Adventure
Pro Dive 3 Day / 2 Night Liveaboard
Dive Expeditions

A dive expedition offers an extended journey for experienced divers of up to 7 days diving at the famous cod hole, ribbon reefs and coral sea. This is the ultimate adventure on any divers wish list. Showcasing some of the best marinelife biodiversity in Australia, endless visability, plummeting walls, huge coral trees and golden gorgonian fans, you will be in awe of this spectacular oceanic wilderness.
Find out more:
Mike Ball 4 Night Coral Sea
Scuba Diving Conditions
Certain medical conditions and medications may preclude some people from scuba diving.
Minimum age for scuba diving is 12 years.
Flying after scuba diving: A wait of 12 hours is recommended but preferably 24 hours, if doing multiple dives, before ascending to an altitude of 300 metres or greater.
Whats Hot!
Travel Tools
Whats Hot!