Scenic Heli Flights Info
Down Under Heli Scenic Flights

Down Under Heli's fleet is designed with the tourist in mind and includes aircraft with the following features:
- Outstanding visibility with 180 degree un-obstructed view
- Quiet, modern, air-conditioned interior with CD MP3 system for your entertainment
- Lightweight, Bose X noise cancellation headsets
- Multi camera system to record a video of your tour which is available for purchase.

Below are some excellent tour options for those who are short of time and only have a half day to spare in Cairns.

Fly/Cruise (Half Day)
Take to the air in Cairns for a spectacular 25 min scenic flight viewing the rainforest covered mountains before flying over the azure Coral Sea and the spectacular Great Barrier Reef. Sweep over Coral Gardens, Sand Cays and see marine life as you land at Outer Reef helipad to join Down Under Cruises for lunch and an afternoon of underwater activities including snorkelling and a glass bottom boat coral viewing tour. Scuba diving, either for the beginner or experienced diver, is also available for those keen to view the coral from beneath the sea (extra cost). Enjoy a leisurely cruise back to Cairns with live entertainment, complimentary glass of wine, cheese and a tropical fruit platter.
Includes:
Hotel Transfers
25 min flight over Reef to join Down Under Cruises
Board Osprey V, Down Under Dive at Hastings Reef
2 hours at Reef
Snorkelling equipment
Glass Bottom Boat Coral viewing tour
BBQ Lunch
Cruise back to Cairns with live entertainment and complimentary glass of wine and nibbles
Departures: From Cairns 12:15pm. Returns to the Reef Fleet Terminal at approx 5:00pm
Fly/Fly (Half Day)
This is the perfect solution for those in a hurry or who don't like boats.
Departing from Cairns, fly both ways over four stunning reef locations, before joining Down Under Cruises at North Hastings Reef. Your reef experience will be complete enjoying a tropical BBQ lunch, snorkelling and coral viewing in a glass bottom boat all inclusive, the option of an introductory or certified dive is available. Then reboard your helicopter for another exhilarating flight, taking in a different route highlighting the vastness and incredible colours of the Great Barrier Reef and pure white sand cays set in the aqua blue sea.
Includes:
Hotel Transfers
25 min flight over Reef to join Down Under Cruises
Board Osprey V, Down Under Dive at Hastings Reef
2 hours at Reef
Snorkelling equipment
Glass Bottom Boat Coral viewing tour
BBQ Lunch
25 min return flight over different reefs to Cairns
Returns to Cairns at 4:00pm
Departures: From Cairns 12:15pm and returns approx 4pm
Cruise/Fly (Full Day)
Your day begins with a fast boat cruise to the Great Barrier Reef onboard Down Under Cruises. Spend five hours exploring two incredible reef destinations, each with its own unique coral formations and variety of marine species. Enjoy a tropical BBQ lunch, snorkelling and a glass bottom boat coral viewing tour. There is ample time to experience up to 3 scuba dives (extra cost) for either the beginner or advanced diver or simply relax and enjoy the ambience of being at sea. Your special day concludes with an exciting scenic helicopter flight over five reef systems and pristine sand cays before arriving back in Cairns.
Includes:
Hotel Transfers
Cruise to Reef onboard Osprey V
Snorkelling equipment
Glass Bottom Boat Coral viewing tour
5 hours exploring two stunning reef destinations
BBQ lunch
25 min flight over Reef and Sand Cays to Cairns
Departures: Depart Cairns: 8.30am. Arrive in Cairns: Approx. 4.00pm

Click here for more info on Osprey V
*Please Note: The glass bottom boat is a free inclusion and runs dependant on weather conditions

10 minute Cairns City flight
See the City of Cairns from a totally new perspective as you fly over the Esplanade, Pier, Marina and Trinity Inlet while enjoying incredible views of the city set against the lush mountain backdrop of the tablelands.

20 minute Barron Gorge, Kuranda & Northern Beaches Scenic Flight
Explore ancient Rainforest covered mountainsides and valleys only minutes from the centre of Cairns. You'll view world heritage listed Rainforest, Cairns City and surrounds from the air. Swoop over the Barron Gorge waterfall and soar above the rainforest canopy surrounding Kuranda before returning to Cairns via the stunning coastline showcasing Cairns Northern Coastline. Only by helicopter can the scale of these ancient Rainforests and their pristine beauty be truly understood.

30 minute Reef Scenic Flight
Enjoy a birdís eye view of the Great Barrier Reef with our most popular scenic flight. Take off with views over Cairns city and head out over the Coral Sea, where the size and majesty of the Great Barrier Reef can only truly be appreciated from the air. Search for marine life as you fly over famous sites such as Green Island, Arlington Reef, Vlasoff Cay and Upolu Cay. Bring your Camera to capture this wonderful experience.

45 minute Reef & Rainforest Scenic Flight
Feel the thrill of taking to the air on a spectacular scenic flight over the World Heritage listed Rainforest and gorgeous Waterfalls.
- Lush Tropical Rainforest, Stoney Creek Falls, Barron Gorge & Kuranda
- Soar along the one of the Cairns Beaches before heading to ...
- Breathtaking Reef systems of the Coral Sea and pristine, white sand cays (See amazing marine life - Turtles, Sharks, Rays even Whales when in season! )
- Get your camera ready to capture this incredible experience to show all your friends

60 minute Ultimate Reef & Rainforest Scenic Flight
See the best that Cairns has to offer on this ultimate flight. Take in the magnitude and grandeur of the Great Barrier Reef and the lush green wet tropics rainforest in one spectacular scenic flight. Flying over central Cairns this flight takes you up and over the rainforest clad mountains to Lake Morris a reservoir nestled high in the rainforest overlooking Cairns. Glide above the lush tropical canopy of untouched rainforest whilst viewing Stoney Creek Falls, Barron Gorge, Barron Waterfall and Kuranda. Drop back down to sea level and see Cairns Northern Beaches before flying heading out over the Coral Sea. Have your camera ready as you take in the spectacular sandy cays of Upolu Cay and Vlasoff Cay and the amazing reef systems Upolu, Vlasoff, Arlington and Green Island all before returning to Cairns.
U Fly - Ultimate Heli Flights
Put on your pilotís cap and take advantage of this awesome opportunity to fly your own helicopter! Following a briefing session, this 30-minute training flight gives you the opportunity to take the controls yourself under the supervision of a qualified instructor pilot. The flight will take you up through the Barron Gorge, over the surrounding rainforest to Kuranda and along the Northern Beaches before returning to the Aerodrome to try and hone your hovering skills. This is one of those once in a lifetime opportunities, which should definitely be on the ďhave to doĒ list! Experience the passion of flying.
Includes:
Training session with qualified Instructor

Flight over Rainforest and Northern Beaches

Opportunity to fly the helicopter under supervision
Departures: Depart Cairns: 10.00am. Arrive in Cairns: 12 noon
Fantasy Flight - Secluded Sand Cay Picnic - min 2 pax
Imagine.... just you, your private helicopter and your footprints on your own secluded island set in the middle of the Coral Sea, with just the sound of gentle lapping waves for company. Experience Vlasoff Cay, an isolated coral sand cay with pure white sand surrounded by aqua blue sea and coral gardens. Youíll be equipped with some of lifeís essentials - a gourmet picnic hamper complete with sparkling wine, snorkeling gear, beach umbrella, picnic blanket and cushions. After two hours in this secluded paradise, youíll enjoy another reef scenic flight back to your life as you once knew it.
Includes:
2 hours on Sand Cay

Picnic with sparkling wine

Snorkelling equipment

Private helicopter transfers over Reef
Departures: Depart Cairns: 7.30am. Arrive in Cairns: 11.00am

Please Note: Marine Park Permit - In the highly unlikely event the sand cay is occupied upon arrival, guests will receive additional flying to land at an exclusive beach location and no refund applies.
Fantasy Flight - Tropical Rainforest Waterfall - min 2 pax
Soar over Tropical North Queensland's amazing Savannah Lands, to see the green lush rainforest change to the burnt orange of the Outback. Trek north to land beside a cascading waterfall that is only accessible by helicopter. Walk over the volcanic rocks and craters, swim in the serene waters and natural spas, revive with a delicious picnic and bottle of champagne. Feel yourself rejuvenate and refresh your senses in the tranquillity of this amazing uninhabited wilderness.
Includes:
Scenic Helicopter flight over rainforest

2 hours at private waterfall

Picnic with sparkling wine
Departures: Depart Cairns: 7.30am. Arrive in Cairns: 11.00am
Cafe Indulgence Scenic Flight
Escape to a charming coffee plantation on the tranquil North Queensland Tablelands. Swoop over the Barron Gorge and view the lush rainforest surrounds from a completely new perspective. Soar high over the range before touching down at a local coffee plantation. Take part in an intriguing tour of the plantation before enjoying a taste of what this establishment has to offer. Return to Cairns with a flight over the Atherton Tablelands and Tinaroo Dam.
Includes:
Helicopter flight over Atherton Tablelands and rainforest

Coffee Plantation Tour and Morning or Afternoon Tea
Departures: Depart Cairns: 9.00am or 3.30pm. Arrive in Cairns: 11.00am or 5.30pm
Indigenous Heli Touring - Spirit of Cooktown
Fly along the Northern Coastline or Reef to Cooktown to meet with Guurrbi Tours. This award-winning tour with Aboriginal Elder, Willie Gordon takes guests to visit his ancestral rock art sites, outside Cooktown, normally inaccessible to the public. Here Willie, shares the stories behind the art... he gives an amazing insight into Aboriginal society and spirituality, and how the lores of his people can apply to us all today.
Return to Cooktown for lunch at the Botanical Gardens and a private tour to the Captain Cook Museum, Art Gallery, Chinese Cemetery and Grassy Hill Lookout.
Reboard your helicopter to fly over the Annan River to The Lionís Den Hotel, an Aussie outback pub with a wood & iron construction, famous for its quirky decorations and walls adorned with visitors signatures.
Includes:
Private Helicopter charter

Guurrbi Rock Art Tour

Lunch at Botanic Gardens

Tour of Cooktown incl museum and gallery

Lions Den Hotel
Departures: Depart Cairns: 7.00am. Arrive in Cairns: Approx. 4.30pm


Heli Dreaming
An insight into North Queensland's intriguing Indigenous aboriginal culture. Start this remarkable day of discovery with an amazing helicopter flight over your choice of the Daintree National Park and cascading Mossman Falls or over the vast Great Barrier Reef, land near Port Douglas to join your 4wd Safari. Meet the Kubirri Warra brothers, as they share their traditional hunting methods on a two hour beach trek, as you search for bush tucker. Continue North to Silky Oaks Lodge for a delicious lunch overlooking the serene river. Travel to Tranquility where the spectacular Niau waterfall awaits, there is time for a swim before we meet with Binna, artist in residence at Janball Aboriginal Gallery. Share in an authentic Aboriginal art experience with the Yuku Yalanji people.
Includes:
Breathtaking helicopter flight over Waterfall or Reef

Adventure North 4wd to join Kuku Yalanji Cultural Tours

Delicious lunch at Silky Oaks Lodge

Rainforest walk and swim at Niau Waterfall

Authentic art experience at Janbal Aboriginal Gallery
Departures: Depart Cairns: 6.30am. Arrive in Cairns: Approx. 4.30pm

NB: Last Minute prices are subject to availability, must be booked at least 48hrs in advance and are valid for travel within 14 days. Last Minute bookings can only be made online.
Please Note: Passenger weight must be advised on booking.
Due to safety reasons, passengers with a weight of more than 110 kg must book two seats with a surcharge of $70 each way for the extra seat.
Scenic Heli Flights Gallery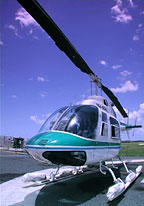 Scenic Heli Flights Guest Reviews (7)

Thursday, May 31, 2012
Helicharters staff were excellent and our pilot Darren was excellent both in piloting and commentary. We loved our experience and highly recommend it.

Sunday, June 26, 2011
Had a wonderful day, the boat crew were fantastic, so had a great day on the reef & finished with a magnificent flight home.

Monday, May 23, 2011
FANTASTIC WAY TO SEE THE REEF.
Read all reviews

Monday, May 02, 2011
Fantastic heli ride back to Cairns!

Wednesday, March 16, 2011
We loved it! Thank you.

Monday, January 07, 2008
All trip was great! That good, that at the end of the year we are moving to Cairns.
All the best, Andy

Wednesday, October 17, 2007
Down Under Helicopters is highly recommended and excellent way to see the Great Barrier Reef. The helicopter pilot was thorough,professional and extremely saftey conscious. He gave us a running commentary as we flew towards the reef, pointing out and naming the various islands and reefs. Once we arrived at the reef he circled around to point out and give us a great view of the fish and turtles, before landing on a pontoon in the water next to the tour boat.
If u want to see the reef in all its beauty, then Down Under Helicopters is definitely the way to do it.

Scenic Heli Flights Rates
TERMS
Under 2 travel free
Family = 2 Adults & 2 Children
CURRENCY CONVERTER
WE DO NOT CHARGE BOOKING FEES OR CREDIT CARD SURCHARGES
Scenic Heli Flights Simple Enquiry
Need Help With Your Enquiry
Our Cairns Office is open again in 3 hours