Great Adventures Island & Reef

Green Island & Barrier Reef Adventure
2 hour Green Island Stopover
3 hours at Barrier Reef platform
Popularity

Service

Value

Overall

Based on 94 ratings
Great Adventures Island & Reef Tours
Green Island & Outer Reef
FROM $256 per adult
Great Adventures Island & Reef Info
Green Island & Great Adventures Outer Reef Pontoon

Complete your Great Barrier Reef Experience with the ultimate day out by combining Green Island and the Outer Barrier Reef.

Green Island is a superb coral cay with delightful sandy beaches and crystal clear waters on the Great Barrier Reef just 45 minutes from Cairns. You will have 2 hours to explore this perfect piece of paradise.

After spending time on Green Island cruise on-board a modern comfortable high-speed catamaran to the first class multi-level pontoon situated on the Outer Barrier Reef. Spend your afternoon snorkelling in the crystal clear waters, discovering exotic marine life and beautiful coral formations OR stay dry and cruise in the Semi Sub and visit the Underwater Observatory. There is something here for everybody.

Why we like it:
Island & Outer Reef in one day
Suitable for non-swimmers
Family friendly
---
Inclusions:
Return air-conditioned fast catamaran cruise
Morning tea & coffee served until boat departure
Morning tea cake selection
Two (2) hours on Green Island
Three (3) hours at Outer Reef platform
Snorkelling equipment all day
Use of buoyancy vests at the pontoon
Reef education presentation
Hot and cold buffet lunch
Semi-submersible coral reef viewing tour
Underwater Observatory
Eco Reef Talk in underwater observatory
Afternoon tea & coffee whilst at the platform
Cheese and biscuits on return journey
---
Pontoon Facilities:
Undercover seating and tables
Full Bar Facilities
Sun-deck with Sun-lounges
Swimming enclosure for children
Change rooms with freshwater showers
Scuba diving facilities with semi-submerged platform
---
Your Day:
7.30am Check-in at Great Adventures Reservations Counter inside the Cairns Reef Fleet Terminal to obtain your boarding pass.

8:00am Vessel boarding. Complimentary morning tea/coffee served on boarding.

8:30am Depart Reef Fleet Terminal for Green Island.

9.15am Arrive Green Island 2 hours free time to explore Green Island…Included snorkel gear, (fins, mask and snorkel) can be obtained from the Dive Shop on the island. Enjoy a leisurely island walk with the self-guided Eco Island Walk or take a dip in the island swimming pool.
On arrival: Pre-booked optional activities including scuba diving, Seawalker helmet diving commence as advised.

11:20am Re-board vessel for departure to the Great Barrier Reef platform. Cake selection served on forward journey. During your journey to the reef, a Reef Presentation is shown on the vessel's monitors. Snorkelling demonstration by crew.

12:30pm Arrive at the Outer Great Barrier Reef platform Reef activities commence…Semi-submersible coral viewing tour with informative commentary departs every 30 minutes or as advised. Snorkel directly from the platform. Collect your snorkel gear and buoyancy vests once on the platform. Underwater observatory is open throughout the day for coral and fish viewing. Pre-booked optional activities including introductory diving, Scuba-Doo and scenic helicopter flights commence as advised.

1.00-2.30pm Hot and cold buffet lunch is served. Time for more reef activities or just relax on the sundeck and take in the views! Tea and coffee is available whilst at the platform

3:30pm A blast on the ship's horn will signal the time when all passengers should return to the vessel ready for departure.

3:45pm Departure to Cairns via Green Island. Complimentary cheese and biscuits served on homeward journey.

5:30pm Arrive Cairns Reef Fleet Terminal.
---
Additional Costs:
Introductory or Certified scuba diving
Scenic helicopter flights - Cruise / Fly options available
Guided snorkel tours
Cairns City / Northern Beaches (Trinity Beach or Palm Cove) hotel transfers
---
What to bring:
Swimming costume and beach towel
Hat, sunscreen, sunglasses
Money for drinks, souvenirs and optional activities
Camera
Multi-lingual staff members: Great Adventures does have Japanese and Chinese crew members on this boat all year round. Please request this option when booking so that we can make sure the staff member is working on your day of travel. German, Italian and Korean speakers also work as crew on Great Adventures.
Great Adventures Island & Reef Packages
4 night Outback, Reef & Rainforest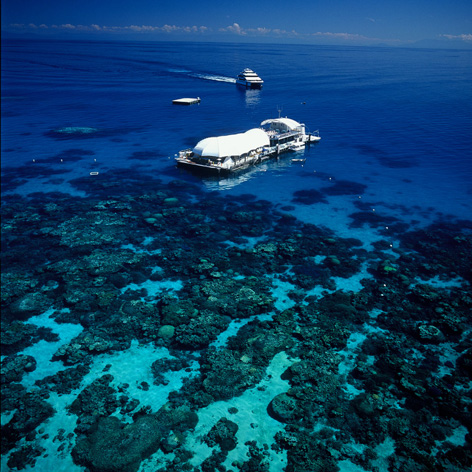 4 NIGHTS @ THE HOTEL CAIRNS & BREAKFAST
LUXURY GREEN ISLAND & OUTER REEF TOUR
EXPLORE CHILLAGOE CAVES & OUTBACK
4WD SAFARI TO CAPE TRIBULATION
FAR NORTH'S UNPREDICTABLE BEAUTY

BASED ON
1 ADULT
Great Adventures Island & Reef Guest Reviews (20)

Tuesday, July 24, 2018
We booked this tour through travstar. We received great service from travstar and the tour was very enjoyable.

Tuesday, November 07, 2017
Staff and crew were all wonderful and very helpful. I loved the Scuba-do experience and also the helicopter ride back to Cairns - excellent day.

Wednesday, June 17, 2015
My husband Scott and I had a fantastic day on our tour of the Green Island and Great Reef Pontoon 6/6/15. It was a full day creating fantastic memories we will treasure for a lifetime. Highlights were the parasailing at Green Island truley magestic flying above the waves looking as far as you can to the Island itself and beyond. The staff on the pontoon were quick to help make sure we were well decked out with gear for snorkeling and enouraged us to make the most of our visit in swimming with the fish. We always felt safe , the food was delicious the semi sub was awsome...thanks for the memories Cathie and Scott Jeffs
Read all reviews

Monday, July 28, 2014
Dear Natalie and Gene,

Thanks for your terrific service. Both my daughter and myself really enjoyed the two trips booked through Travstar.

What I really appreciated, on perusing the so many day tour options on your website, was the very detailed description of each tour plan, with times and features and itinerary all provided. That was of great assistance.

Thanks again

Sunday, August 11, 2013
Really enjoyable, great friendly staff. Could do with better directions at Green Island for where the best snorkelling is when you only have a 2 hour stop over every minute counts. Pontoon and semi sub fantastic. Outer reef is magnificent!! Loved it!!

Friday, July 12, 2013
Amazing experience seeing the involved sights and was all it was advertised to be.

Friday, May 17, 2013
Overall good!!!Definitely I would recommend to my friends!!!

Saturday, June 16, 2012
We had the best day every the island and the reef excellent can wait to bring my family up there my girlfriend who I taught to snorkel for the 1st time WHAT A TIME !!! she had thank you .we be back .Erica.J.

Monday, April 02, 2012
At the pontoon. Windy but still very good. Submersible was good although water a little murky but not as bad as it could have been. Everyone helpful. Helicopter flight excellent and good service.

Thursday, March 01, 2012
LOVED IT!

Thursday, August 11, 2011
My wife went scuba diving and I went for scuba doo then snorkelling.
..and everytime,Wally was there:-)) I was wondering if Wally is working for Great Adventures!!! My wife and I had a great time! The tour is highly recommended. ...by the way, Wally is a fish:-))

Tuesday, June 14, 2011
This was our favourite day on our Cairns trip. Everything ran smoothly with ample time to enjoy each activity. Breaking the trip into these two components made it more enjoyable, Green Island as our first stop was very beautiful and we enjoyed the great walks and views. We then had two to three hours to snorkel and explore the outer reef. Lunch in the middle of the ocean was fantastic, offering hot and cold choices. A nice hot meal after an hour in the water really leaves you satisfied. Doing this again next year!

Tuesday, May 17, 2011
What an a mazing day, the staff were great and at no time did l feel that any of the extra activites were a hard sell, I was doing the day by myself and everyone was friendly and helpful. Loved it, and would do it again.

Thursday, July 08, 2010
It was very exiting

Saturday, June 12, 2010
very well explained and on the day went exactly as described

Wednesday, March 24, 2010
A brilliant day out, efficient courteous staff. Lunch was excellent, to expierience snorkelling on the Great Barrier Reef was fabulous

Friday, November 20, 2009
This was the highlight of a two month vacation. The service was above excellent everyone made sure that it was a perfect day a special thanks to the dive master and the photographer -- You made it one of the most memorable days of my life -- hope to come back.

Wednesday, October 14, 2009
Of all the things we did in Cairns this was the favourite. Thanks for a great day, it is one me and my family will never forget. Awesome being able to do Green Is as well and use the pool. Just a fantastic day.

Friday, August 21, 2009
What a day! excellent! day, excellent people!, excellent fun at Iland and reef!

Thursday, April 02, 2009
beautiful coral sea, and fantastic crew on our cruise. very beautiful snorking experience on my cruise.
Great Adventures Island & Reef Videos (4)
Great Adventures Island & Reef Rates
All prices shown in Australian Dollars
Prices valid from now until 31 March 2019
Green Island & Outer Reef
Adult
Child
Family
Green Island + Outer Reef
$256
Includes Levies
$142
Includes Levies
$673
Includes Levies
All prices shown in Australian Dollars
Prices valid from 01 April 2019 until 31 March 2020
Green Island & Outer Reef
Adult
Child
Family
Green Island + Outer Reef
$270
Includes Levies
$146
Includes Levies
$693
Includes Levies
Green Is. & Reef with Cairns hotel transfers
$299
Includes Levies
$165
Includes Levies
$791
Includes Levies
Green Is & Reef with Nthn Beaches hotel transfers
$306
Includes Levies
$166
Includes Levies
$807
Includes Levies
OPTIONAL EXTRAS
Prices valid from now until 31 March 2019
Guided Snorkel Tour | Adult
$64
Guided Snorkel Tour | Child
$34
Cairns City Transfer - Adult
$28
Guided Snorkel Tour | Family
$162
Scuba Doo
$170
Cairns City Transfer - Child
$18
Northern Beaches transfer | Child
$19
Northern Beaches transfer | Adult
$34
Certified Scuba Dive - One 40 minute dive
$118
Certified Scuba Dive - Two 40 minute dives
$172
Prices valid from 01 April 2019 until 31 March 2020
Cert Dive x2
$178
Introductory Scuba Dive x1
$172
Cert Dive x1
$122
TERMS
Child Age = 4-14 years
Family = 2 Adults & 2 Children
CURRENCY CONVERTER
WE DO NOT CHARGE BOOKING FEES OR CREDIT CARD SURCHARGES
Great Adventures Island & Reef Location Map
Great Adventures Island & Reef Simple Enquiry
Need Help With Your Enquiry
Our Cairns Office is Currently Open
Call one of our friendly local consultants to help with your enquiry over the phone.