Accommodation Specials!
Search Using Your Travel Details Below
3 Day Package - Option 1 - Cairns
3 Day Package - Option 1






3 FULL DAYS OF ACTION
LUNCH INCLUDED EACH DAY
5 HOURS ON THE REEF
TULLY RIVER RAFTING
MOSSMAN GORGE

BASED ON
1 ADULT

OSPREY OUTER REEF CRUISE

VISIT 2 REEF LOCATIONS

ALL EQUIPMENT PROVIDED

STUNNING LOCATIONS

FIND NEMO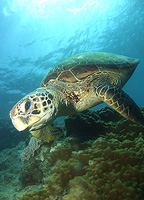 TALK TO THE LOCALS

TULLY RIVER RAFTING

GRADE 4 RAPIDS
FULL DAY OF ACTION!

TOP GUIDES

27 RAPIDS

SPECTACULAR SCENERY

THIS IS A MUST DO!

AWESOME ADVENTURES

RAINFOREST HABITAT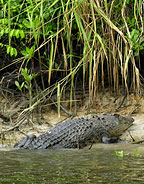 VIEW CROCS ON THE DAINTREE RIVER CRUISE

CAPE TRIB BEACH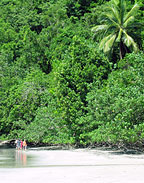 RAINFOREST MEETS THE REEF

FULLY GUIDED

MARRDJA BOARDWALK

A GOANNA!

DAINTREE RIVER FERRY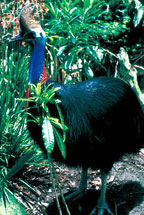 CASSOWARY
3 Day Option 1 - Reef, Tully Raft & Rainforest Package is ideal for those wanting to explore the region with some added adventure!
The tours in this package do not need to be taken on consecutive days, please advise if you have preferred dates of travel. All tours depart daily.
Day One: Osprey Reef Cruise
Osprey V offers a truly memorable reef experience to the true Outer edge of the Great Barrier Reef.
Departures: Check in at the Reef Fleet Terminal at 7:30am, commence boarding at 8:00am, vessel departs Cairns at 8:30am. This trip returns to Cairns at 5:00pm.
Inclusions & Highlights:
Fast trip to and from the reef onboard Osprey V (35m vessel taking up to 100 passengers)
Visit two spectacular reef locations (Norman, Saxon, Hastings Reef and are chosen by the skipper on the day of travel to ensure the best protection and underwater visibility according to prevailing weather conditions)
Aussie BBQ lunch including steak, fish, prawns, sausages, cold meat selection and tropical salads (vegetarians are catered for)
Complimentary morning tea - tea, coffee and biscuits
Complimentary glass of wine and Cheese & fruit platter on return journey
Large sundeck and saloon
Live musical entertainment onboard on return journey
5 hours of snorkelling or diving (additional cost for diving)
Free guided snorkelling tours
Snorkelling gear & floatation devices
Free 10 min scuba dive demonstration - (charges apply if you decide to proceed)
FREE Glass Bottom Boat Coral viewing tour
Environmental Management Charge
Additional Costs:
Hotel transfers
Intro/Certified Diving/ Heli flights/Snorkel Scooters
Onboard purchases - drinks, snacks, underwater camera
Day Two: Tully River White Water Rafting

Raging Thunder offers an excellent full day of white water rafting on the Tully River.
Departures:
The Tully Gorge is 2.5 hours from Cairns and 1 hour from Mission Beach
Cairns Accommodation Daily at 6:30am (returns approx 5:30pm)
Mission Beach Accommodation Daily at 7:30am (returns 4:00pm)

Inclusions & Highlights:
Return hotel transfers
Approximately 5 hours of white water rafting
Guaranteed water levels all year round
All tuition, no experience necessary
Safety equipment including life jacket, helmet and spray jacket
BBQ lunch beside the river
$30.00 Department of Natural Resources levy
When you arrive at the river you will be fitted with a helmet and life jacket, allowing you to float along the river should you happen to fall out. All of the rafts stay together, traversing the rapids in a carefully planned sequence with guides providing cover from the river banks.

Lunch is a delicious BBQ on the banks of the river with a chance to take in the spectacular scenery. Follow this with more action in the foaming white water of the lower gorge.

The entertainment does not stop there - you return to the exclusive Raging Thunder Cafe where screams of laughter abound as you watch the day's action on video before you and your memories return home. It really is a very memorable, fun day with beautiful scenery running the length of the river. Photos are available at the cafe after the thrilling day.

PLEASE NOTE:
The minimum age for Tully rafting is 13 years.
Rafting is not suitable for anyone who is pregnant
Day Three: Daintree and Cape Tribulation
Enjoy an unforgettable day of discovery with Adventure Company exploring the World Heritage Daintree National Park and Cape Tribulation where the Rainforest meets the Reef.
Departures:
This tour departs Cairns daily at 7:00am returning at 6:30pm (approx)
This tour departs Port Douglas daily at 8:00am return at 5:30pm (approx)
Inclusions & Highlights:
Door to door pick up
Professional Naturalist Guide
Set lunch at Cape Trib Beach House
Brief tour of Port Douglas
Wildlife Habitat Sanctuary
Mossman Gorge
World Heritage Listed Daintree National Park and Cape Tribulation
Daintree River Cable Ferry
Breathtaking coastline views
Cape Tribulation beach
Guided Marrdja Boardwalk
1 hour Daintree River Cruise
• Coastal Drive – Travel to Port Douglas on one of the most renowned scenic coastal roads in Australia. Have your camera ready and eyes pealed to the right as we depart Palm Cove for breath taking views.

• Port Douglas (Starter package) – Enjoy 1 hour free time in Port Douglas to soak up the village atmosphere with a brief tour of 4 mile beach

• Rainforest Habitat – 1 hour to visit the award winning Rainforest Habitat where you will venture through purpose built native habitats of some of Australia's rare, endangered and beautiful native animals. You have a chance to have morning tea with the birds (optional extra), hand feed a Kangaroo and see a Koala doing what they do best…..sleeping! If you visit Rainforest Habitat you will not have 1 hour free time in Port Douglas.
• Mossman Gorge - Enjoy a brief stop (1 hour) and guided rainforest walk. See the crystal clear waters of Mossman River cascade over spectacular boulder formations amongst the lush rainforest.
• Alexandria Lookout – The perfect location to view where the Daintree Rainforest, Daintree River and the Coral Sea merge into one spectacular panoramic reflection. Ideal spot for those post card photo opportunities.

• Lunch Time – Only meters from Cape Tribulation Beach you will be treated to a Chef prepared lunch. Indulge in a set menu choice of local barramundi (fish), Steak and a Vegetarian option all served with a fresh garden salad & chips, daily baked bread finished off with a tropical fruit platter to share at your table. Bring your towel & swimmers for a dip in the resort pool or in the ocean (marine stingers are present during the stinger season Oct to June).

• Cape Tribulation Beach – Already there for the lunch break you now have free time for a walk along the full length of the magical Cape Tribulation Bay (takes 30min unguided) or simply kick back and relax under the fringing rainforest of the Daintree where the "Rainforest meets the Reef"!

• Marrdja Botanical Boardwalk – Your guide will share the secrets of the rainforest and explain the amazing connection between the various rainforest plants, tidal creek systems and the many different species of mangrove trees that have thrived in this unique area for thousands of years.

• Daintree River Wildlife Cruise – Our journey continues to the majestic Daintree River for a 1 hour Wildlife and Crocodile exploration. This is a rare location to see wildlife at play in their native habitat and retrieve knowledge and tales of the area from a local naturalist guide.

• Rex Lookout – On the return trip back to Cairns we will stop briefly at Rex's Lookout. A popular spot for tourist's to take scenic photos of the coast line and out to Green Island. It's also a popular spot for dare devil hang gliders to enjoy the uplifting sea breeze.

Please Note: Depending on the numbers on the day you will be travelling in either a very large 4WD vehicle or a coaster bus with 4WD capabilities.
GREAT NEWS! All payments made to Travstar do not incur a credit card surcharge.
All prices shown in Australian Dollars
Prices valid from now until 31 March 2014
3 Day Package - Option 1
PACKAGE
3 day Opt 1- Osprey, Tully, Cape Trib
$477
(includes levies)
CURRENCY CONVERTER
WE DO NOT CHARGE BOOKING FEES OR CREDIT CARD SURCHARGES
CALL US AND SPEAK TO ONE OF OUR LOCAL CONSULTANTS FOR
EXCELLENT PERSONALISED SERVICE AND LOCAL KNOWLEDGE
FREECALL: 1800 663 396
INTERNATIONAL CALLERS: +617 40402100
Whats Hot!
Travel Tools
Whats Hot!