Accommodation Specials!
Search Using Your Travel Details Below
7 night Fun & Sunshine Package - Cairns
7 night Fun & Sunshine Package






7 NIGHTS AT MERCURE HARBOURSIDE
2 BEDROOM HOTEL SUITE
OCEAN SPIRIT MICHAELMAS CAY REEF DAY
SEMI SUBMARINE TOUR
KURANDA TRAIN & SKYRAIL

BASED ON
2 ADULTS
2 CHILDREN

PERFECT LOCATION

CAIRNS ESPLANADE

SWIMMING POOL

COMFORTABLE ROOMS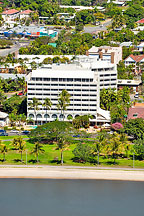 MERCURE HARBOURSIDE

OUTDOOR WINE BAR

FINE DINING

BLUE MANGO CAFE

LUXURY SAILING

MICHAELMAS CAY

UNLIMITED SNORKELING

PERFECT VISIBILITY

FUN & SUNSHINE

PRETTY CORAL GARDENS

CALM WATERS

SEMI SUBMERSIBLE

SPACIOUS DECKS

BARRON FALLS
KURANDA SCENIC RAIL

KURANDA TRAIN

RAINFOREST

SPECTACULAR SCENERY

SKYRAIL CABLEWAY

FANTASTIC SCENERY

RAINFOREST BOARDWALKS

INFORMATIVE GUIDES
The 7 night Fun & Sunshine Package is a fantastic option for small groups, friends and couples travelling together and families wanting to experience the highlights of North Queensland. Your accommodation is a 2 bedroom Hotel Suite at Mercure Cairns Harbourside on the Cairns Esplanade. Including a full daytrip to Michaelmas Cay with Ocean Spirit Cruise and the Kuranda Train & Skyrail Tour. With the built in savings this is one of the best value packages we have put together to date.
Package Inclusions:
7 nights accommodation
2 Bedroom Hotel Suite @ Mercure Harbourside
Complimentary WiFi
Ocean Spirit Michaelmas Cay
Luxury sailing boat
Unlimited snorkelling from the beach
Semi-Submersible tour
Kuranda Train & Skyrail Full Day
Day 1: Arrive into Cairns, check into Mercure Cairns Harbourside
Mercure Cairns Harbourside is located at the northern end of the Cairns Esplanade with spectacular views over the surrounding tropical mountains. The hotel features spacious and comfortable 2 Bedroom Hotel Suites.

Why we like it:
An ideal base to explore Cairns
20 min waterfront stroll to Cairns CBD
FREE, hourly Shuttle to CBD 10am-10pm
FREE undercover car parking
FREE WiFi
FREE Daily paper on request (The Australian OR Cairns Post)
FREE cable TV
Hotel facilities Include:
24-hour Reception
24-hour Room Service
Spa/Hot tub/Jacuzzi
Outdoor pool
Lift/Elevator
Non-smoking floors
Laundry facilities
Porter/Bell service
Two Bedroom Suites Feature:
One bedroom Suite & Standard Room interconnecting
2 Kings & 1 sofa bed OR 1 King & 2 singles & 1 sofa bed
Mountain views
Broadband internet access in all rooms
FREE cable television
3 x LCD TV's
Kitchenette with microwave, Tea & Coffee making facilities, mini refrigerator
Private Balcony
Pay-per-view movies
Radio
Desk
Hairdryer
Iron & ironing board
Alarm clock
Mini bar on request
Opening windows
Air conditioning
Shower over bath
In-room safes
Non OR smoking rooms on request
Dining Options:
Teshi's is located on the ground floor over looking the pool and Trinity Bay. There is a variety of menu selections varying from local Aussie Classics to International Dishes. Meals also have suggested wines to pair with dinner items. Teshi's is open for breakfast from 6.30am - 10.00am for a light or full breakfast.

Blue Mango Café is open from 10.30am – till late and offers light meals and snacks including cakes, biscuits, coffees and ice creams.

Day 2: Ocean Spirit Michaelmas Cay Cruise:

Set sail aboard a luxury catamaran and visit Michaelmas Cay, a natural and pristine sand cay, located on the Great Barrier Reef.
Departs:
8:30am daily from Cairns Marlin Jetty- return 5pm.

The Michaelmas Cay Cruise takes you to a small coral cay of white sand with fringing reef. This is a spectacular destination with shallow warm waters. Michaelmas Cay is also famous for it's protected seabird sanctuary, with 27 000 migratory birds making it their home. This is one of the most important nesting sights in the Southern Hemisphere and an absolute haven for any nature lover.

There is plenty of time to snorkel. You will see coral shelves and bommies, which are very colourful and diverse with soft and hard coral varieties in all colours of the spectrum. These are home to thousands of tropical fish in all sizes, shapes and forms.

The activities during your four hours at the reef includes snorkelling with snorkelling tuition and guided snorkelling tours, diving, semi submersible tours, a fish feeding session upon arrival to the cay and an informative guided bird talk.

A delicious lunch is provided on the cruise and there is a licensed bar selling cold drinks.

INCLUSIONS:
* 4 full hours on the reef
* Guided Nature tours of Michaelmas Cay
* Informative tours in semi-submersible
* Morning refreshments
* Superb hot & cold buffet
* Afternoon tea
* Snorkelling demonstrations and tuition
* Use of all snorkelling equipment
* Use of floatation vests
Tour Itinerary:
7.30am : Walk along Esplanade to Reef Fleet Terminal
8.00 am : Check into Ocean Spirit counter. Boarding commences. Complimentary tea/coffee served.
8.30 am : Depart Cairns for the Great Barrier Reef.
9.00 am : Snorkeling & dive demonstration & reef brief.
9.30 am : Informative Marine Biologist slide show.
10.30 am : Arrive at Michaelmas Cay.
Reef activities commence including :
* Snorkeling
* Semi-submersible Coral viewing tour
* Beach walks
* Scuba diving
* Swimming
12.00 Noon : Buffet lunch served on board.
1.00 pm : Continuation of reef activities.
2.30 pm : Afternoon tea is served.
2.35 pm : Safety head count
Depart Michaelmas Cay for return sail to Cairns.
5.00 pm : Arrive at Cairns and walk back to hotel
Lunch Buffet Menu
- North Queensland Gulf Prawns
- Baked Champagne Leg of Ham
- Medley of Roast Chat & Sweet Potatoes with Rosemary
- Orecchiette with Rocket, Olive and Sun-dried Tomatoes
- Peri Peri Chicken
- Crumbed Reef Fish of the Day
- Basmati Vegetable Pilaf
- Caesar Salad
- Hokkien Noodle Salad
- Greek Salad
- Coleslaw
- Fresh Selection of Bread
- Deluxe Australian Cheeses with water crackers
- Platter of North Queensland Tropical Fruits
- Selection of Desserts
* Indicative menu only, subject to change without notice.

OPTIONAL EXTRAS:
* Snorkelling tours with our Marine Biologist
* Certified and introductory diving
* Drinks & snacks from the fully licensed bar
* Sunscreen lotions and underwater cameras
* Hire of wet/stinger suits
* On board video and photography
* A range of quality souvenirs and merchandise
* Cairns CityTransfers

WHAT TO BRING:
You need to bring your swimsuit, towel, sunscreen, hat, sunglasses and camera. You will also need cash/credit card for drinks, the large range of souvenirs and merchandise, diving and wetsuits.

Day 3: Kuranda Train & Skyrail
The coach will pick you up in the morning at Mercure Cairns Harbourside and transfer you to Freshwater Station for check in. It is then time to board the famous Kuranda Scenic Rail for an unforgettable journey, winding over the mountain range over bridges and through tunnels into Kuranda. There are spectacular views of Cairns and the Coral Sea from your carriage and a souvenir booklet is included.
Kuranda is a small village in the Rainforest with one main street. From the train station it is a very easy walk to the markets and other attractions.
This town became famous in the 1970's when many artists moved to the area to create art and crafts. A local market was born which is still famous today. There are also local art and craft shops and cafes.
The Attractions are many and varied including Birdworld, The Butterfly Sanctuary and the Rainforest Noctarium. There are plenty of public facilities and also a park.
At the scheduled time you will board Skyrail, the world's most beautiful rainforest experience. Skyrail has four seat cablecars which travel up & down the mountain to Kuranda. The scenery is magnificent looking out over the Coral Sea and cane fields while skimming across the top of the Rainforest Canopy.
There are two stops enroute where you can learn about the rainforest in the National Park's interactive information area and also take a walk along raised boardwalks through the rainforest. It is fun and educational.
Once back in Smithfield, you will be transfered back to Mercure Cairns Harbourside.

Lunch is not included in this daytrip.
Your day includes:
Return transfers from Mercure Harbourside
Kuranda Scenic Rail
Free time in Kuranda at your leisure
Skyrail Rainforest Cableway
Train Gold Class upgrade:

Gold Class has provided a premium experience, giving you the extra comfort and little bit of luxury, and a most memorable experience
3.30pm departure from Kuranda to Cairns
Dedicated host service
Individual seating, lounge-style chairs
Ambient, historical décor, including timber look flooring, historical photographs and cedar interior
Kuranda Scenic Railway gift pack including Kuranda Scenic Railway badge, pen, postcard and postage
Souvenir trip guide
Optional exclusive tour of the Heritage-Listed Signal Cabin at Kuranda station
Queensland and local Tablelands produce such as Gallo Dairyland Cheese, Skybury Coffee, Wondaree Macadamias, Manago to Go (100% pure mango "ice-cream" style treat), freshly baked muffins with local fruit, Sirromet wines and Great Northern Brewing Company Super Crisp Lager
Welcome drinks served onboard the train
Days 4, 5, 6 & 7: Free days at your leisure. If you would like to do other tours please let us know.
Day 8: Check out of hotel, end of package.
Please Note: The package does not include any meals except those stated in the tours in the above itinerary. Please let us know the days that you would like to do the tours when booking. This price is based on children aged between 4 and 14 yrs. If your children are not in this age category the price will change slightly. Please advise us of the ages of your children for a correct quote.
All prices shown in Australian Dollars
Prices valid from now until 31 March 2014
FUN & SUNSHINE
PACKAGE
Cairns Family Pack | 2 Adults
$2059
(includes levies)
Cairns Family Pack | 3 Adults
$2336
(includes levies)
Cairns Family Pack | 4 Adults
$2613
(includes levies)
Cairns Family Pack | 5 Adults
$2890
(includes levies)
FUN & SUNSHINE - FAMILY
PACKAGE
Cairns Family Pack | 1 Ad 2 Ch
$2148
(includes levies)
Cairns Family Pack | 1 Ad 3 Ch
$2331
(includes levies)
Cairns Family Pack | 2Ad 2Ch
$2367
(includes levies)
Cairns Family Pack | 2Ad 3Ch
$2550
(includes levies)
CURRENCY CONVERTER
WE DO NOT CHARGE BOOKING FEES OR CREDIT CARD SURCHARGES
CALL US AND SPEAK TO ONE OF OUR LOCAL CONSULTANTS FOR
EXCELLENT PERSONALISED SERVICE AND LOCAL KNOWLEDGE
FREECALL: 1800 663 396
INTERNATIONAL CALLERS: +617 40402100
Whats Hot!
Travel Tools
Whats Hot!