Accommodation Specials!
Search Using Your Travel Details Below
Rainforest & Island Relaxation - Cairns
Rainforest & Island Relaxation






3 NIGHTS DAINTREE ECO LODGE & SPA
1/2 HOUR MASSAGE & RAINFOREST WALK
3 NIGHTS GREEN ISLAND RESORT
HOT BREAKFAST DAILY - SUNSET DRINKS ON ISLAND
OUTER BARRIER REEF CRUISE & SEMI SUB TOUR

BASED ON
2 ADULTS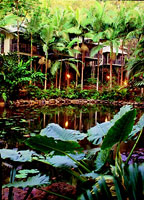 DAINTREE ECO LODGE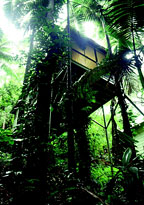 LUXURY RAINFOREST ACCOMMODATION

2 X 30 MIN MASSAGES INCLUDED

Julaymba Restaurant

RAINFOREST SETTING

GREEN ISLAND RESORT

GREEN ISLAND RESORT

PRIVATE RESORT POOL

TROPICAL ISLAND PARADISE

SNORKEL STRAIGHT OFF THE BEACH

PERFECT COUPLES GETAWAY

RESORT FACILITIES

RAINFOREST ISLAND WALK

VISIT THE OUTER EDGE OF THE GREAT BARRIER REEF

REEF PONTOON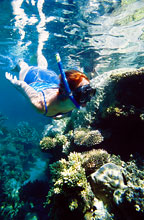 EXPLORE THE GREAT BARRIER REEF

UNDERWATER OBSERVATORY

ISLAND TRANSFERS
The Rainforest & Island Relaxation Package offers an ultimate getaway at an ultimate value price! This package is perfect for couples who are after combining a premium rainforest & island getaway...

Package Inclusions: (Package is based on 2 persons sharing)
Daintree Eco Lodge & Spa
3 Nights in Treehouse Spa Bayan
Hot Breakfast daily
Guided Rainforest Walk
2 x 1/2 hour massages
Green Island Resort
3 nights in an Island Suite or Reef Suite
Full buffet breakfast daily
Sunset welcome drinks
Outer Great Barrier Reef cruise
Return ferry transfers from Cairns
All snorkelling gear
Beach hire equipment such as kayaks etc;
Many island activities
Evening turn-down
3 Nights at Daintree Eco Lodge & Spa: On arrival into Cairns hire your car to drive to Daintree Eco Lodge & Spa, 1 hour 30 minutes north of Cairns. Return transfer is an additional $239 in total.
Each Spa Villa features:
15 tranquil rainforest villa treehouses are nestled within secluded positions in the world's oldest living rainforest.
Jacuzzi on the balcony
Fully micro screened balcony
En suite bathroom
King bed
TV, CD player
Free in-house movies
Original Aboriginal art
Tea and coffee making facilities
Mini-bar
Direct dial telephone
Air-conditioning and ceiling fan
Wireless and Dialup Internet access
Dining:
Julaymba Restaurant & Gallery, with it's balcony terrace, overlooks the peaceful fresh water lagoon and is accessible via elevated boardwalks through the lush rainforest. Uniquely crafted to compliment the rainforest setting and capture the serenity of the fresh water stream flowing beneath.
Select from innovative menus - With nature integrated into every aspect of the resort, native ingredients, some collected on the property, are used to create sensational signature meals and featuring light and healthy spa cuisine for the guest who enjoys delicious meals in line with good health and wellness

Interpretive Guided Rainforest Walk:
Daintree Eco Lodge & Spa's site is important in the local culture. The property was occupied by forefathers of the Kuku Yalanji people and used as a resting place as it provided spring water, an abundance of edible and medicinal plants, fauna, bathing holes, protection from harsh weather conditions and is adjacent to the majestic Daintree River.
Daintree Eco Lodge & Spa's Aboriginal guides couple this cultural information with botanical and wildlife information on an Indigenous Guided Rainforest Walk to special places with healing powers significant to women, highlighting bush medicines and foods, traditional life and history. Our guides also share their personal stories with you.
Daintree Wellness Spa:
Daintree wellness spa is a unique body, mind and soul experience, harnessing the potent natural forces to create a healing environment unlike any other. With the approval of the Kuku Yalanji elders, the spa treatments integrate the wisdom of ancient cultures, medicines, spirituality and healing.
Included in your stay is 2 x 1/2 hour massages. Revitalize with a massage tailored to your specific needs. Qualified therapists use a combination of Eastern and Western techniques. Let your body de-stress, release muscle tension and rebalance.
3 Nights Green Island Resort: Depart Daintree Eco Lodge in your own private hire car or depart at 10:30am and transfer by private Mercedes into Cairns City connecting with a 12:30pm check in at the Reef Fleet Terminal ready for a 1:00pm ferry departure to Green Island. This return transfer is an optional $239 in total including your transfer from Cairns and back to Cairns.
Your stay on Green Island includes an Outer Barrier Reef tour with Great Adventures including a semi submarine & lunch, Glass bottom boat tours on the island, snorkelling equipment and access to sea kayaks and windsurfers on the island and personal sun lounges with Parasols on the beach. Sunset drinks and fish feeding are also included activities in this package.

Your luggage will be transferred directly to your resort room. After check in you are more than welcome to explore the island and take part in the numerous activities.
With just 46 luxurious suites, you will discover an intimate haven. Suites are set in clusters under the rainforest canopy and adjoining central facilities via raised covered walkways. They are cleverly secluded from the remainder of the island and day visitor facilities.
At 5pm after the day visitors have left enjoy sunset drinks at the jetty with a choice of sparkling wine or orange juice. Fish feeding takes place from the jetty where you will see many tropical fish and a turtle or two if you're lucky! You will also have access to the Underwater Observatory and the option of taking a guided beach walk or stargazing.
Island Suite:
Island Suites consist of a spacious guestroom with either Twin configuration with 2x Double beds or 1x King. Some rooms are interconnecting. All rooms have separate showers and bath and a balcony looking over the pool or natural island surroundings.

Reef Suite
The Reef Suites are split-level luxury suites with a King bed, spacious lounge area, separate bath, shower and very private balcony. These suites have a more contemporary style and are perfect for special occasions.
Barrier Reef Adventure:
Board Great Adventures at 11:15am to your outer reef destination at Norman Reef. Travel time is approx 60 minutes where you will transfer onto a first class multi-level pontoon from where all the reef activities take place.
There are many activities available for people of all ages and excellent underwater dive options that are perfect for non-swimmers!
The diversity of the Marine life out here is amazing. We saw a huge number of beautiful small and very large tropical fish including a huge Maori Wrasse "Wally" who kept coming right up to us to say hello. It is the closest I have come to swimming in an aquarium. The Coral Gardens are very pretty and extensive.
As a dive site there were fabulous swim throughs and caves and a fantastic range of sea life.
If you want to learn more about the reef there is a Guided Snorkel tour that is very informative.
Reef Trip Inclusions:
Air-conditioned fast catamaran
3 Hours at Outer Barrier Reef platform
Afternoon tea
Delicious hot & cold buffet lunch
Semi-submersible coral viewing tours
Snorkelling equipment
Buoyancy vests if required
Reef education presentation
Undercover seating and tables
Full Bar Facilities
Sun-deck with Sun-lounges
Swimming enclosure for children
Change rooms
Freshwater showers
Great for Non-Swimmers
Dining at Green Island:
During the day guests can choose from a range of delicious and affordable meal and snack options from Green Island's restaurant and food outlets (at own cost).
Canopy Grill: Café style lunch such as burgers and chips or wraps. (Lunch)
Aussie Buffet: This delicious hot and cold buffet is served from the Canopy Grill. (Lunch)
Emeralds Restaurant: A la carte dining or set course menus. (Breakfast, Lunch and Dinner)
Lite Bites: Ice-creams, shakes and snack food. (Day)
Reflections Pool Bar: Refreshing drinks, specialty cocktails, coffees. Reflections Pool Bar and Emeralds Restaurant are fully licensed. (Day)
Ferry Departures to and from Green Island:
From Cairns are daily at 8.30am, 10.30am, 1.00pm
From Green Island are daily at 9.45am, 12.00pm, 2:30pm, 4:30pm

Getting to the Daintree Eco Lodge & Spa:
Located 90 minutes drive north of Cairns International Airport and 40 minutes from Port Douglas, the Daintree Eco Lodge & Spa offers a sense of exotic remoteness.
As you journey along the Cook highway from Cairns you will enjoy a feast of scenery ranging from secluded palm fringed beaches, hidden coves and rugged headlands, the rich green of lush sugar-cane fields, through to the mist shrouded rainforest clad mountains. This is rated as one of Australia's top 10 scenic drives.
Follow the highway north from Cairns past the Port Douglas turnoff, and follow the signs to Daintree. No turn-offs or ferry crossings are required.
PLEASE NOTE:
This package is flexible and can operate in reverse order. Additional days can be added. You can start this package on any day of the week provided there is availability. This package does not include airport transfers or beverages. Transfers can be organised however we suggest a hire car is far more convenient and cost effective. This package is based on two people, extra person's rate is available upon enquiry. Other packages can be tailored to suit your needs. Please ask one of our friendly consultants for further details...
Options are available to upgrade the accommodation at Green Island Resort to a Reef Suite. See rates table below.

* Note that this package is not suitable for Children
All prices shown in Australian Dollars
Prices valid from now until 31 March 2014
Rainforest & Island Relaxation
PACKAGE
Treehouse Spa Villa & Island Suite | 2 Adults
$2745
Treehouse Spa Villa & Reef Suite | 2 Adults
$3675
CURRENCY CONVERTER
WE DO NOT CHARGE BOOKING FEES OR CREDIT CARD SURCHARGES
CALL US AND SPEAK TO ONE OF OUR LOCAL CONSULTANTS FOR
EXCELLENT PERSONALISED SERVICE AND LOCAL KNOWLEDGE
FREECALL: 1800 663 396
INTERNATIONAL CALLERS: +617 40402100
Whats Hot!
Travel Tools
Whats Hot!