Click on Map Icons to View More Info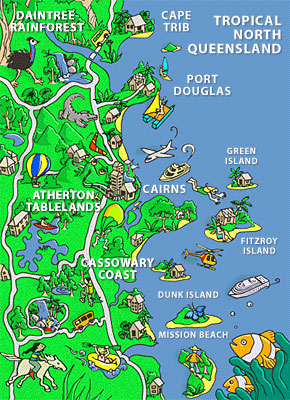 Top 10 Articles
4WD Safaris
Activities for Rainy Days
Amateurs Garden Party
Aqua Aerobics
Atherton Tablelands
Barron Falls
Barron River
Be Cass-o-wary!
Beach Volleyball
Bedarra Island
Cairns Region Guide
Click Images to view gallery for this subject
Fishing
Updated: 04-Jul-2016

Fishing is one of the most popular Great Barrier Reef activities with Reef/Bottom Fishing being the most common style. This means that the boat anchors and passengers fish with either hand lines or rod and reel to catch top quality table fish found on the Great Barrier Reef.
In a typical day you can be fishing for Nannygai and Trevally in the shipping channel, to deep water bommie fishing for Mangrove Jack in the paddocks, to fishing for coral trout in the shallows.
Catch delicious table fish such as red emporer, coral trout, nannygai, spangled emperor, sweetlip and fingermark. Ensuring the minimum size of your catch has been met, your fish will be cleaned and chilled ready to take home for dinner.
Individual or group charters are an advantage to ensure you fish when, where and for what you want.
Fishing operators include:

Cairns
Blackout Sportsfishing
Aquacat
Fishing the Tropics
Fish Tales

Port Douglas
Norseman

Fishing allows people to spend time on the water with family and friends and to get in touch with the natural world. The Great Barrier Reef offers many exciting and different fishing opportunities.
As well as observing fishing regulations, it is important that those who fish adopt responsible fishing practices while out on the water. These practices help protect the natural environment, maintain the ecological balance of the Reef and contribute to improving its general health.
By following these simple guidelines you are helping to ensure that the Great Barrier Reef continues to be one of the best spots on earth to fish.
Report tagged fish, suspected illegal fish kills (large numbers of dead fish) and entrapped marine animals.

When fishing
Take only what you need
Do not use pest or non-native fish for bait. Never release introduced species into the water
Do not fish where fish feeding takes place, for example as part of a tourist program
If you're unsure of the fish identity or size, release the fish immediately
Return all undersized and unwanted fish quickly to minimise injury
If you're keeping the fish, remove it from the hook or net immediately and kill it humanely
Do not litter - clean up all fishing gear (such as discarded tackle and line, and bait bags) and take it back to shore to dispose of it properly.
When spearfishing
Spear only what you need
Do not pursue a fish if you are unsure of its identity or size
Do not take big fish merely as trophies because these are important breeding stock
Always track down injured fish, do not let them swim off injured.
When returning unwanted fish
Minimise the length of time a fish is out of the water - keep fish in the water as much as possible and have your equipment close at hand. Very large fish should not be removed from the water
Do not leave fish on a hot, dry surface to thrash around
Place fish on a wet towel and cover them, especially the gills and eyes. The fish should not dry out and direct sunlight can damage their eyes
Handle fish gently - fully support its body, do not hold upright by the jaw, squeeze or kneel on the fish
Use wet hands or wet cloth when handling fish to minimise damage to their protective mucous coating
Remove the hook carefully and quickly using a pair of long-nose pliers or a de-hooker to minimise tissue tearing. If the hook is difficult to remove, cut the line instead
Help fish recover before their release - gently release the fish headfirst into the water
Use barbless hooks or those that are unlikely to become hooked in the gills or gut.
Edit This Page
Edit Page Content
Post Comment