Click on Map Icons to View More Info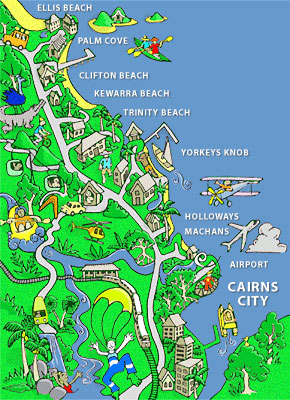 Top 10 Articles
2013 IRONMAN & 70.3
4WD Safaris
Activities for Rainy Days
Aqua Aerobics
Barron Falls
Barron River
Beach Volleyball
Bedarra Island
Behana Gorge
Big Cat Green Island
Cairns Region Guide
Click Images to view gallery for this subject
Stoney Creek
Updated: 17-Dec-2012
Stoney Creek is hidden away at the lower section of Barron Gorge National Park. This is a wonderful little walk through pristine rainforest along the beautiful, cascading Stoney Creek. The track is easy enough for children to negotiate, so bring the whole family, a picnic hamper and your swimming gear.
You will cross over a little bridge at the commencement of the walk. Make sure you wear good walking gear as the first 50 metres of the track is quite rough and rocky. After this initial climb, the track becomes flat, and a leisurely-paced stroll will take you to the waterfall at the end of the track within half an hour. Along the way, you will find numerous freshwater swimming pools, some shallow and some deep. Ancient trees and and vines hang over the track, making this a very cool and shady spot during hot summer days. Stoney Creek itself is a perfectly safe place to swim, unlike further downstream where it joins the Barron River - where crocodiles have been sighted.
At the end of the track, you will come to a glorious waterfall. It is actually possible to climb further than this, and if you do, make sure you bring lots of water. Most people just admire the waterfall, spend an afternoon swimming, and return back along the same trail.
Getting There:
Stoney Creek can be accessed from Cairns. Drive 15km along the BrinsmeadľKamerunga Road. Turn left into Stoney Creek Rd. Go straight through the first and second roundabouts until you reach the end of the road, where you will come to a sign that states you are about to enter the Barron Gorge National Park. You will find a well-marked track that takes you along Stoney Creek.
Edit This Page
Edit Page Content
Post Comment