Click on Map Icons to View More Info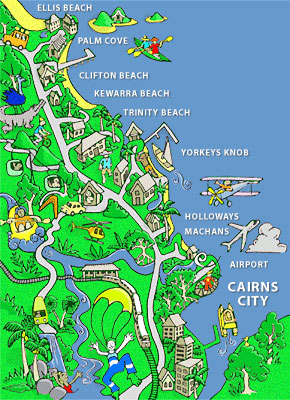 Top 10 Articles
2013 IRONMAN & 70.3
4WD Safaris
Activities for Rainy Days
Aqua Aerobics
Barron Falls
Barron River
Beach Volleyball
Bedarra Island
Behana Gorge
Big Cat Green Island
Cairns Region Guide
Click Images to view gallery for this subject

FITZROY ISLAND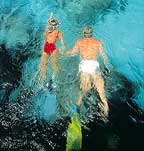 SNORKELING

SEA KAYAK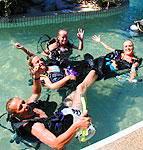 DIVE COURSE TRAINING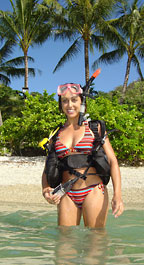 FITZROY ISLAND

SEA KAYAK TOUR TO LITTLE FITZROY

RESORT POOL

Fitzroy Island
Updated: 11-Jun-2010
Only 45 minutes from Cairns, Fitzroy Island is one of the most unspoilt islands on the Great Barrier Reef.
Fitzroy Island is actually a mainland island, originally part of the coastal mountain range of Malbon Thompson Mountain Range located behind Cairns (including Bellenden Ker, Mount Bartle Frere and Walshes Pyramid) Fitzroy Island was connected to the mainland approximately 10,000 years ago, when the Ice Age ended (approx. 8,000 years ago) the ice caps melted and the ocean rose an estimated 100m, and the valley between Fitzroy and the other mountain peaks flooded. This left it an isolated island. Fitzroy Island is actually the top of a submerged mountain. Most of the island's water comes from a natural freshwater spring originating in the Tablelands near Mareeba, and surfacing in the National Park bush behind the main complex.
Being a continental island, Fitzroy is covered with lush, pristine rainforest. Getting wet and exploring the coral reef surrounding the island, where tropical fish present a rainbow of colour, is as easy as stepping off the beach. Bird Life, Sea eagles and a variety of other species can be seen in the national park.
There are also many National Park rainforest walking trails around the island. The walks offer spectacular views across the island and surrounding reefs.
Other popular activities to choose from include sea kayaking, snorkelling, glass bottom boat tours and the ocean trampoline.
Fitzroy is easily accessible with daily departure from Cairns at 8:30am, departing the island at 4:30pm.

Camping:
For those who want to stay longer, Fitzroy Island Camping is now available.
Edit This Page
Edit Page Content
Post Comment