Viewing 1 to 2 of 2 properties
Viewing 1 to 2 of 2 properties
Cairns Accommodation
Cairns City has a wide range of accommodation with very competitive prices and a high and low season.
The most popular time of year to visit is between April and October, however due to additional International flights and higher visitor numbers overall the high and low season is not as predictable as it once was.
In the city centre you will find International Hotels and Resorts, ocean view holiday apartments, fully self-contained budget apartments and some of the best backpacker resorts & hostels in Australia.
Beaches

If you are after soft sand and palm fringed beaches then step outside of Cairns City and head north to the Northern Beaches. The most popular Northern Beach holiday spots are Trinity Beach and Palm Cove, located just 20-30 minutes by car from Cairns City.
Trinity Beach is a lovely sheltered cove nestled between two headlands. The golden sandy beach is framed by 1km of beautiful palms and features great facilities including electric BBQs for family enjoyment dotted along Vasey Esplanade, a beachside children's playground, various cafes and and intimate al fresco restaurants. Stunning beachfront holiday apartments all take advantage of the direct ocean views, with large furnished balconies allowing you to enjoy beautiful sunrises and sunsets.
Palm Cove has stepped up to the next level as a tropical beachside getaway with exclusive 5 star resorts, restaurants, resortwear, galleries, boutique shops and day spas that line the 1.5km long beachfront village. Set within a very long cove that stretches all the way to Kewarra Beach, Palm Cove features plenty of shady palm trees and clusters of beautiful Melaleuca trees that many of the resorts have been built around. The Palm Cove jetty is a popular spot for dropping in a line, and with glorious views out to Double Island, the Coral Sea and beyond make this a picture postcard holiday destination.
Find out more:
Cairns Beaches accommodation
Trinity Beach accommodation & activities
Palm Cove accommodation & activities
Budget

There are some great budget style properties offering all the services you would expect for an affordable and comfortable stay. Centrally located or within easy walking distance of the Cairns Esplanade, these budget properties allow you to save on your accommodation and put more into your holiday experience in Cairns. Budget style accommodation ranges from backpackers, guest house, motel rooms, holiday units and studio rooms, with some offering extra freebies such as Free WiFi, free breakfast or the kids stay for free. Ideally suited to singles, couples and families, fly in fly out, short stays, corporate stays, or those who want to be centrally located and not break the budget.
Find out more:
Cairns Budget Accommodation
Cairns Esplanade

The Cairns Esplanade extends from the marina and Cairns swimming lagoon in the south, to the mangroves and pirate ship in the north. This scenic promenade is 3km in length, lined with palm trees, fitness stations, cycle tracks, kids playgrounds, a cafe and sculptures, amongst other interesting features. The stunning views of the rainforest mountains, mangroves, and foreshore make it the perfect spot for an early morning, or afternoon stroll. Muddy's Playground and the Skate Park are ideal for kids, and the volleyball courts are an excellent way to enjoy some time with friends. The lagoon is a popular hang out for backpackers and families, often with live entertainment nearby. Opposite the lagoon is where you will find a great selection of restaurants, cafes and the popular night markets.
Find out more:
Cairns Esplanade - budget, holiday apartments & hotel accommodation
Family Friendly

Cairns is a top family friendly destination, and there are no shortage of family friendly places to stay. Holiday apartments are ideally suited to families as they are well equipped with a kitchen, lounge and dining area - much like a home away from home. With our year round tropical climate you will find that all resorts and holiday apartments have at least one pool, if not a few, and onsite bbq facilities that provide a perfect way to entertain the family whilst on holidays. Dual key apartments have become increasingly popular with modern holiday accommodation developments in the Far North. They comprise of a hotel room/studio room and a one bedroom apartment that can be adjoined. A single front door opens into a foyer area, where you will find two seperate entries to the rooms. When the single front door is closed, the hotel/studio room and one bedroom doors can be fixed open to form a two bedroom apartment that you can walk freely between. The apartment side has full kitchen facilities and lounge area, whereas the hotel room has all your standard hotel features. The bonus of having two bathrooms makes it very handy for families.
You can find many family discounts on activities and attractions around the region, plus stay/pay deals on long stay accommodation. Ask one of our friendly consultants who will happily recommend the best accommodation and tours to suit your families needs and budget.
Find out more:
Family Friendly Accommodation
Holiday Apartments

Holiday apartments provide a home away from home. Fully equipped they come with all you need for a long or short stay. Standard features include cooking facilities and all modern conveniences such as television, DVD, and internet access. Luxury apartments additionally may include features such as a European-style gourmet kitchen with all modern appliances, generous wardrobe space, full-sized washing machine and dryer, ensuite bathroom with oversized bath. The benefits of booking a holiday apartment include more space and privacy, convenience when travelling with a family, and the savings associated with dining in rather than dining out. Ideally suited to families, groups or the corporate traveller, the extra space is a welcome feature. Services usually include a pool and bbq area, however because of the availability of kitchen facilities within the apartments, you will find that extra facilities such as restaurants and bars are generally not available, but you can usually find them nearby. Housekeeping is generally around every 3 days or mid-stay for longer stays, this allows more peace and privacy to enjoy your time in your apartment.
Holiday apartments are ever popular in Cairns, with many options to choose from based on your budget or preferred location. Some of our favourites include Bay Village and the Mantra Trilogy in Cairns City or Sea Change and the Blue Lagoon Apartments at Trinity Beach.
Find out more:
Cairns Holiday Apartments listings here
Hotels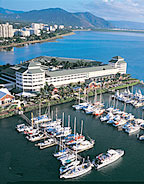 Like any city, Cairns has a range of hotels to suit all budgets and requirements. In the city centre you will find a number of International Hotels including the Shangri La Cairns Marina, Park Regis City Quays and the Novotel Cairns Oasis. The Shangri La is in a prized position located right on the waterfront opposite the Cairns Marina. This 5 star hotel is the ultimate destination for business or pleasure with plenty of shopping, restaurants, bars and amenities located within The Pier shopping complex below, and along the boardwalk. Park Regis City Quays is ideal for the corporate traveller being just a 2 minute walk from the Convention Centre and an easy stroll to all services within the CBD. The multi award winning Novotel Cairns Oasis Resort is situated on 5 acres of tropical gardens and has the largest lagoon style pool in the City Centre, complete with its own white sandy beach and swim up bar. All 314 rooms offer contemporary style accommodation and a balcony or Terrace overlooking the city, gardens or pool. Most hotels feature an onsite restaurant or have access to restaurants very nearby. General services include 24 hour reception, secure parking and wireless internet access.
Find out more:
Budget to Luxury - Cairns Hotel Accommodation
Inner City

If you like to be amongst the action then check out our range of Cairns inner city hotels, motels, apartments, backpackers and resorts. There's no shortage of affordable accommodation right on our doorstep. Being in the heart of the city allows easy access to Cairns main attractions such as the Cairns Esplanade, Reef Fleet Terminal (where all the Great Barrier Reef trips depart from), Marina, Night Markets and the Reef Casino. You will also have the convenience of being just a stones throw from a variety of restaurants, shopping, bars and the Cairns Esplanade. Cairns Central is our main shopping centre and is where the Kuranda Train makes its first departure from. The bus station is centrally located in City Place, all tours start from Cairns and can collect you from your accommodation, and the Cairns Airport is only a 10 minute drive away - ideal if you are just making a flying visit.
Find out more:
Cairns inner city accommodation
Hides Hotel Budget Accommodation
The Hotel Cairns
Novotel Cairns Oasis Resort
Island Resorts

Looking for a tropical island escape? Perfect! as we have a smorgasbord of premium island resort options for you to choose from. Each island has its own unique characteristics that set it apart from the others; whether its adventure or romance, family fun or relaxation there is an island experience that will suit the most discerning of traveller. Right on our doorstep we have Green Island and Fitzroy Island, located just 45 minutes ferry ride from Cairns. Suitable for families and couples, there is plenty to do. For those who want remote, unspoilt luxury we have Lizard Island in the north and Orpheus Island and Magnetic Island in the south. Exclusive and private, they offer blissful seclusion from the rest of the world. You can connect to the islands by a launch transfer or scenic flight. We have some fantastic island package deals offering great savings and inclusions - click here for destination deals.
Find out more:
All Island Resort Listings
Package Deals Discounts & Savings
Green Island Resort - 3 Night Package Special!
Rainforest

The rainforest is the ideal place to reconnect with nature, turn your phone and email off and simply enjoy lifes pleasures of what this natural playground has to offer. Whether its fun and adventure or relaxation and rejuvenation, you can engage and immerse yourself in nature whatever way you please. Accommodation ranges from just the basics to all out luxury. Suitable for singles, couples, families, romantics, explorers and naturalists, the rainforest has a therapeutic appeal and one that will leave you feeling refreshed and revitalised at the end of your stay. Daintree Rainforest accommodation ranges from the basic budget cabins to luxury self contained holiday homes and pampering spa retreats. Alternatively the Atherton Tablelands has its own little pockets of beautiful rainforest and waterfalls, and plenty of native wildlife to spot. If these destinations are too far to travel, then we also have our own little piece of rainforest right here in Cairns at Kewarra Beach Resort, situated just 20 minutes north of Cairns. This absolute beachfront resort is also nestled amongst rainforest, providing seclusion without the isolation.
Find out more:
Kewarra Beach Resort
Rainforest Accommodation
The Daintree Rainforest Activities & Accommodation


Luxury Villas

Experience the very best of luxury living in Far North Queensland and spoil yourself with your own private villa. This is no ordinary holiday home, this is a home combined with sheer breathtaking luxury. Architecturally designed, luxurious furnishings and designer fixtures and fittings will give your North Queensland holiday the ultimate 'WOW' factor. Palm Cove and Port Douglas spoil visitors with the choice of luxury villas, all situated in prime locations. Extra special touches such as designer toiletries, gourmet welcome packs, and luxury kitchen appliances add to the overall experience. Perfect for couples, friends, or small families, a private villa makes for a magnificent base in which to explore the region's tropical attractions.
Find out more:
Luxury Beach Villas
Resorts

Resorts are designed to be convenient, and make life as simple and stress free as possible, so you can focus more time on relaxing and enjoying your holiday. Offering a large variety of on-site activities, facilities, and resort services; some general inclusions are large tropical pool, restaurant facilities, bar area, and variety of activities such as day spa, kids club, golf course and retail store. Resorts are handy for families due to the volume of activities and the convenience of having everything on-site. Couples will love the opportunity to pamper, and groups of friends will enjoy having food and drinks readily available throughout the day. Some of our favourite resorts include the Sheraton Mirage in Port Douglas, Paradise Palms near Palm Cove and Green Island Resort. All offer a range of activities suited to both families and couples, and make for an ultimate holiday in paradise.
Find out more:
Green Island Resort Package Specials!
Paradise Palms Resort
Sheraton Mirage Resort Port Douglas