Blue Lagoon Trinity Beach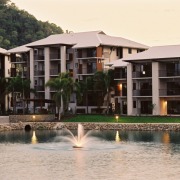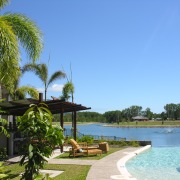 Blue Lagoon Trinity Beach
Unique Lagoon-front Accommodation
Tennis Court | Resort Pool
200m to Trinity Beach | Gym
FROM enquire PER NIGHT
---
Inc. all levies & taxes

Blue Lagoon Trinity Beach Info
BLUE LAGOON

Blue Lagoon are modern luxurious 4.5 star apartments located only a short 200m stroll to fabulous Trinity Beach. This Lagoon-front property offers Studio, One, Two and Three Bedroom Apartments to suit all tastes and budgets.

PROPERTY FEATURES:
3 Pools (2 Resort pools, lap pool & spa)
Tennis court
Fitness equipment
200m to Trinity Beach
Complimentary pool & beach towels
5 minute walk to Shopping Centre
Lift (not all buildings)
BBQ Gazebos on site
Free parking (some undercover parking)
Neighbouring restaurants and beauty salon
Safety deposit box on request
Check-in 2pm, checkout 10am
STUDIOS FEATURE:


Free Wi-Fi in all rooms

King or Twin Bedding

Air-conditioning and ceiling fans

Private balcony with outdoor seating

Flat screen TV with Cable (Austar sport, news and movie)

Ensuite bathroom - shower only

Kitchenette with bench top hot plates, microwave, fridge

Tea & coffee making facilities

Dining table

Washing machine, iron and ironing board

Linen and towels provided

Hairdryer
ADDITIONALLY APARTMENTS FEATURE:
Fully equipped gourmet kitchen with dishwasher, oven

Lounge and dining area

Full laundry with dryer

CD & DVD Player

Three bedroom can come as dual key configuration of a Two bedroom plus Studio
* Stays of 8 nights or more will receive a midstay service. A complimentary starter pack is provided for the guests convenience. Once the items have been used, the guest may replenish supplies of their choice for a nominal fee from reception or they can be purchased from any supermarket.

Cots are available at a rate of $10/night payable direct to Blue Lagoon.

Trinity Beach Locality
Trinity Beach & Esplanade - 2 minutes walk

Trinity Beach Shopping Village - 500m

Cairns Airport - 20 Min Drive

Cairns CBD - 25 Min Drive

Port Douglas - 50 Min Drive

Guest Reviews
Great value for money.
Posted By Richard Veale
Excellent location
Excellent location, with local transport and very cheap car hire nearby.
Posted By Susan Scifleet
In a nutshell it was fabulous
Four of us stayed in a 2 bedroom apartment at Blue Lagoon Resort. In a nutshell it was fabulous,the rooms , the staff, the facilities, the location, all were perfec. Made a great 8 days even better. Thank you all at Blue Lagoon and thank you staff at Travstar for helping us make it happen.
Posted By John Gibson
Wonderful holiday
We had a wonderful holiday. All of the tours booked were fantastic and the resort was perfect for our needs too.
Thanks for your help,
Jodie


Posted By Jodie Humphreys
We had a very pleasant stay
We had a very pleasant stay and will certainly stay there again if we come to Cairns.
Posted By Graeme Holmes
Had a great time
Had a great time and will be sure to do again next year hopefully for two weeks instead on one.
Posted By Dale Peacock
Exactly what we were after.
The accommodation was exactly what we were after - comfortable and well appointed. Our room overlooked the lagoon and swimming pool which was magic in the afternoon. It was a very handy location with good restaurants close by. All in all, a perfect spot.
Posted By Maree McGrath
Very good facilities. Will stay again!
Enjoyed our stay very much. Very good facilities. Will certainly stay there again
Posted By Jane Weekes
Good set up and well equipped.
Good set up and organised. Well equipped apartment.

Posted By Lydia Williams
We had a wonderful stay
We had a wonderful stay and would recommend blue lagoon to our friend definitely will stay again.
Posted By Channarath Ly
A lovely place to stay
It was a lovely holiday they let me check in early and also let me use the pool facilities until I flew out. I was very impressed. They couldnt be more helpful. A lovely place to stay
Posted By Angela Powell
Lovely Pools
Lovely pools. Close to really nice restaurants. Great place for some R & R.
Posted By Tania Brown
We had a wonderful 3 nights
I would like to thank Chantelle for securing us a room with a view. We had a wonderful 3 nights in a very well appointed room. Desk staff were most obliging and so pleasant.
Posted By Glenda Zeck
The shower was a daily challenge.
The shower was a daily challenge. People over 60 please be vigilant

Posted By Dennis & Marian Goodsell
exactly what we wanted,
exactly what we wanted,
Posted By Vicki Vandenberg
A great place to stay
Blue lagoon Resort was a great place to stay. Very spacious, comfortable apartments and the surrounding facilities were clean and tidy. Also, a short 3 minute walk to the beach made our holiday a very enjoyable one.
Posted By Peter Collins
Thank you for a lovely stay
We really enjoyed the luxury of the apartment, decor, balcony and view over the Lagoon. THe location is perfect as it is so close and convenient to Trinity and all the wonderful northern beaches. Staff were very helpful and friendly. The improvements we\'d suggest would be upgraded TV, internet provision, a call when post arrives and noise reduction from the apartment above (e.g. noise from the chairs scrapping and easily heard conversations on the balcony). Thank you for a lovely 6 weeks, we\'ll definitely come back one day.

Posted By Cathy McMahon
A comfortable stay
The self-contained unit had everything needed for a comfortable stay. It was only a short stroll to a selection of quality restuarants and a swim in the warm waters of the Coral Sea. Blue Lagoon office staff were obliging in booking day trips to enhance our short break holiday.
Posted By Jeffrey Cutler
A wonderful relaxing holiday
We had a wonderful relaxing holiday which was what we needed. Blue Lagoon exceeded our expectations except that the table and some of the crockery and utensils were dirty on arrival.
Posted By Gail Bond
wonderful holiday
Travstar were great to deal with, thanks for organising a wonderful holiday for us
Posted By Michelle Pocknall
The apartment was very nice
The apartment was very nice, spacious, great furnishings.
2 negatives:
1. Fitness room small and hours very limited.
2. Provided supplies for first couple of nights and would not replenish (not even toilet paper! We were there a week.
Overall, had a great time.
Posted By Shakil Adam
lovely apartment with view
Any queries I had pre and post booking were answered fairly promptly. We had a wonderful holiday and enjoyed a lovely apartment with view!
Posted By Sue Clarebrough
Fantastic resort
Fantastic resort but as we were there for one week we had to buy coffee, sugar, milk etc as these are not replaced each day. Great restaurants very close by.
Posted By Terry Christensen
large and light nice balconies
very nice premises, large and light nice balconies good beds. Good price as well.
For accommodation for 4 people for a minimum of 3 days I thought a few more than the 4 supplied tea bags would have been nice.
Posted By Bill van den Berg
Accommodation was excellent
Excellent - Staff in resort reception were very helpful. Accommodation was excellent. Travstar staff were also very helpful - appreciated all of their help and suggestions.
Posted By Debra Newman
pleasant and well maintained resort
pleasant and well maintained resort. Would recommend as a base for the area.
Posted By Joe Bisset
Blue Lagoon
It would have been nice to have recieved an itinary for the appartment as we had no serving for the length of our stay.Apart from that it was wonderful.
Posted By Robert Stevens
The resort is in a great location
The resort is in a great location, although our apartment block was quite close to the main road. The 1 bedroomed apartment we had had everything that you could possibly need. Staff were extremely helpful with regard to advice and booking trips.
Posted By Kevin Wright
Centrally located
Centrally located to Trinity Beach & other Tourist attractions.Notwithstanding school holidays we thought quite expensive.
Posted By Christine Coxall
Apartments excellent in every way
A wonderful holiday. Apartments excellent in every way and looking forward to a return trip in the near future.Thank you.
Posted By John Marriner
warmly welcomed
we were warmly welcomed and found the staff very help full
Posted By Maurice Smith
lovely place to stay
The staff at Travstar were very helpful, replied quickly to our enquiries. THe property that was suggested suited all our requested needs.

Trinity Beach was a lovely place to stay. Very handy being able to hire a car at Trinity Beach. A good selection of very good places to eat at Trinity Beach.

Thanks for your help.

The Jacobs Family
Stanley, Tasmania
Posted By Tracey Jacobs
extremely comfortable
Out of town but extremely comfortable,with two pools and a superb restaurant on site for three meals a day.Would only be a problem if you did not have a car as it is 20 minutes from cairns itself,othersie it was wonderful to come home to each day.
Posted By Christine Zander
very friendly and helpful staff
very friendly and helpful staff!! :D
Excellent apartment however to make it better...should have cable / wireless connnection in the resort area. Dial up services is too slow and expensive.
Posted By B. Ma
good communication
Just happened across Blue lagoon via travel star as we where about to leave Brisbane, glad we did, good communication and arrangements for late arrival.Many thanks from leigh @ Jacqui from the UK
Posted By Leigh Clark
outstanding
We stayed at the Blue Lagoon and found the resort and accommodations to be outstanding.
We were travelling with our 5 month old grandaughter and the request for a port a cot had been taken care of on arrival.

We found the location to have access to shoppng for groceries and liquor as well as the evenings to be very quite and peaceful.

We would definitely use the resort again on a return visit.
Posted By Sue Walters
beautiful place
...beautiful place and would recommend it to anyone ....couples or families ....very quiet and relaxing ...just what we needed!!!!
Posted By Paul Fleming
everything we needed
The most comfortable and well set up apartment we have ever stayed in. Excellent furnishings and everything we needed. Several restaurants very close which was also beneficial.
Posted By Judy Pearce
2 min walk to the beach
This was by far one of the best accommodations that I have stayed in. It was spotlessly clean, very modern and had everything you could possible need even down to the wine glasses. The staff were always helpful and friendly. The location was spot on, just a 2 min walk to the beach.
Thank you
Posted By Carol Jackson
Great location
Very modern, clean and functional accommodation that comfortably provided accom for 2 couples. Great location close to shops and local tavern/restuarants.
Posted By Suzanne & Trevor Innes
recommend friends to stay
We thoroughly enjoyed our stay at Blue Lagoon. Their facilities were excellent, and would recommend friends to stay there.
Posted By Jan Lee
good advice
Very easy to deal with, hassle free booking and good advice on choosing the right accomodation to suit our needs.
Posted By Patrick Salinas
Blue Lagoon Trinity Beach Rates
Need Help With Your Booking?
Our Cairns Office is open again in 17 hours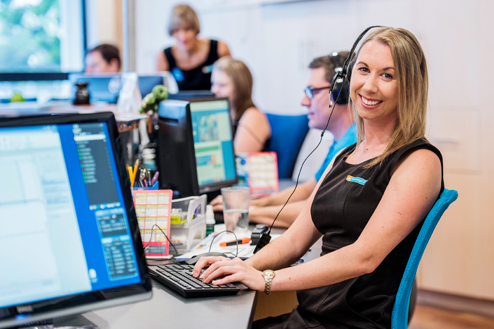 About Travstar Booking Requests
There are some things a computer can't do.
We love helping people plan their holidays and we want to make sure we get it right.
Some holiday packages can be quite complicated with multiple tours and accommodation, pick-up times and extras.
That's why every booking made through a Travstar Website is checked by our local consultants.
It takes a little bit longer to get your tickets but we want to make sure everything is going to run smoothly for you.
How long wil it take to get my tickets?
Our team are alerted to new booking requests as they come in. During office hours you can expect to have your tickets within an hour or two.
After office hours your tickets may take up to 12 hours to arrive.