12 Tours Found
We found 12 tours in the Adventure Activities category
Giant Jungle Swing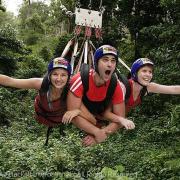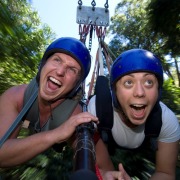 Giant Jungle Swing
Giant Jungle Swing - Skypark Cairns
Giant Jungle Swing
Student and Family Special rates
Bungy Jump & Jungle Swing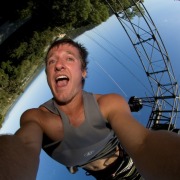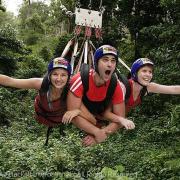 Bungy Jump & Jungle Swing
Bungy Jump & Giant Jungle Swing
Bungy Jump - FREE T.Shirt & photos!
Giant Jungle Swing - FREE Transfers
Cairns Hiking Tour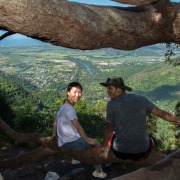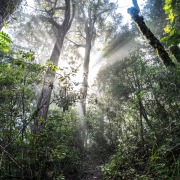 Cairns Hiking Tour
The only guided Hiking Experience in Cairns!
A cool off in Davies Creek
Scenic views from the summit
Bad Fishy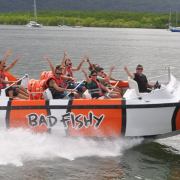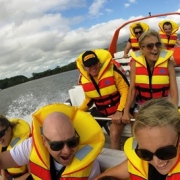 Bad Fishy
Cairns Jet Boat Rides
Enjoy adrenalin-pumping spins, slides, speed and stunts
Awesome sights - Trinity Inlet, Stunning Mountains
Cairns Adventure Tours
Looking for some action and adventure in your holiday? Cairns has just what you're after. With a multitude of adventure activities on offer, you'll be filling your holiday itinerary in no time.. and coming back for more!
White Water Rafting

Cairns is the ultimate destination for white water rafting, providing two great White Water rafting destinations on the Tully River and Barron River. The Tully River is where you'll find Australia's best white water rafting trips. Full day adventures take place on this Grade 3-4 river, with up to 45 rapids of varying degrees to navigate over 5 hours. The Barron River offers great half day options, perfect for those with limited time. The grade 2-3 rapids provide a great introduction to white water rafting. Family Rafting also takes place on the Barron River with 8 person and 2 person sportsrafts that are used to experience both types of rafting on grade 1-2 rapids. Children from 6-12 years can take part in the Family Rafting half day trip. The Russell River full day sportsrafting is not a trip for your average couch potato! 2 man sportsrafts are carried through the rainforest to the entry point on the Russell River, before taking on the challenge of 3 hours of exhilarating white water rafting. This awesome trip finishes up with a relaxing swim at a beautiful waterfall. No matter which rafting trip you choose, it is certain that your day will be filled with fun, adventure, thrills and spills!
Find out more:
White Water Rafting Tours Options from Cairns
ATV Adventures

ATV's (All Terrain Vehicles) are 4 wheel motor bikes also called Quad bikes. They began life as bubble wheeled farm vehicles but have been re-invented as the hottest new outdoor recreation vehicle in the world. Zoom along rainforest and adventure trails, zig zag your way up hill climbs and enjoy a sense of adventure and adrenalin rush! The Blazing Saddles Honda TRX250 ATV's are very well maintained and are powerful enough to let you feel great acceleration and grunt. They are ultra manoevrable and as safe as possible. The ride itself which is on a trail separate from the horse rides is exciting and has great views. There are a few water traps and hill climbs to negotiate. You will be trained first and then examined to see if you can handle the power and then you're let loose on the trail (under guided supervision). There is a smaller bike option for people not comfortable with the larger quad bikes. Blazing Saddles ATV Adventures is located on a working sugar cane farm, just 10 minutes from Cairns City. The property boasts an 18 acre billabong which is abundant with native birds and amphibious creatures. You will get to meet the resident geese, peacocks, ducks, and perhaps even spot a crocodile!
Find out more:
Blazing Saddles ATV Safari
Hot Air Ballooning

Queensland is the most popular place in Australia to float in a hot air balloon, and the Atherton Tablelands has one of the most ideal flying conditions in the world. Hot Air Balloon flights take place on the Atherton Tablelands at dawn because this is the time of day that provides the optimum weather conditions for launching balloons. Balloons need cool stable calm winds to operate effectively and the hours following sunrise are the most suitable before the heat of the day. It's a great time to be up, and the mornings on the Tablelands are just spectacular.
Many visitors see hot air ballooning as a highlight of their holiday. The flight is very gentle and stable because you start from the ground and gently lift up. Each passenger gets a 360 degree view of rolling hills, the Tablelands pastures, and awakening birds and wildlife. As hot air balloons are the only form of flight which moves with the wind, the weather is most important. The pilot cannot directly steer but chooses heights carefully to utilise wind currents to sail towards the closest, most appropriate landing site. The typical hot air balloon flight would be anywhere from tree level to approximately 3,000 ft and can travel anywhere from 5 to 30 kilometres, depending upon wind speed and flight duration. Most balloonists enjoy low level flights as more can be seen. Often we see wallabies and other wildlife in the bushland and surrounding creeks. Hot Air Ballooning is suitable from 4 ages years and up.
Find out more:
Hot Air Ballooning Tour Options from Cairns
Skydiving

Established in 1989, Skydive Cairns is Far North Queensland's most established and well respected brand. Nothing beats Skydiving over Cairns and the Great Barrier Reef for the most spectacular backdrop and memorable experience.
Skydive Cairns will take you over breathtaking views of the Great Barrier Reef, World Heritage Rainforest and Cairns City with an exclusive drop zone south of Cairns City. Alternatively if you prefer a beach landing experience then Jump the Beach operated by Skydive Cairns offers the ultimate beach drop experience in two exclusive locations. Jump the Beach Cairns is Australia's most prestigious skydive, with an exclusive beach drop zone situated at beautiful Palm Cove. Jumps take place sunrise/sunset with aerial views out to the Great Barrier Reef. Sessions are limited to just 16 participants per day, and included is a 5 star dining experience at one of the beach resorts nearby. Further afield, just south of Cairns, Jump the Beach Mission Beach offers spectacular views of Dunk Island and lush rainforest. Your tandem master will guide you out of the plane and over 14kms of golden beaches as you come in to land. Afterward, chill out at Castaways Resort Mission Beach with a well earned drink and lavish meal.
Cairns Skydive operates a Cessna Caravan aircraft at the Cairns drop zone which are considered to be the most reliable and safest aircraft in the world for skydiving. The aircraft can seat up to 17 people. All of the Skydive Cairns instructors are accredited by the Australian Parachute Federation - the governing body of skydiving within Australia - and each have thousands of skydives to their credit. Skydive Australia are proud of their impeccable safety record - one of the best in the world!
Find out more:
Tandem Skydive Options from Cairns
Horseriding

What better way to experience the Aussie bush, rainforest and spectacular views than on horseback! Blazing Saddles trails are perfect for absolute beginner riders through to the more experienced rider. Meander through rainforest pockets, mangrove wetland, sugarcane fields and native bush, located just 10 minutes outside of Cairns City. Blazing Saddles horses are selected individually for their gentle nature with a wonderful choice of trail safe horses to suit any level, any size and (almost) any age. Riders as young as 4 years of age are welcome! Groups are divided and horses are hand picked to match your particular skill level. Your guide will give you an introduction to your horse so you feel comfortable before you leave the lesson area.
Blazing Saddles have 35 fabulous healthy horses, all with individual characters and great temperaments. They stable mainly Australian Stock Horses but also have a selection of Quarter Horses, Arabians and many others. Most horses would average 14 to 15 hands high. Blazing Saddles use Australian Stock Saddles, and are the only horseriding company to exclusively use "Saferider" stirrups with a quick release mechanism to prevent accidents. Up to 12 people can take part on the horseriding trails, with a number of sessions departing throughout the day.
Find out more:
Aussie Bush Horse Riding from Cairns
Cape Trib Horse Rides Daintree Rainforest
Bungy Jump & Minjin Swing

Bungy Jumping is the ultimate gravity experience, allowing people to free fall through the air attached to nothing more than a rubber cord! The Cairns Bungy tower is located in the rainforest, just 15 minutes north of Cairns City. Established in 1990 by AJ Hackett, the Cairns bungy site and tower were developed and designed by AJ Hackett himself, with much of the construction completed by AJ and the Cairns crew. The 44 metre tower has been developed in keeping the natural rainforest and surrounds at the heart of the site. Luscious tropical trees and natural water features make the Cairns Bungy site a unique and unforgettable place to Bungy. Snakes, Goannas and the stunning Ulysses butterfly are often seen at the site. Another key unique feature of the Cairns site is the worlds' first Jump Menu featuring 16 different jump styles; from the traditional swan dive through to extreme roof and BMX bike jumps. Crusty Demons ran off the roof with a shopping trolley, Australian TV personality Grant Denyer ran off the Bungy Tower in a body harness, and Slash from Guns and Roses jumped the classic swan dive. The Cairns Bungy Tower has jumped an array of celebrities including Red Hot Chili Peppers, Miss Universe and John Denver.
The Minjin giant swing, also located at the bungy site, provides the experience of freefall combined with extreme speed. Swoop through the rainforest from 45 metres in height down to just 1 metre in 3.5 seconds, at speeds of up to 140kph! A self release mechanism allows participants to take control and pull release to set the swing in motion, which can be performed forwards and backwards and with up to three participants.
Find out more:
AJ Hackett Bungy Jump
Jungle Canopy Surfing

Jungle Surfing is a unique system of cables and platforms that offers unprecedented access to all levels of the rainforest and canopy. Located in Cape Tribulation, 2.5 hours north of Cairns, this area of rainforest is an extraordinary and environmentally significant area. With its low-impact system of platforms and cables, Jungle Surfing allows you to fully experience the heart of the Daintree Rainforest, from the bustling forest floor to the lush canopy above. Tree platforms range in height from 2.5 to 19.5m above the ground and the cable spans range from 25 to 78m in length.
From Platform 1 to 2 and from Platform 2 to 3, you will travel in pairs a few metres apart. The guides completely control your gentle flight, leaving you free to take photographs or just take in the views. Midway between Platforms 2 and 3, you'll stop briefly at the highest point of the tour, 23 metres above Mason Creek. If you're lucky, and visit during the wet season, this creek will be a raging torrent of white water.From Platform 3 to 4, in a beautiful section of old-growth rainforest, you'll fly solo and fast back across the creek. Your final flight from Platform 4 to 5 is an opportunity for thrill seekers to try something different, and if you choose to do so, you can flip yourself upsidedown and watch the ground beneath you speed past.
Jungle Surfing is open to all ages from 3-103, with child & adult harnesses to suit almost all sizes. There is however a weight restriction of 120kg (260lbs, 18 stone 12lbs).
Sea Kayaking

The close proximity to nature that Kayaks allow gives detailed insights into the environment both above and below the water, with regular sightings and encounters of dolphins, turtles and other marine life, a sunrise sea kayak is surely the most exhilarating way to start your day. There are many opprtunities for sea kayaking in the Cairns region. Easily accessible and popular is Palm Cove Watersports offeing year round sea kayaking tours, catering equally for those seeking a peaceful paddle or a bit of adventure. Sunrise and half-day tours run daily visiting the adjacent Double Island.
Visitors can also try sea kayaking from Fitzroy Island, you can choose to hire kayaks or go on a guided tour to Little Fitzroy Island and try a spot of snorkelling too. Green Island also offers sea kayaks for hire where you can explore the fringing reef at your pleasure. Or for the more adventurous weekend trips and expeditions depart from Cape Tribulation to Snapper Island and from Mission Beach to the Family Group of Islands and Hinchinbrook.
Find out more:
Double Island Sea Kayak Tour from Palm Cove
Port Douglas Sea Kayak Tour