Cairns Reef Fishing Charters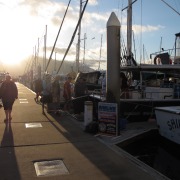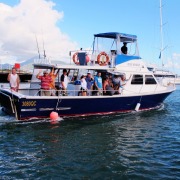 Cairns Reef Fishing Charters
Reef Fishing Charter
Large and comfortable 42' boat
Delicious buffet lunch
FROM $280 PER PERSON
---
Inc. all levies & taxes

Cairns Reef Fishing Charters Info
Cairns Fishing Charters:

Cairns Reef Fishing provide the best fishing charter trips in Cairns, for any level of angler, to the surrounding waters of the Great Barrier Reef
This is internationally renowned as some of the most prolific fishing grounds in the world, so get set for some of the best fishing you will experience anywhere.
With years of commercial and offshore deep sea charter fishing experience behind the crew, the guys at Cairns Reef Fishing know where the fish are, and will give you your best chance of landing your very own prize catch. A variety of fishing methods and equipment are used including trolling, live bait fishing, bottom fishing and drift fishing. On the way out to the reef we will troll some lures. This can result in hook ups of large Dolphin fish, Mackeral, Wahoo, Sailfish, Cobia, Marlin and Tuna.
Out at the reef we will be targeting Coral Trout, Sea Perch, Red Emperor, Large and Small Mouth Nannygai, Cod, Trevally, Sweet Lip and many other reef species. Be warned that we expect to land fish up to 10kg so hang on!
A great day fishing, a delicious lunch and you can even bring a cold beer for on the way home.
We provide quality, well maintained fishing equipment, bottled drinking water and a delicious, full, fresh buffet lunch and snacks. We clean and ice your fish and then bag them up ready for you to take home. If you are staying in a hotel, take your catch to a local recommended restaurant and they will cook it to your liking or if you're flying out of Cairns speak to your friendly skipper and he can organise to have your catch packed up for the trip home!
No matter the time of year, ideal weather, location and productive fishing grounds make the offshore reefs of Cairns the best destination for your next charter fishing trip.
Why Aqua Cat or Blue Whaler?

Large and comfortable 42' boat
Purpose built fishing vessels
Passenger numbers capped to a comfort level.
We have years of experience and generations of knowledge, to make sure you have the best reef fishing experience possible.
Inclusions:

Personalised Cairns Reef Fishing drink bottles,
Tea and local roast coffee
Delicious buffet lunch
All fishing equipment and bait
Your catch cleaned and bagged for you to take home
All government fees (reef tax)
Please note:

* All trips are subject to weather conditions and passenger numbers.
* Aqua Cat operates in winds up to and including 20 knots. Trips do not operate if a Strong Wind Warning is current.
* Passengers are also required to ring between 5pm - 6pm the night prior to departure to re-confirm bookings and to check that weather conditions are favourable.
* Minimum 8 passengers required
* Only Cash, Mastercard and Visa credit cards accepted

Share Charters:
Depart Marlin Marina Cairns (behind Shangri-La Hotel), D Finger at 6.30am. Returning at approximately 3.30pm.
We fish anywhere in a 25 nautical mile radius from Cairns depending on where the fish are biting, tide and weather conditions.
You are likely to share this trip with people from all walks of life and all around the world, from mums and dads, to girls and boys, mad keen fisherman and inquisitive tourists. It's a great day out on the Great Barrier Reef.

Sole charters, Evening Charters and Night Charters are all available on request...