Cairns Watersports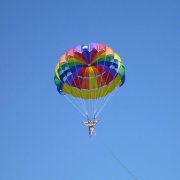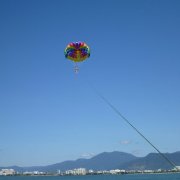 Cairns Watersports
Parasail, Jet Ski & Bumper Tube
Solo & Tandem Packages
9am, 11am, 1pm & 3pm
FROM $150 PER PERSON
---
Inc. all levies & taxes

Cairns Watersports Info
Parasail, Jet Ski and Bumper Tube Rides
For all your water sport thrills and spills join the crew of NQ Watersports for the adventure of your life.
Enjoy the calm waters of Trinity Inlet, with the Cairns foreshore and Esplanade on one side and Coral Sea on the other. Solo and tandem experiences are available and you don't need any experience or a license, just a sense of adventure and some sunscreen.
All of the Cairns water sports adventure activities are suitable for people of all ages and are a great family activity. Qualified guides provide full operational and safety briefings prior to all NQ Water Sports activities. Equipment is fully maintained to ensure the highest levels of safety and reliability, at all times.
---
Parasailing
You could say it's a combination of water-skiing and parachuting ? a mix that is as exciting as it sounds!
Feel the thrill as you are gently lifted off the deck of the custom built parasailing vessel to soar 300 feet above the waters of Trinity Inlet. The ballooning parachute hoists you high into the air providing breathtaking views of Cairns City and mountains.
You can fly solo or tandem, stay dry or take a dip. The trained drivers can also raise or lower the height of the parasail, so you can drop gently in the water and then be hiked back up 300 feet into the air. You are then gently winched back safely to the platform of the boat. The Parasailing experience takes about 10 minutes in the air but more time needs to be allowed for the entire experience. Weight restrictions are a minimum of 45 kilos and a maximum of 160 kilos. For children who are under 45 kilos they can tandem with an adult.
Jet Ski
Ride the ultimate fun machine! No licenses or experience are necessary.
You will be riding the latest Yamaha VX 1100 cc four-stroke, built for comfort and stability. This 30-minute adventure can be enjoyed as fast or slowly as you like and the professional staff are on hand to provide assistance and keep it safe.
Guided Jet Ski
Why not try one a guided jet ski tours through Trinity Inlet. This will be educational and fun! See an original Sydney harbour ferry up and around Admiralty Island, with a chance to see some natural ecological habitats and travel through mangrove channels.
There is also the opportunity to pick up speed and see what these machines can really do. There is a maximum of two solos or two tandems available at any one tour. Minimum two people required per booking.
Jet Ski Croc Spotting Tour
An Amazing 45 kilometre tour around Admiralty Island, up through amazing mangroves, past an original Sydney Harbour ferry and in to Mackey Creek. See crocodiles in their natural habitat. Watch as nesting Ospreys glide in the skies above. The animal life is stunning with Ibis, Egrets, Sea eagles and many more to mention.
Then it's a quick sprint over to Two Mouth Creek as you travel across the smooth waters to our last two creeks. Check out a few more crocs in Wrights Creek before a final run into Blackfellow Creek and then the journey home.
Adventure Package: Parasail, Jet Ski
Experience it all! The Adventure Package gives you the best Cairns water sports activities, at the best price. You don't need any experience or licenses, just a sense of adventure to explore the Cairns waterfront in the most amazing two-hour tour in town.


---
Departures:
Operates daily from "B" Finger Cairns Marina (near Reef Fleet Terminal) at 9am, 11am, 1pm and 3pm.
Inclusions:
Courtesy pick-up from Cairns city area is available on request

You will be fully briefed on the operation and safety aspects of your ride by experienced crew
What to Bring:
Change of clothes, sunscreen, a towel, sunglasses and of course your sense of adventure.