Jump the Beach Mission Beach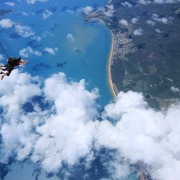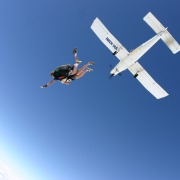 Jump the Beach Mission Beach
Tandem Skydive.
Fantastic Coast & Island views
Exhilarating Tandem Skydive
FROM $329 PER PERSON
---
Inc. all levies & taxes

Jump the Beach Mission Beach Info
Jump the Beach Mission Beach - up to 15,000ft tandem skydive
Jump the Beach Mission Beach is an exhilarating, adrenalin pumping, unforgettable adventure that leaves you feeling high even after you have touched the ground.
Jumping at a height of up to 15,000ft... Look out!! Reaching speeds of up to 220km/hr, you will rocket straight down for up to 60 seconds for a heart-stopping, life-changing freefall! Get ready to open yourself to a whole new meaning of adrenaline. After your freefall experience, you'll enjoy 5-6 minutes of spirals and turns under canopy.
You will enjoy a five star experience in one of far north Queensland's unspoilt destinations, just south of Cairns. The package includes flights over world heritage rainforest, tropical islands and the Great Barrier Reef, lunch and a drink in a exclusive beach restaurant and full use of the hotel resort facilities on the beach.
What Makes it Great?
Overlook tropical rainforests
Views over North QLD's pristine coastline
Australia's highest tandem jump
No experience necessary
100% Safety record for all tandem skydives
Guaranteed beach landing
Your Jump Includes:
Hotel transfer from Cairns to Mission Beach (approx 1½ hour) - Transfers not offered during CoVid 19
Up to 15,000ft Exhilarating Tandem Skydive with up to 60 seconds free fall and 5-7 minutes of parachute flying
All professional Instruction & Training
Jump Certificate
Levy - Australian Parachute Federation
Optional Extras:
Digital Photos: 30 to 40 mind blowing still images on CD-Rom, taken as digital grabs from your video

Handcam DVD: Your tandem master captures every moment of your skydive with a wide angle lens

Handcam DVD & Photo Package: Handcam DVD and 30 - 40 mind blowing still images, from digital grabs of your video

Executive Package: Dedicated DVD, handcam DVD, 50 digital photos and a FREE skydive T-Shirt.
Additional Info:
Customers will be required to complete a medical questionnaire on arrival

Minimum age 12 years. Under 18 years requires parental consent

Spectator's are welcome but subject to availability on the bus transfer. The cost is $25pp

You will need to set aside a full day ex Cairns for your skydiving experience or half day ex Mission Beach

When Scuba diving before Skydiving, you MUST wait 12 hours if doing an intro dive not more than 10m deep and 18 hours if doing multiple dives.

Weight Restrictions & Charges:
- Maximum Weight in Mission Beach is less than 100kg
- Any client over 95kg must be assessed by a drop zone safety officer on site to determine safety issues due to harness restrictions 95kg and over - Surcharge of $25 applies
What to Bring:
Comfortable casual clothes, shorts in summer and jeans or tracksuit pants in winter. You may also want to bring a long sleeve t-shirt or sweatshirt. Closed in shoes are a must, sneakers or runners that lace up firmly are preferable (no hooks).
GOOD NEWS! All payments made to Travstar do not incur a credit card surcharge.