INSTANT BOOKING OPTIONS
Tully River Sports Rafting Info
Important Information.
Due to COVID -19 social distancing we are only offering the Self Drive option. All participants will need to self drive & meet at the Tully Gorge camping and day use area.
Experience the thrill of Wild White Water rafting in your own Sports Raft on a Full or Half Day tour in Far North Queensland.
Take a paddle on the wildside in your own self-steered Sports Raft. An unforgettable experience of fun, adrenaline and laughter awaits as you navigate through grade 2 and 3 rapids of the stunning Tully River, fringed by the oldest rainforests in the world. Under the instruction of our expert guides you will emerge as a victorious Wildside ?White Water Warrior? with memories to last a life time.
Features
All equipment

2 Hours (6 Kilometres) rafting

Rapid grades 2,3

Professional guides

Family Friendly (6+ years)

Lunch ? Fresh salad, roast meat wraps and condiments (Full day tour only)
Getting to the Departure Point
Head to Tully then turn into Dean Road. Dean Road turns into Tully Gorge Road. Keep Driving for around 45 minutes until you reach the Tully Gorge Camping area. This is the start point for Wildside Rafting.
Driving From Cairns
allow 2 and a half hours to drive from Cairns to the Tully Rafting departure point
Your Day at a glance
Self drive & meet at the Tully Gorge camping and day use area. Allow 2.5 hours if you are driving from Cairns.

Change rooms and toilets are available at the Rec park. Here we unload the rafts, kit you up and talk you through some handy rafting instruction before pairing you up in your rafts. If you are confident and there are enough rafts we?ll even let you go on your own!

We enter the Tully river in a beautiful calm section of the Gorge. Here our expert guides will show you everything you need to know to become a ?White water warrior.? When we are all happy?.the fun begins?.

We start off with our ?practice rapid?. A nice span of small rapids to let you practice your paddling and turns and give you a feel for the water, your raft and for things to come. Our guides will be with you every step of the way ? showing you the best way to go and what to look out for.

Rapids get a little bigger and trickier, you?ll watch the water currents, dodge rocks, steer your raft to take the rapids head on, crash through a wall of foaming water, and emerge drenched but euphoric at the feeling of the conquest, and eager for more. With each rapid comes more confidence, more control and more excitement.
Travelling with children:
Minimum age is 6 years. Children must be accompanied by an adult.
What to bring:
Change of clothes (wet set/dry set)

Plastic bag for wet clothes

Towel

Baseball cap to fit under your helmet

Sunscreen (don?t apply to forehead and back of legs)

Water proof Camera

Enclosed footwear or sandals

Waiver of liability to be signed before participation

Your Go pro (we have mounts on some helmets so make sure you have the correct attachment for your go pro)
About Wildside Adventures:
Wildside Adventures is a white water rafting and adventure tourism company located in Mission Beach, near Cairns in Australia. The Cairns Region has some of the best whitewater rafting in the country. Wildside Adventures ensures to give you a thrill to remember, offering exhilarating rides through the great rapids of the Tully river on its special 2 person sports rafts. At Wildside Adventures, we have a friendly, professional and funny staff to make your trip even more worthwhile. Book a trip with us today.
Guest Reviews
Guides were excellent
Posted By Scott Weber
It was a highlight of our trip
Our family (2 adults, 13, 14 and 8 year old) had a great time white water rafting. It was a highlight of our trip. Thank you for making it so fun. The scenery was also spectacular.
Posted By Sarah Wilcox
Amazing experience
Amazing experience, well worth the effort
Thanks
Bridget
Posted By Bridget Flynn
White water rafting is amazing
A fantastic team who looked after us all (family of 5), gave us all an adrenaline packed raft and helped our slightly nervous 6 year old enjoy it and think white water rafting is amazing! Would highly recommend for all.
Posted By Annabelle
Need Help With Your Booking?
Our Cairns Office is open again in 10 hours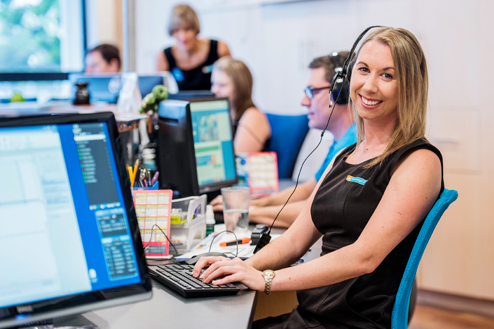 About Travstar Booking Requests
There are some things a computer can't do.
We love helping people plan their holidays and we want to make sure we get it right.
Some holiday packages can be quite complicated with multiple tours and accommodation, pick-up times and extras.
That's why every booking made through a Travstar Website is checked by our local consultants.
It takes a little bit longer to get your tickets but we want to make sure everything is going to run smoothly for you.
How long wil it take to get my tickets?
Our team are alerted to new booking requests as they come in. During office hours you can expect to have your tickets within an hour or two.
After office hours your tickets may take up to 12 hours to arrive.