Turtle Spectacular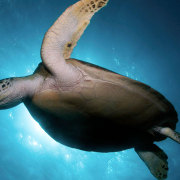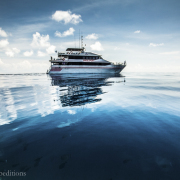 Turtle Spectacular
Turtle Spectacular
Diving with Green Turtles close to Raine Island
Visit seldom dived reef sites including Black Rock
FROM enquire PER PERSON
---
Inc. all levies & taxes

Turtle Spectacular Info
Turtle Spectacular - Far Northern Reefs
28 November - 5 December 2015

Explore the best of the far northern Great Barrier Reef which includes the Torres Straits, Cod Hole and the reef's around Raine Island. Raine Island is the world's largest green turtle population and is one of the best dive sites for spotting turtles and sharks too. This 7 day itinerary with unlimited diving, Torres Straits and the HMS Pandora dive site. Options for further travel vary. Daily scheduled flights from Horn Island to Cairns are available and should be arranged by the individual.

7 Night Far Northern Reefs Turtle Spectacular includes:
Diving with green turtles close to Raine Island

Visit seldom dived reef sites including Black Rocks and Tijou Reefs

HMS Pandora dive site

World famous Cod Hole

Ribbon Reefs

Visit Thursday Island

All dives over 100 miles north of Cairns
Dive sites include:
Tijiou, Bligh, Mantis, Black Rock and The Detached Reefs

Cod Hole

Snake Pit

Moulter Cay

Raine Island (Island not accessible to the public as it is nesting site for green turtles)
ACCOMMODATION OPTIONS:
Premium Cabin: Double or Queen bed, private bathroom and ocean views

Standard Cabin: Two single beds, private bathroom and ocean views (mid vessel)

Club Cabin: Two single bunk beds, private bathroom (mid vessel, less motion)

Budget Cabin: Two single bunk beds, shared bathroom facilities (front of vessel)
Scuba Diving Experience: Novice to Advanced divers
Departs: Saturday, 28 November 2015, 06.30am - Trinity Wharf, Cairns

Returns: Saturday, 5 December 2015, 08.00am - Trinity Wharf, Cairns
PLEASE NOTE:
Flying After Diving - the surface interval between the last dive completed at 5pm and flying at 9.30am is 16.5 hours, which exceeds the DAN minimum requirement of 12 hours. An additional safety feature is that Skytrans flys below 1000ft, weather permitting.

Depth guidelines are based on the diver's experience and industry standards. The maximum recommended depth for divers with appropriate experience is 40 metres (132ft). Dives in excess of 40 metres (132ft) to a maximum of 50 metres (165ft) can only be undertaken by divers with a minimum experience of 100 dives with 25 deeper than 30 metres (100ft) including one to a depth within 3 metres of dive being undertaken.

Luggage: 25kg / 55lbs, max weight of any bag. On Fly/Dive itineraries: 25kg / 55lbs, allowance per person plus 3kg / 5.5lbs carry-on allowance, OR 10kg / 22lbs - for professional photo / video housed system. You can leave items in excess at Mike Ball office.

All itinerary details are subject to change, specific marine life cannot be guaranteed.
GREAT NEWS! All payments made to Travstar do not incur a credit card surcharge.
Need Help With Your Booking?
Our Cairns Office is open again in 2 hours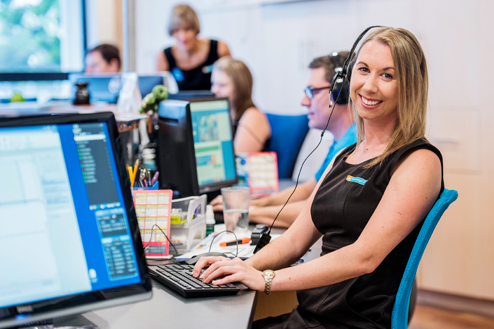 About Travstar Booking Requests
There are some things a computer can't do.
We love helping people plan their holidays and we want to make sure we get it right.
Some holiday packages can be quite complicated with multiple tours and accommodation, pick-up times and extras.
That's why every booking made through a Travstar Website is checked by our local consultants.
It takes a little bit longer to get your tickets but we want to make sure everything is going to run smoothly for you.
How long wil it take to get my tickets?
Our team are alerted to new booking requests as they come in. During office hours you can expect to have your tickets within an hour or two.
After office hours your tickets may take up to 12 hours to arrive.