Tablelands & Waterfalls - CTC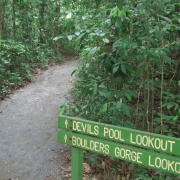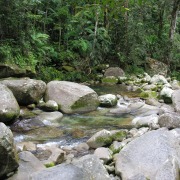 Tablelands & Waterfalls - CTC
Tablelands & Waterfalls Adventure
Best Budget Tablelands Deal!
Swim in pristine waterfalls
FROM $94 PER PERSON
---
Inc. all levies & taxes

Tablelands & Waterfalls - CTC Info
TABLELANDS AND WATERFALLS ADVENTURE:

Come with Cape Trib Connections for a fun filled day where you will see the best of the Tablelands and gain the best value out of this packed itinerary!
What makes it Great?
Explore The Tablelands
Swim in pristine, freshwater creeks
View amazing waterfalls
Spot unique wildlife
Excellent Value for money
Departures:
Departs on Tuesday & Thursday
Departs from Cairns CBD hotels only by 7:45am and returns by 7:00pm
Includes:
Local Rainforest Guide
Return Cairns hotel transfers
Babinda Boulders
Josephine Falls
Morning Tea
Millaa Millaa Falls
Malanda Environmental Park
Tree Kangaroo spotting
Atherton Tablelands
Curtain Fig Tree
Platypus Spotting
Lake Eacham
Crawfords Lookout
Additional Extras:
To keep prices down, you can buy lunch on the way OR you are welcome to bring your own.
What to Bring?
Swimming costumes & towel
Money for lunch OR a packed lunch
Walking shoes
Change of clothes and a smile!
Your Day:
Babinda Boulders:
Your day commences as you journey south of Cairns to Babinda Boulders. Babinda Boulders is a popular swimming hole and picnic area for locals and tourists, and a place of spiritual significance for Aboriginal people. Learn about the Aboriginal significance of this area before a short 1.3km, return walk to the Devil's Pool to two viewing platforms. View the creek as it cascades down a series of spectacular waterfalls, granite boulders and washpools.
Josephine Falls:
From here journey further south to Josephine Falls - a picturesque waterfall fed by rains falling on Queensland's highest mountain, Bartle Frere. A track will lead you through tropical rainforest, to viewing decks overlooking the Josephine Creek and Falls. Below the falls are several swimming holes surrounded by boulders and a popular water slide down a smooth sloping rock face between pools. Remember to bring your swimmers for a very refreshing swim only if it is safe to do so. Your Guide will decide on the day.
Millaa Millaa Falls:
Travel onto the Atherton Tablelands via the Palmerston Highway to Millaa Millaa Falls, stopping at Crawford Lookout on the way. Millaa Millaa Falls is a magnificent waterfalls surrounded by lush rainforest. The falls cascade perfectly to a pristine waterhole below where you can enjoy a refreshing swim in the cool water. It is one of the most photographed in all of Australia, so make sure you bring your camera!
Stop for lunch at Millaa Millaa or Malanda (BYO or purchase).
Malanda:
As you head into Malanda, visit the Malanda Environmental Park located on the out-skirts of Malanda. Also visit the famous Curtain Fig Tree. Here the raised platforms give you a great photo opportunity. You will go platypus spotting before arriving at Lake Eacham in the late afternoon.
Lake Eacham:
Following this will be a visit to Lake Eacham which is an extinct volcanic crater lake filled with cool, clean, crystal clear water, surrounded by 1200acres of lush tropical highland rainforest. You can enjoy a quiet swim in still water, and/or do some bird spotting or just enjoy a peaceful time here.
GREAT NEWS! All payments made to Travstar do not incur a credit card surcharge.