Wait-A-While Nocturnal Wildlife Tour Info
RAINFOREST WILDLIFE TOUR

Wait-a-While Rainforest Spotlighting Tours are designed for those who want to enjoy and learn about rainforest life in a small group away from the crowds.

We include the best of both worlds; several hours of daylight for interpretive rainforest walks and animal spotting and after dark the fun of finding and observing nocturnal wildlife by spot-light. 80% of animals in Australia are nocturnal or more active at night!

Your tour at a glance:
The Cathedral Fig Tree

Lake Barrine

Lake Eacham

Afternoon tea in a rainforest setting

Platypus spotting at dusk

Dinner at a country restaurant

Night walk around the forest spotlighting
Experience walking through the world's oldest tropical rainforest looking for animals such as wallabies, birds, musky rat kangaroos and Boyd's Forest Dragons while learning about how local Aboriginal tribes use the vegetation to hearl and make remedies to solve everyday common ailments.

From dusk through to night we will introduce to you some of the world's most unusual animals, including the elusive platypus (90% + Platypus success rate) tree kangaroos, possums, gliders, flying foxes, bandicoots, echidnas, snakes, frogs and many others.
Departs Cairns around 1.45-2.00pmpm
Departs Northern Beaches approx 1.00-1.15pm
Departs Port Douglas approx 12.15-1230pm
Return to Cairns approx 10.00-10.30pm
Maximum 11 people
The Atherton Tablelands feature lush rainforest, nutrient rich volcanic soils and a remarkable concentration of rare wildlife. By day the area is a birdwatcher's delight and there is also a chance to see the Musky Rat Kangaroo (the smallest and most primitive kangaroo), Boyd's Forest Dragon, and other interesting local endemics. At dusk by the river you have an excellent chance of seeing platypus, the fascinating egg-laying mammal unique to Australia.
After dinner at a country restaurant, you head through the oldest continuously surviving Tropical Rainforest in the world spotlighting, walking quietly along rainforest tracks looking to spot Lumholtz's Tree Kangaroo and the, Green Ringtail possums and other unusual mammals found only in this region. You may also see Bandicoots, Pademelon's, gecko's, snakes, gliders, frogs and owls.
Wait-A-While Nocturnal Wildlife Tour Rates
Need Help With Your Booking?
Our Cairns Office is Currently Open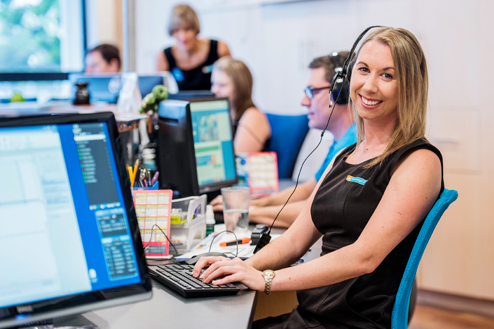 About Travstar Booking Requests
There are some things a computer can't do.
We love helping people plan their holidays and we want to make sure we get it right.
Some holiday packages can be quite complicated with multiple tours and accommodation, pick-up times and extras.
That's why every booking made through a Travstar Website is checked by our local consultants.
It takes a little bit longer to get your tickets but we want to make sure everything is going to run smoothly for you.
How long wil it take to get my tickets?
Our team are alerted to new booking requests as they come in. During office hours you can expect to have your tickets within an hour or two.
After office hours your tickets may take up to 12 hours to arrive.