Tjapukai by Day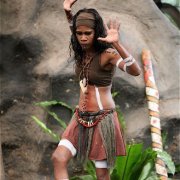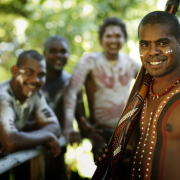 Tjapukai by Day
Authentic Aboriginal Culture
Digeridoo & Bush Medicine
Boomerang Throwing
FROM $62 PER PERSON
---
Inc. all levies & taxes

Tjapukai by Day Info
Tjapukai By Day- Aboriginal Cultural Park
Tjapukai by Day is a traditional Aboriginal Culture which celebrates the living history of the Indigenous people of the Rainforest.
Learn to play the didgeridoo, discover the medicinal values of bush tucker, also learn how to throw a spear and enjoy professional theatre incorporating traditional Aboriginal culture with dancing, fire making and storytelling.
New to Tjapukai Aboriginal Park is a genuine cultural and visual Australian journey featuring the didgeridoo plus an expansion of the Cultural Village's program to include hunting and ochre demonstrations.
INCLUSIONS:
Didgeridoo - A Journey (Nature's Voice Theatre)
A unique theatre experience blending contemporary modern Australian music. Learn how to make and play a didgeridoo before a live performance with the haunting sounds of the traditional instrument complementing iconic images of a flight over the Great Barrier Reef, the Wet Tropics rainforest and the Outback in a state-of-the-art studio with a twinkling, starry night sky.
(20 minute session at 9.15am, 10.15am, 11.15am, 11:55am )

Hunting & Weapons Demonstration
Learn first hand from a Tjapukai warrior how the Aboriginal culture uses traditional tools and weapons which were used 40,000 years ago by the Indigenous people. (9.45am, 11.00am, 11.45am, 1.45pm, 3.00pm, 3.45pm)

Dance Theatre
An Aboriginal Cultural corroboree, song and dance are part of the award-winning Indigenous culture of traditional Tjapukai which shows in a spectacular outdoor theatre set in a natural rainforest amphitheatre. (10.30am, 12.30pm, 2.30pm)

Bush Foods & Medicine Demonstration
The rainforest is a rich food source for the Tjapukai people, but many of its foods are toxic and require special preparation. Watch how it is done, learn how the land provides medicinal remedies and enjoy the opportunity to touch, taste and feel local bush tucker. (9.45am, 11.00am, 11.45am, 1.45pm, 3.00pm, 3.45pm)

Spear & Boomerang Throwing
A Tjapukai Aboriginal warrior will show you how to use the traditional spear throwing instrument, a Milay, and help you master the technique of the returning boomerang. (Available All Day)

Complimentary Face Painting
Have your face traditionally painted with the natural colours of the rainforest.
Optional Extras:
Boomerang Restaurant
Stay for morning or afternoon tea, a light snack or buffet lunch in the fully licensed Boomerang Restaurant. Buffet lunch includes a welcome drink and is available from 11:30am to 2:30pm.

Retail Gallery
Authentic Aboriginal products including boomerangs, paintings, didgeridoos and artifacts are on display.
LOCATION & OPENING TIMES:
Tjapukai Aboriginal Cultural Park is situated on 11 hectares (25 acres) of tribal land in Caravonica Lakes, immediately adjacent to the Skyrail
Rainforest Cableway.
Tjapukai is only 15 minutes from Cairns, Kuranda and Palm Cove and 45 minutes from Port Douglas.
There is ample free car parking onsite. Public transport via Sunbus or taxi operates regularly from Cairns and the Northern Beaches. A regular shuttle bus also operates.
Tjapukai is open daily from 9.00am to 5.00pm.
Shows run continuously all day, with a schedule of shows given to you upon arrival. Allow a minimum of 3 hours for the total experience.