12 Tours Found
We found 12 tours in the Cruise Ship Passengers category
Bad Fishy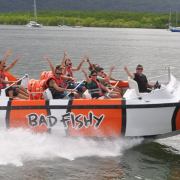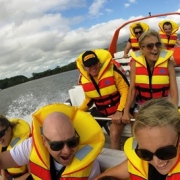 Bad Fishy
Cairns Jet Boat Rides
Enjoy adrenalin-pumping spins, slides, speed and stunts
Awesome sights - Trinity Inlet, Stunning Mountains
Just Cruising

Only here for a day? We can make it the best day of your life! Whether its action you're after, an enchanting experience in the rainforest, or the opportunity to view the spectacular Great Barrier Reef. We have it all.
With hundreds of tours departing daily, flexible departure times, and pricing to suit all budgets; we can tailor make a package to suit your requirements that will be sure to leave lasting memories of your time here in Cairns.
A visit to the rainforest on-board the Kuranda Train & Skyrail is always a popular option for day visitors, due to its proximity to Cairns City and its convenient and very flexible departure times. We have many Kuranda Packages to suit all budgets. Transfers are included for peace of mind, so you can step off your cruise liner and straight onto an air conditioned coach that will transfer you to the start of your tour. With many cruise ships arriving from day to day into Cairns, our professional tour operators are fully aware of your time constraints and will ensure the perfect day, allowing you to fulfill the best of Cairns and returning to your cruise liner on time.

We have two arrival points for cruise liners. One is the Cairns City Cruise Liner Terminal. For passengers arriving into Cairns City Cruise Liner Terminal, there are more tour options that are easier to access due to the location being close to the departure point for islands and the ease of disembarking.

If your ship schedule says you're arriving into Yorkey's Knob, you will need to take a tender to the mainland. For those arriving into Yorkey's Knob the most popular tour option is the Kuranda Train & Skyrail including transfers.

Whether your ship is staying overnight or just for a short window of time, we have numerous half-day tour options to fit with your schedule. Scenic flights, heli adventures, sportsfishing, rafting, horseriding, snorkelling and scenic city tours are just some of the experiences that you can have on your visit to Cairns.
Advanced bookings are recommended, and we will endeavour to supply the perfect weather for your perfect day!
Tour Suggestions:
Kuranda Skyrail & Train for Yorkey's Knob arrivals
Kuranda Skyrail & Train for Cairns City cruise ship terminal
Green Island Adventures
Barron River White Water Rafting
Blazing Saddles ATV or Horseriding
Skydive
AJ Hackett Bungy
ZOOM Fun activity for kids and their parents
Scenic Heli Flight including outer reef
Parasail, Jet Ski & Bumper Tube Rides