Cruise Ship Passengers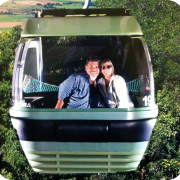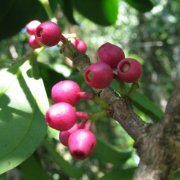 Cruise Ship Passengers
Yorkeys Knob Cruise Ship Passengers Kuranda Train
Yorkeys Knob Marina Pick-up & Return
Famous Skyrail to Kuranda
FROM $131 PER PERSON
---
Inc. all levies & taxes

Cruise Ship Passengers Info
Kuranda Skyrail & Train for Cruise Ship passengers, Yorkeys Knob:

Skyrail offers coach departures from Yorkeys Knob Marina for Cruise Ship passengers who are on ships moored at sea off Yorkeys Knob. There is a sea transfer from the Cruise Ship into Yorkeys Knob Marina.

From here a Skyrail coach will meet you and transfer you to Skyrail. We suggest allowing up to 1.5 hours for the Skyrail journey. This includes free time at each of the two stations to wander through the Rainforest. It is possible to complete the Skyrail journey in less time if you do not get off at one of the stations or cut down time at each station.

The Kuranda Train departs Kuranda at 2:00pm and 3:30pm. The 2:00pm departure fits well with the Cruise Ship passengers schedule. This departure will have you down at the Freshwater Railway Station at 3:30pm for your coach departure back to Yorkeys Knob in time for your transfer vessel departure back to your Cruise Ship.

Freshwater Railway Station is very pretty and features a small museum and a coffee shop.

Itinerary:
Coach pick-up from Yorkeys Knob Marina

Skyrail from Skyrail Smithfield Terminal to Kuranda

Red Peak & Barron Falls Boardwalks

Free time in Kuranda

Kuranda Scenic Rail at 2pm

Transfer to Yorkeys Knob Marina
Skyrail coaches will meet all pre-booked passengers for this tour. Once confirmed we keep an eye on the Cruise Ship arrival time and ask guests to communicate once they are on the tender. The usual departure time from Yorkeys Knob once guests are off the tender is arranged to fit your ship timings.
---
Skyrail:
Travel in a 6 person gondola cabin with panoramic views as you glide above the rainforest canopy on the amazing 7.5km journey.
Gondolas leave the station continuously; bookings are taken in 15 minute intervals
One-way Skyrail Experience will take approximately 90 minutes to complete
Skyrail is located at the Smithfield
You'll glide just metres above the rainforest canopy before descending through the canopy layers and deep into the heart of the forest at Skyrail's two rainforest mid-stations (Red Peak & Barron Falls) for the ultimate tropical rainforest experience.
Plan to spend 20-30 minutes at the two Rainforest mid-stations:
Barron Falls: Enjoy spectacular views of the Barron Gorge, state-of-the-art Rainforest Interpretation Centre, lookouts and historical displays.

Red Peak: Lush rainforest surroundings including the towering 400 year-old Kauri Pine. Interpretive boardwalk tour with Skyrail Ranger available throughout the day.
---
Kuranda Scenic Railway:
The original Kuranda Scenic Railway is a spectacular journey comprising unsurpassed views of dense rainforest, steep ravines and picturesque waterfalls. The journey includes an English commentary and all passengers receive a commentary companion which includes information on the history of the railways construction, a trip map and a map of Kuranda.
Departures:
Your Train experience will commence at Kuranda Station.

Kuranda Station - is world renowned for its tropical gardens and historic significance. It is possibly one of the most photographed railway stations in the world.
Freshwater Connection - is where your train journey will finish. Situated in the nearby suburb of Freshwater with views of the surrounding mountains. The Station features a railway museum, pioneer cottage, gift shop.


---
Kuranda Village:
This 'Village in the Rainforest' has numerous attractions including a butterfly sanctuary, a colourful bird aviary, koala park, walking tracks and a diverse range of markets (open every day from 9am to 3pm), shops, cafes and restaurants (extra costs).
---
Language Options:

Queensland Rail have developed a unique and interactive app to give customers the opportunity to listen to commentary while they sit back, relax and take in the many historical sites on-board the Kuranda Scenic Railway. The apps are available in English, Japanese, Simplified Chinese/Mandarin & German for Apple from the iTunes app store and from Google Plus for Android users. Please ensure you download the app prior to visiting Kuranda Scenic Railway's Stations. If you don't have a headset they are available for purchase at the gift shops in Freshwater or Kuranda for $1.
---