Tjapukai By Night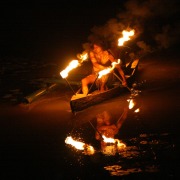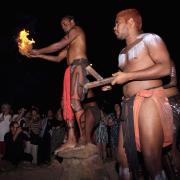 Tjapukai By Night
Cultural Evening Experience
Delicious Buffet Dinner
Famous Tjapukai Dancers
FROM $123 PER PERSON
---
Inc. all levies & taxes

Tjapukai By Night Info
Tjapukai By Night is a Aboriginal Dance Show & Dinner and is great experience that will give you insight into Australia's ancient indigenous culture!

Feel the powerful spirit of Indigenous Australia vibrate through your body as you embark on a mysterious journey into the ancient Tjapukai culture by night. The Quinkan spirit comes to life and takes you through the story waters into the Dreamtime for an evening of entertainment celebrating the unique customs of the people of the rainforest.
Session Times:
7:00pm – 7:30pm: Welcome drink upon arrival
7:30pm – 7:45pm: Didgeridoo blessing ceremony and face painting initiation
7:45pm – 8:00pm: Fire making ceremony by the lakeside, with special effects fire ball explosion
8:00pm – 8:30pm: Full Course Buffet Dinner
8:30pm – 9:00pm: Live Tjapukai Dance performance
9:00pm – 9:30pm: Camp fire session with Performers (Optional)
Tjapukai by Night includes:
Welcome
Meet the Tjapukai performers before the show and enjoy your choice of a welcome drink (sparkling wine or juice) in the Retail Gallery where authentic Aboriginal art including didgeridoos and boomerangs can be purchased.
Lakeside Ceremony
With clapsticks in hand you add to the pulsating rhythm of the corroboree while Tjapukai Aboriginal warriors use traditional fire sticks to create fire. Suddenly a spear is launched and a spectacular fire ball explodes into the night sky.
Four-course Buffet Dinner
Enjoy dining in the Boomerang Restaurant with an international buffet of hot and cold dishes plus delicious desserts freshly made by Tjapukai's pastry chef.
Live Cultural Performance
Relax after dinner while the world famous Tjapukai dancers perform live on stage. Join the cultural celebrations and learn traditional dances from the people of the rainforest.
Camp Fire Session (Optional)
After the show catch up with the performers around the camp fire for an informal session where you can ask them questions.
Extra Costs:
Hotel transfers from Cairns & Northern Beaches accommodation

Non alcoholic and alcoholic beverages from the Fully Licensed Bar

Retail Gallery: Admire the authentic Aboriginal cultural products in the Retail Gallery which displays the Indigenous culture with boomerangs, paintings, didgeridoos and artifacts.
Self Drive Directions:
Travelling from Cairns city in a northerly direction, continue following the Captain Cook Highway past the Airport. Approximately 15 minutes after leaving Cairns is the area known as Smithfield / Caravonica Lakes, easily identified by the Skyrail Rainforest Cableway and the Tjapukai Aboriginal Cultural Park situated side by side, facing the main road. Take the roundabout and turn left, and you will be on the approach road to Tjapukai.