Cape Tribbbin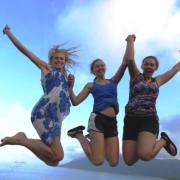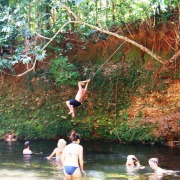 Cape Tribbbin
Rainforests, tropical beaches, crystal clear creek
Visit Port Douglas
Crocodile spotting
FROM $169 PER PERSON
---
Inc. all levies & taxes

Cape Tribbbin Info
Cape Tribbbin

Uncle Brian's has been sharing rainforest and waterfall experiences with amazing people for over two decades. The combination of music, food, fun and breathtaking natural history has made us who we are. Your driver is as excited to be on the tour as you will be and they do it because they love showing off their backyard.
Port Douglas: First stop is Port Douglas… Here we'll stop for a walk and swim at the famous 4 mile beach.

Crocs! : On the way there or the way back (depending on the tides) we go looking for the famous and scary saltwater crocodiles in the wild!
Rare Wildlife & Ancient Rainforest.

Rare Wildlife & Ancient Rainforest: We cross the Daintree River on the ferry, then hit the wild side of the road and drive through some of the oldest rainforests in the world!...let's try and find a cassowary (dinosaur bird....very rare but very possible)

Lunch and Beach Time: Grab some food and head for the beach....free time is on the cards!

Swimming: After lunch you will have the chance to enjoy a swim in freshwater tropical streams!!!

Beautiful Lookouts: Time to head home via two very beautiful lookouts and enjoy some tunes as we head back into civilisation....
Included in your day:

• Informative guides
• Rainforest walks
• Morning tea & coffee
• Port Douglas and 4 Mile Beach
• Crocodile Cruise
• Ferry ride
• Delicious lunch
• Stunning Beaches
• Swim in a rainforest creek
• 2 amazing views
• All park fees
• Heaps of fun, laughs and good tunes
What to bring:
• Sense of fun
• Sunscreen
• Raincoat
• Swimming Gear and towel
• Walking Shoes/sandals
• Change of clothes
• Smile and singing voice

GOOD NEWS! All payments made to Travstar do not incur a credit card surcharge.