2 Day Silverswift Reef & Skydive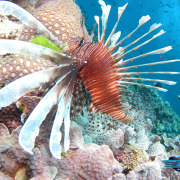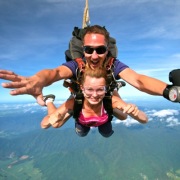 2 Day Silverswift Reef & Skydive
2 Day Silverswift Reef & Skydive
Action packed 2 days - 3 Outer Reefs
14,000 ft Skydive - Ultimate Tandem
FROM $530 PER PERSON
---
Inc. all levies & taxes

2 Day Silverswift Reef & Skydive Info
2 Day Silverswift & Skydive:

An action-packed two days, perfect for the thrillseeker! Spend a day exploring 3 magnificent outer reef sites with Silverswift, then take the plunge with Skydive Cairns for the ultimate tandem skydive experience.
DAY 1 - Silverswift Dive & Snorkel Adventure
Ready to whisk you away for a day of fun and adventure on the outer Great Barrier Reef, Silverswift is a luxury 29 metre catamaran custom-designed for the thrill of diving and snorkelling. Visiting three different outer reef sites, you'll enjoy 5 hours exploring spectacular coral formations and underwater gardens awash with vibrantly coloured marine creatures at Flynn, Pellowe, Milln and/or Thetford Reefs. Unlimited adventure snorkelling is included in you day, with the option of introductory and certified diving.
With superb onboard comforts too, you'll be travelling in comfort and style. Silverswift features spacious sundeck areas, hot freshwater showers, change rooms and a licenced bar. The large dive and snorkel platform provides easy water access for all water activities and the state-of-the-art ride control system helps ensure a smooth journey, even when travelling at up to 32 knots.
Silverswift includes:
•Silverswift cruise from Cairns
•Morning and afternoon teas
•Hot and cold tropical buffet lunch
•Snorkelling equipment and instruction
•Snorkel brief at each site
•Qualified lifeguard supervision
•Equipment for divers provided, including wetsuit
•Guided snorkel tour
•Prescription masks available at no additional cost.

Silverswift departs daily from Cairns Reef Fleet Terminal at 8.30am and returns at 4.30pm. The Reef Fleet Terminal is in Cairns City within walking distance from most hotels. There is a car park nearby.
*If you require hotel transfers on both days please choose the ex Cns or Beaches Hotel rate.
DAY 2 - Tandem Skydive
Sky Dive Cairns is ready to take you on the ultimate Tandem Skydive experience. Almost anyone can tandem skydive, and after a few minutes of training, you are in the air, flying over spectacular views.
Tandem jumps are the best way to introduce yourself into the world of skydiving. It's fun, it's easy and after exiting the plane, it's an amazing adrenalin rush! For over 60 seconds, you'll be free falling at over 220 kph, followed by 5 - 6 minutes spiralling under the canopy. You can even capture the entire experience on DVD and photos!
Tandem Skydive includes:
•Air-conditioned transfers to and from your accommodation (Cairns and Northern Beaches). Pick-up time advised at time of booking.
•5 star training facility
•Spectacular scenic views over Cairns, the Great Barrier Reef and World Heritage Rainforest
•Cairns largest drop zone for safer landings
•Latest modern parachutes equipped with backup automatic parachute deployment computer
•Option to fly your parachute
•Personalized photo certificate of your skydive
•All personalized training and instruction.
Departs: 01:00pm
Jumps: 14,000ft