PADI Rescue Diver Course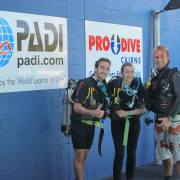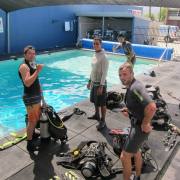 PADI Rescue Diver Course
Pro Dive
3 Day / 2 Night Liveaboard
Includes 10 dives
FROM enquire PER PERSON
---
Inc. all levies & taxes

PADI Rescue Diver Course Info
Pro Dive PADI Rescue Diver Course
Pro Dive PADI Rescue Diver course takes 4 days and is conducted in conjunction with Pro Dives 3 day 2 night dive trip. The course consists of 1 day of pool and classroom training at Pro Dives 5 Star Dive and Career Development Centre followed by a 3 day 2 night liveaboard trip where you will get up to 10 dives on a variety of spectacular outer reef locations. These dives consist of a combination of training and recreational dives.
The Rescue Diver course is a crucial step in your diving education and is highly recommended to all divers. It's a transitional stage in your diving education where you move beyond just diving for fun by expanding your knowledge of some of the more technical aspects of diving as well as learning rescue and emergency skills. Throughout this course you will come to appreciate and understand the importance of this training relevant to diver safety and incident minimization and management.
---
Courses Commence: Every Sunday
---
Course Schedule:
Day 1:
Complimentary hotel transfer service available from your Cairns and Northern Beaches accommodation (as far as Palm Cove)
8:00am - 12:00pm: This morning will be spent in the classroom covering the four theory areas of self rescue and diver stress, diving first aid and equipment, emergency management, and diving equipment. Your Rescue theory is evaluated through a 60 question multiple-choice exam, which will be completed on your 3 day 2 night liveaboard trip.
1:00pm - 5:00pm: The afternoon will be spent in the pool - this session is used to introduce students to some of the basic skills they will need to progress though the Rescue course. The emphasis of this session is to allow students to develop their Rescue skills and techniques in a controlled environment before conducting rescue scenarios in the ocean with wind, waves and currents.

Days 2-4:
During the 3 day 2 night liveaboard trip there are 10 dives scheduled. A minimum of 3 dives are dedicated to specific Rescue diver skill development - the remaining dives will be non-training pleasure dives.
Outside of your non-training dives you can expect spontaneous real life Rescue scenarios, to further develop your Rescue skills. These scenarios will range from panicked divers on the surface, missing diver searches and in water resuscitation of unconscious divers.
Rescue divers will be briefed on emergency procedures for man overboard, radio operations, oxygen use, life raft and distress flare operations as well as the operation of Rescue boats and diver recall.
---
Inclusions:
3 day 2 night dive trip
PADI Rescue Diver manual
Accommodation transfers from Cairns City and Northern Beaches (Trinity Beach, Palm Cove)
10 Dives (weather permitting)
Dive insurance
Passport photos (required for certification)
Twin cabin accommodation
All onboard meals
Bed linen (towel not included)
All dive and snorkelling equipment - includes dive computer and wetsuit
Corrective lens mask (if required)
FREE Global Gossip Wireless Internet On Board
---
Please Note
Pre-requisite for this course is a PADI Advanced Open Water certificate or the equivalent rating with another training agency. You will also require a current First Aid certificate. A First Aid course can be arranged for you, if required, the day prior to your Rescue Diver course commencing for an additional charge.
Important information:
Prior to commencing your Learn to Dive Course you are required to complete the self-assessment Entry Level Student Dive Medical Declaration. A positive response to any question means that there is a pre-existing condition that may affect your safety while diving and you must consult a medical practitioner preferably with experience in diving medicine to obtain a dive medical certificate that states that you are fit to undertake recreational diver training.
To avoid disappointment we suggest that you complete the Student Diver Medical Declaration and if necessary obtain a dive medical from a doctor prior to commencement. (Any costs associated in this process are payable direct to the doctor).
Student Diver Medical Declaration and Dive Medical (if required) must be completed within 90 days of commencement of your learn to dive course.

The minimum age to learn to dive is 12 in Queensland. There is no maximum age.

It is a dive course requirement that you be able to swim 200 metres or snorkel 300 metres and tread water/float for 10 minutes.

We recommend that you do not fly for at least 24 hours after your last dive. Your last dive will be completed by midday on day 3 of your trip.
PADI Rescue Diver Course Rates
Need Help With Your Booking?
Our Cairns Office is open again in 2 hours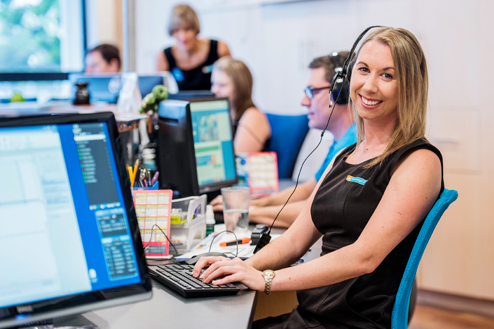 About Travstar Booking Requests
There are some things a computer can't do.
We love helping people plan their holidays and we want to make sure we get it right.
Some holiday packages can be quite complicated with multiple tours and accommodation, pick-up times and extras.
That's why every booking made through a Travstar Website is checked by our local consultants.
It takes a little bit longer to get your tickets but we want to make sure everything is going to run smoothly for you.
How long wil it take to get my tickets?
Our team are alerted to new booking requests as they come in. During office hours you can expect to have your tickets within an hour or two.
After office hours your tickets may take up to 12 hours to arrive.