Scuba Doo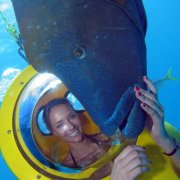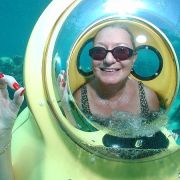 Scuba Doo
Underwater Scooter Guided Tour
No swimming experience required
Meet some fascinating marine life
FROM $175 PER PERSON
---
Inc. all levies & taxes

Scuba Doo Info
SCUBA DOO:

Scuba Doo is an activity available on the Great Adventures Outer Barrier Reef pontoon. This activity needs to be booked in combination with this trip. See link below:

Cruise the reef on your own underwater scooter! Scuba Doo is easy, fun and safe! Suitable for non-swimmers, Scuba Doo is an exciting activity to view the Great Barrier Reef. Scuba-Dooing means no mask, no mouthpiece, no heavy weight belt or swimming experience required. Just simply sit and drive!

What makes it Great?
Excellent for Non - Swimmers
Discover spectacular Coral Gardens & Marine life
Fully guided tour
Suitable for Contact lense & Glasses wearers
What Scuba doo Includes:
All safety briefing and instruction
All Equipment - Air tank is fitted to scooter
Fully guided tour with professional
20 Minute tour on motorised scooter
Additional Costs:
Scuba Doo Restrictions:
Minimum age is 12yrs old
Consent form must be signed by guardian for under 18yrs
Certain medical conditions / medications may preclude some people
Participation is subject to a medical questionnaire completed on board
Your Scuba Doo Experience
Depart with Great Adventures on the 8:30am or 10:30am departure from Cairns - This is booked separately and is an additional cost to Scuba Doo. During your cruise to the Outer Barrier Reef the well trained Scuba Doo instructor's will conduct a short and informative briefing, demonstrating how to operate a Scuba-Doo, hand signals and safety points. Your adventure time will be allocated prior to arriving at the pontoon.



Your adventure tour will begin at a depth of 4 metres, departing from the pontoon you will make your way over to the Coral Reef where you will meet some fascinating marine life. Seated on your Scuba-Doo, your head and shoulders will be inside a 180 degree water free clear dome with air is constantly being replenished from a scuba tank enabling you to breathe normally throughout your tour! It is possible to wear your contact lenses or glasses with you in the water.


The 20 minute fully guided tour allows you to cruise the Coral Reef at a speed of 2.5 knots without tanks, weights or mask, there is no swimming involved. Say hello to Wally our resident Maori Wrasse, have a memorable once in a life time photograph under the Sea, view the amazing Coral Reef structures that make up the Great Barrier Reef that is home to over 1500 different marine fish.


Commence your outer Reef Activities with Great Adventures before departing the Great Barrier Reef Pontoon for your journey back to Cairns. Passengers can view, purchase and collect photos taken throughout the day from the In-depth photo counter on board the boat.

GREAT NEWS! All payments made to Travstar do not incur a credit card surcharge.