10 Tours Found
We found 10 tours in the Island Day Tours category
Green Island Heli Packages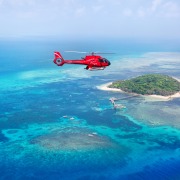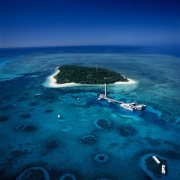 Green Island Heli Packages
Great Adventures Green Island Heli Packages
Fly to iconic Green Island for the day
or, Add a scenic heli flight from Green Island
Green Island

Green Island is a beautiful 6000 year old coral cay located within the Great Barrier Reef Marine Park, just 45 minutes across the Coral Sea by fast catamaran from Cairns. With a circumference of just 1.6km, Green Island is home to over 120 native plant species, colourful bird life and surrounded by coral gardens and abundant marine life to explore. The coastline is ringed by short, scrubby coastal vegetation that can survive drier conditions along the beach, whereas step a few feet into the centre of the island and you will be surrounded by dense, shady rainforest. Green Island is one of 300 sand cays on the Great Barrier Reef, but it is the only one with a rainforest.
This tropical island paradise has been a popular day visitor destination for generations, and features a wealth of activities to maximise your Great Barrier Reef experience. Snorkel, dive and swim in the clear island waters, view the spectacular reef on a coral viewing tour, explore the National Park or simply relax on the sandy beach.
Green Island is great for families with young children. Together you can take the glass bottom boat tour, try snorkelling or just wading in the shallow water and enjoy playing on the beach. You can also take a leisurely stroll through the rainforest to the colourful interpretive centre. There are also some optional activities at an additional cost you might like to try on the island. Marineland Melanesia is a crocodile and marine life habit with a small museum. They have a daily crocodile feeding show - you can even have your photo taken holding a baby crocodile which the kids absolutely love!
At the end of the jetty, there is the unique Underwater Observatory where you can see "Nemo", the famous clown fish. Paddling in a canoe (available from Beach Hire) is another activity you may find enjoyable.
The island provides some shade from trees that line the beach or throughout the centre of the island along the boardwalk area. There are areas around the day visitor area, restaurant and pool where you can rest and enjoy watching the island life go by.
The warm waters of Tropical North Queensland range in temperature from 22-29 Celsius (75-85 Fahrenheit) and makes for year round comfort for all water activities.
Read more:
Green Island Adventure
Big Cat Green Island
Green Island Sail & Snorkel
Fitzroy Island

Fitzroy Island Resort is a 45 minute ferry ride (about 30kms) from Cairns and is surrounded by a reef system that forms part of the Great Barrier Reef Marine Park, making it the perfect accessible base for snorkelling, diving and exploring the reef.Day tours leave the Cairns Reef Fleet Terminal daily at 8:30am, and depart Fitzroy Island at 4:30pm.
Fitzroy Island is four square kilometres in size, with 97 percent of it being protected National Park which includes mangroves, open woodland, tropical pristine rainforest, coral beaches and protected marine life. Some of the activities you can participate in while visiting Fitzroy Island include walking and hiking trails, snorkelling, swimming, sea kayaking, ocean trampoline, viewing the reef by glass bottom boat and simply relaxing to take it all in.
The gentle, hilly terrain inland makes for great walking throughout the whole island, explore magic spots like Secret Garden and Nudey Beach, or trek to the highest vantage point on the island on the summit walk and visit the historic lighthouse at the Eastern end. Snorkelling is accessible at Welcome Bay and Nudey Beach, offering the perfect opportunity to explore the beautiful colours of the fringing reef and the marine life which include Nemo the clown fish and green sea turtles. Glass bottom boat tours operate twice daily, snorkel gear, kayaks with view ports and stinger suits are available to hire from the activity centre.
Fitzroy Island offers, in separate locations, accommodation ranging from affordable Four Star Resort, to Divers, to Day Trippers, and Camping. The Council Campground is located, next to the beach, only 5 minutes stroll from the Jetty and is managed by Fitzroy Island Resort. It has approximately 28 tent sites, a very modern and stylish Ablutions Block, BBQs and pergola cover for eating areas. The facilities at Fitzroy Island Resort include a restaurant, a swimming pool and spa, a swim-up pool bar, conference rooms, function rooms, a cinema, kids' games room and kids' play room. Day Visitors to the island are welcome and well catered for at Foxy's Bar and Cafe and at the Pacific Islands Trading Store. Foxy's is a large Pacific Islands bar with a 70s structural theming, situated right on the beach front. They offer an excellent casual cafe style food menu. The Pacific Islands Trading Store is located adjacent to Foxy's and provides packaged food, drinks and most requirements for visitors to the island.
Fitzroy enjoys a typical North Queensland year round tropical climate, making it a perfect visit for families, couples, singles and groups of friends at anytime of the year.
Read more:
Fitzroy Island Flyer departs 3 times daily
Fitzroy Island Day Tour with Sunlover
Frankland Islands

The Frankland Islands comprise of five continental islands surrounded by fringing reefs, located 10km offshore from the mouth of the Russell-Mulgrave rivers at Russell Heads and 45km south of Cairns. These relatively untouched national parks include High, Normanby, Russell, Round and Mabel Islands. Frankland Islands Cruises depart daily from the Deeral landing on the banks of the Mulgrave River to carry day passengers to Normanby Island. They operate a bus link from Cairns to Deeral. This is the shortest open water crossing from the mainland.
Normanby Island is the largest of the Frankland Islands approximately 7 hectares or 0.07 square km in size, featuring good beaches and some fine snorkelling which you can literally snorkel straight from the beach. Normanby Island's pristine waters are a coral haven, and for visitors who choose to dive or snorkel, will witness the immaculate reef with green sea turtles, tropical fish and giant clams.The extensive fringing reefs surrounding the islands are home to a diversity of reef life including both hard and soft corals, and if you're not into swimming or snorkelling, then you can still view the spectacular coral from the comfort of a semi-submersible tour.
There are also excellent opportunities for wildlife viewing. Normanby Island comprises of rocky outcrops, dense rainforest, mangroves and coastal vegetation, making it a haven for a variety of wildlife and an important habitat and nesting site for a number of bird species, including the little tern (Sterna albifrons), the beach stone-curlew (Esacus neglectus), the pied imperial pigeon (Ducula bicolour) and the crested tern (Sterna bergii). Russell Island is a popular island destination for recreational camping. Russell Island supports the spectacled flying fox and breeding pairs of sea eagles and ospreys.
Frankland Island Cruises are the only commercial operator allowed to visit the totally uninhabited Frankland islands, it is a true island escape! The Frankland Islands have a tropical climate. In summer, the daytime temperatures average 30 °C with high humidity and rainfall. Storms are not uncommon. The cooler months (May to September) are the best times to visit, although strong south-easterly winds can blow for extended periods, hampering small vessel movements.
Dangerous stinging jellyfish ('stingers') may be present in the coastal waters at any time, but occur more frequently in the warmer months. A full-body lycra suit or equivalent may provide a good measure of protection against stinging jellyfish and sunburn.
Read more:
Frankland Islands Day Trip
Lizard Island

Lizard Island is Australia's northernmost island beach resort, located 240km north west of Cairns and 27km off the coast of North Queensland. The island is surrounded by some of the most beautiful reef in the world, teeming with marine life. The edge of the continental shelf lies only 20 km to the east of Lizard Island. Here ocean depths plunge between 2000–3000 m into the Coral Sea. Ribbon reefs lie along the edge of the shelf, forming a broken barrier. Lizard Island is a National Park covering 1,013 hectares with 24 sandy beaches and a lagoon. Accessed by air from Cairns Airport, this exclusive island makes for an amazing and very special trip of a lifetime.
Visitors value Lizard Island for many different reasons—remoteness, wilderness, unspoilt beauty, fishing, accessible picturesque reefs, diverse and unique coral assemblages and a safe anchorage. Lizard Island National Park comprises of Lizard, Osprey, Palfrey and South islands and Seabird Islets along with Eagle Island, which is located several kilometres west of Lizard Island. It is the only continental island group close to the outer barrier reef. More than half of Lizard Island is covered in grasslands. Eucalypt and acacia woodlands, heaths, paperbark swamps and mangroves are also found there. The islands offer excellent opportunities for viewing wildlife. Many kinds of lizards make the islands their home, most notably the yellow-spotted monitor, for which Lizard Island is named. Pythons and tree snakes are also commonly seen.
Birdwatching is rewarding as more than 40 species of birds inhabit the island group. The islands are important seabird nesting sites—many species roost and nest on beaches and in the islands' low vegetation. Commonly-seen seabirds include the magnificent white-bellied sea-eagle, osprey and many species of terns.
A network of walking tracks, ranging from easy to very difficult, allows visitors to explore Lizard Island. Places of interest include the Blue Lagoon and its beach, or you can walk to the top of Cook's Lookout, the mountain from which Capt Cook found his way out of the maze known as The Great Barrier Reef.
The marine life is always fantastic with hundreds of species of colourful fish, giant clams, large green turtles, sting rays, and all sorts of crustaceans. The reef comes to within thirty metres of the beach, and for those wanting to visit the reef in Australia, it does not get any better than this! The most popular location for snorkelling is the Clam Gardens in Watsons Bay on Lizard Island. Giant clams Tridacna gigas, up to 2m in length, live among a picturesque array of hard and soft corals.
Lizard Island hosts one of Australia's premier resorts aimed exclusively for couples. The resort facilities are limited to resort guests only.
Lizard Island has a tropical climate. The best time to visit is between May and October when rain is unlikely and temperatures are cooler. The islands' vegetation does not provide much shade.
Low Isles

The Low Isles is an inner patch reef located 15km north-east of Port Douglas. It comprises of a small coral cay (Low Island) and a larger mangrove island (Woody Island). The larger of the two, Woody Island, is an uninhabited coral/mangrove island providing a vital habitat for a large bird population. Low Isle however is a smaller vegetated, sandy, coral cay that is surrounded by 55 acres of reef - a perfect idyllic tropical island.

The Low Isles are located within the Marine National Park Zone of the Great Barrier Reef Marine Park, visitors are limited to protect the reef's ecology, so you'll experience this island heaven with a select few. The hook like shape of the Low Isles provides a sheltered lagoon where the water is generally much more calm than on the outer barrier reef, ideal for snorkelling, exploring and sailing. The corals are very close to the island, which makes snorkelling an enjoyable experience especially for beginners where you can snorkel straight off the beach.
There are 150 different species of hard corals in the waters surrounding Low Isles, although these are dominated by 15 species of soft corals. Living amongst the corals is a large variety of fish, molluscs, sea cucumbers and other animals. Colourful blue, green and purple parrotfish are a common sight as well as angelfish, damselfish, anenomefish or clownfish, trevally, rabbitfish, sweetlip, moon wrasse and fusiliers, just to name a few! At least seven species of seagrasses grow on the intertidal sandflats of Low Isles, providing a home and food for such animals as sea cucumbers, the attractive spidershell, as well as rays, green turtles and dugongs. It is also an excellent refuge and feeding ground for a large population of adolescent turtles.
The historic, heritage listed lighthouse on Low Isles was built in 1878 and has long become a base for scientific research and weather data collection.Taking the Island Heritage Walk is a 'must do' when visiting Low Isles where you can learn about the history of Low Isles and its environment.
There are three sailing tours that operate to the Low Isles and are suited to people of all ages and abilities. Glass bottom boat tours allow visitors further insight into the marvels of the Great Barrier Reef. Snorkelling equipment, lunch and guided beach walks are included. The island features permanent thatched umberellas for visitor comfort. Coach transfers are available from Cairns to the Marina Mirage in Port Douglas, travel time is approx 60 minutes. Please enquire for departure details.
Read more:
Wavedancer Low Isles
Sailaway Low Isles