Kuranda Scenic Rail, Skyrail and Hartly's Crocodile Adventur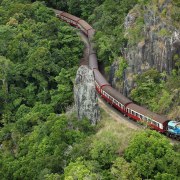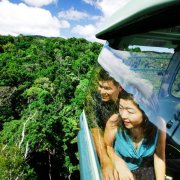 Kuranda Scenic Rail, Skyrail and Hartly's Crocodile Adventur
Scenic Rail, Skyrail and Hartly's Crocodile Park
Kuranda Scenic Rail
Skyrail
FROM $204 PER PERSON
---
Inc. all levies & taxes

Kuranda Scenic Rail, Skyrail and Hartly's Crocodile Adventur Info
Kuranda Rail, Skyrail & Hartleys Crocodile Adventure
Start your day with a transfer from your accommodation to Freshwater Station for check-in. Time then for an historical rail journey to Kuranda, enjoying breathtaking views across the cane fields of Cairns to the tropical rainforest of Kuranda.

Upon arrival in Kuranda, there is limited free time to explore this quaint village.

Here you board the Skyrail Rainforest Cableway taking you on an experience over World Heritage listed Wet Tropics Rainforest. Enjoy birds-eye views as you glide just meters over the canopy, before exploring the forest floor and learning more about your surroundings at two rainforest stations. A coach is waiting at Smithfield terminal to transfer you to Hartley's. .

Hartley's Crocodile Adventures is the best place to see crocodiles in Tropical North Queensland! Then it's time to explore the remainder of the park. Highlights of the Park include the Wetlands Cruise, Crocodile Attack Show and Snake Show. Your return transfer departs at 4:50pm.
Inclusions
Hotel pick-up from 7:00 - 8:00am
Check-in at Freshwater Station
Kuranda Scenic Rail at 8:50am
Limited free time in Kuranda (approx 50min)
Skyrail Rainforest Cableway at 11.30am
Coach transfer & entry to Hartley's Crocodile Adventures
Snake Show at 2:00pm
Wetlands Cruise at 2:30pm
Crocodile Attack Show at 3:00pm
Cassowary Feeding at 4:15pm
Koala Feeding at 4:30pm
Return coach transfer back to your hotel.