Kuranda Scenic Railway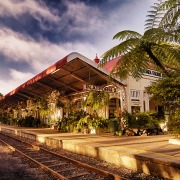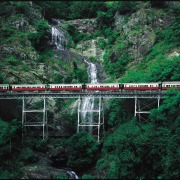 Kuranda Scenic Railway
Kuranda Train
Cairns Central or Freshwater Station
One way and Return rates
FROM $50 PER PERSON
---
Inc. all levies & taxes

Kuranda Scenic Railway Info
KURANDA SCENIC RAILWAY
The original Kuranda Scenic Railway is a spectacular journey comprising unsurpassed views of dense rainforest, steep ravines and picturesque waterfalls. This famous railway winds its way on a journey of approximately 2 hours from Cairns to Kuranda, the village in the rainforest.
Rising from sea level to 328m, the journey to Kuranda passes through World Heritage protected tropical rainforest, past beautiful and spectacular waterfalls and into the awesome Barron Gorge. Upon reaching the village of Kuranda a rich assortment of interesting attractions and unique shopping experiences awaits you.
The Kuranda Scenic Railway can be joined at Cairns Railway Station or Freshwater Connection for morning departures to Kuranda. Journeys from Kuranda Station to Cairns run in the afternoon. The journey includes an English commentary and all passengers receive a commentary companion which includes information on the history of the railways construction, a trip map and a map of Kuranda.
DEPARTURES: Daily
Allow 1.5-2hrs for the journey
From Cairns Central Station: 8:30am, 9:30am
Cairns Railway station is situated in the heart of Cairns a short walk from most CBD hotels. If you have a car it is possible to have free parking for the day at Cairns Central. Please bring your parking ticket with you at boarding so that Queensland Rail can validate it.

From Freshwater Station: 8:50am, 9:50am
Situated in the nearby suburb of Freshwater, visitors can enjoy a hearty breakfast in authentic antique railway carriages. The Station also includes a railway museum, pioneer cottage, gift shop, and can be hired for a unique function venue. Freshwater Station is the preferred departure point as it has character. There is plenty of free parking here.

From Kuranda Station: 2pm, 3:30pm
Kuranda Station is world renowned for its tropical gardens and historic significance. It is possibly one of the most photographed railway stations in the world.
CLASS OPTIONS:

Heritage Class:
The original Kuranda Scenic Railway Heritage carriages offer the old world charm of travelling in authentic timber carriages some of which are up to 90 years old.
Seated in refurbished Heritage carriages.
Chilled refresher towel during the summer season.
Water cooler at the end of each carriage.
Souvenir trip guide.
Gold Class:

Gold Class has provided a premium experience, giving you the extra comfort and little bit of luxury, and a most memorable experience.
9.55am departure from Freshwater Station to Kuranda
3.30pm departure from Kuranda to Cairns
Dedicated personalised Gold Class attendant
Individual seating, lounge-style chairs (24 seats in each carriage over 4 carriages)
Ambient, historical décor, including timber look flooring, historical photographs and cedar interior
Gift pack including Kuranda Scenic Railway badge, pen, postcard
Souvenir trip guide available in 9 languages
Optional exclusive tour of the Heritage-Listed Signal Cabin at Kuranda station
- Conducted 15 minutes after arrival for morning trains
- Conducted 30 minutes prior to departure for afternoon trains
Food & beverage offerings will focus on Queensland and local Tablelands produce such as:
o Gallo Dairyland Cheese
o Skybury Coffee & Daintree Tea
o Wondaree Macadamias
o Mango to Go (100% pure mango "ice-cream" style treat)
o Freshly baked muffins with local fruit
o Sirromet Wines & Great Northern Brewing Company Super Crisp Lager
Vegan options available on afternoon train only
Vegetarian options available on both morning and afternoon train
Please advise dietary requirements when booking
Please note for Gold Class:
Good Friday: No alcohol can be served all day
Anzac Day: No alcohol can be served on the morning trains to Kuranda. Alcohol can be served on the afternoon trains from Kuranda.
Wheelchair Facilities:
Wheel chair access at all stations
Wheel chair Ramp at Cairns station
Wheel chair lift at Freshwater & Kuranda stations
When booking please advise you require wheelchair access, so that we are able to provide the appropriate assistance.
Language Options:
Queensland Rail have developed a unique and interactive app to give customers the opportunity to listen to commentary while they sit back, relax and take in the many historical sites onboard the Kuranda Scenic Railway. The apps are available in English, Japanese, Simplified Chinese/Mandarin & German for Apple from the iTunes app store and from Google Plus for Android users. Please ensure you download the app prior to visiting Kuranda Scenic Railway's Stations. If you don't have a headset you can purchase one at the gift shops in Freshwater or Kuranda for $1.
Skyrail Rainforest Cableway:
There are 2 stops enroute to explore Barron Falls and Red Peak Rainforest Boardwalks. The Journey takes 1hr.15mins
GOOD NEWS! All payments made to Travstar do not incur a credit card surcharge