Kuranda Train & Skyrail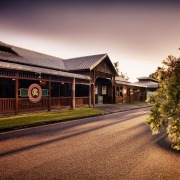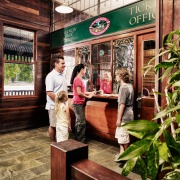 Kuranda Train & Skyrail
Kuranda Scenic Railway
Skyrail Rainforest Cableway
Kuranda Scenic Train
FROM enquire PER PERSON
---
Inc. all levies & taxes

Kuranda Train & Skyrail Info
KURANDA SCENIC RAILWAY
The original Kuranda Scenic Railway is a spectacular journey comprising unsurpassed views of dense rainforest, steep ravines and picturesque waterfalls. This famous railway winds its way on a journey of approximately 2 hours from Cairns to Kuranda, the village in the rainforest.
Rising from sea level to 328m, the journey to Kuranda passes through World Heritage protected tropical rainforest, past beautiful and spectacular waterfalls and into the awesome Barron Gorge. Upon reaching the village of Kuranda a rich assortment of interesting attractions and unique shopping experiences awaits you.
The Kuranda Scenic Railway can be joined at Cairns Railway Station or Freshwater Connection for morning departures to Kuranda. Journeys from Kuranda Station to Cairns run in the afternoon. The journey includes an English commentary and all passengers receive a commentary companion which includes information on the history of the railways construction, a trip map and a map of Kuranda.
DEPARTURES: Daily
Allow 1.5-2hrs for the journey
From Cairns Central Station: 8:30am, 9:30am
Cairns Railway station is situated in the heart of Cairns a short walk from most CBD hotels. Free parking at Cairns Central for the day is included. Please bring your parking ticket with you at boarding so that Queensland Rail can validate it.

From Freshwater Station: 8:50am. 9:50am
Situated in the nearby suburb of Freshwater, visitors can enjoy a hearty breakfast in authentic antique railway carriages. The Station also includes a railway museum, pioneer cottage, gift shop, and can be hired for a unique function venue. This is a more charming Station, and is the preferred departure point for many visitors.

From Kuranda Station: 2pm, 3:30pm
Kuranda Station is world renowned for its tropical gardens and historic significance. It is possibly one of the most photographed railway stations in the world.
CLASS OPTIONS:

Heritage Class:
The original Kuranda Scenic Railway Heritage carriages offer the old world charm of travelling in authentic timber carriages some of which are up to 90 years old.
Seated in refurbished Heritage carriages.
Chilled refresher towel during the summer season.
Water cooler at the end of each carriage.
Souvenir trip guide.
Gold Class:

Gold Class has provided a premium experience, giving you the extra comfort and little bit of luxury, and a most memorable experience.
9.55am departure from Freshwater Station to Kuranda
3.30pm departure from Kuranda to Cairns
Dedicated personalised Gold Class attendant
Individual seating, lounge-style chairs (24 seats in each carriage over 4 carriages)
Ambient, historical décor, including timber look flooring, historical photographs and cedar interior
Gift pack including Kuranda Scenic Railway badge, pen, postcard
Souvenir trip guide available in 9 languages
Optional exclusive tour of the Heritage-Listed Signal Cabin at Kuranda station
- Conducted 15 minutes after arrival for morning trains
- Conducted 30 minutes prior to departure for afternoon trains
Food & beverage offerings will focus on Queensland and local Tablelands produce such as:
o Gallo Dairyland Cheese
o Skybury Coffee & Daintree Tea
o Wondaree Macadamias
o Mango to Go (100% pure mango "ice-cream" style treat)
o Freshly baked muffins with local fruit
o Sirromet Wines & Great Northern Brewing Company Super Crisp Lager
Please note for Gold Class:
Good Friday: No alcohol can be served all day
Anzac Day: No alcohol can be served on the morning trains to Kuranda. Alcohol can be served on the afternoon trains from Kuranda.
Wheelchair Facilities:
Wheel chair access at all stations
Wheel chair Ramp at Cairns station
Wheel chair lift at Freshwater & Kuranda stations
When booking please advise you require wheelchair access, so that we are able to provide the appropriate assistance.
Language Options:
Queensland Rail have developed a unique and interactive app to give customers the opportunity to listen to commentary while they sit back, relax and take in the many historical sites onboard the Kuranda Scenic Railway. The apps are available in English, Japanese, Simplified Chinese/Mandarin & German for Apple from the iTunes app store and from Google Plus for Android users. Please ensure you download the app prior to visiting Kuranda Scenic Railway's Stations. If you don't have a headset with them, they can purchase one at the gift shops in Freshwater or Kuranda for $1.
Skyrail Rainforest Cableway:
There are 2 stops enroute to explore Barron Falls and Red Peak Rainforest Boardwalks. The Journey takes 1hr.15mins

12.30pm Skyrail departs Kuranda meets the 2pm bus transfer into the city
1.30pm Skyrail departs Kuranda meets the 3pm bus transfer into the city
2.30pm Skyrail departs Kuranda meets the 4pm bus transfer into the city
3.45pm Skyrail departs Kuranda meets the 5.20pm bus transfer into the city
We allow 30 minutes for the coach transfer to into the city
GOOD NEWS! All payments made to Travstar do not incur a credit card surcharge
Guest Reviews
Gold Class well worth the extra
Posted By Karen
Exhilerating experience!
I loved every minute of this trip. It was such an exhilerating experience on both the train and the skyrail and would certainly recommend to both families and singles
Posted By Lynne Dorreen
LOVED the Skyrail
The train ride was very nice but we LOVED the Skyrail gondola ride.
We thankfully got forward-facing seats on the train
Posted By Nancy S
Totally awesome.
Will be back to do it again was totally awesome.
Posted By Michelle Bajic
Memorable journeys
The train to Kuranda and return by skyrail were both memorable journeys. The trip to Cairns would have been wasted if we had not done both trips
Posted By Trevor Smith
Skyrail was excellent.
Scenic rail would have been better if we were allocated forward facing seats. Skyrail was excellent.
Posted By Robert Recchi
Very good experience
Very good experience and a day well spent.
Posted By Stuart Minetti
Excellent
Both the train and the skyrail were excellent as they showed the spectacular scenery so well. The train was a step back in time so was a a great experience. As a gold service traveller, the chairs were comfortable, the food good and the lady who served the food and drink was just so obliging. I would recommend the Kuranda Scenic train and skyrail to anyone.
Posted By Karen
Beautiful scenery
Had a lovely day on the Skyrail and the Scenic Train. Beautiful scenery and highly recommend going to Kuranda and back via the skyrail and train.
Posted By Trevor Hutchinson
Excellent
Natalie was excellent to book with. She arranged our tour around our time schedule so we could catch our flight back to Sydney.
The train was neat and the Skyrail was totally amazing - very glad we did both.
Posted By Robert H
Enjoyable experience
A fantastic journey up on the train, the village shops had lots of good
quality items, plenty of food outlets. The Sky rail down was amazing,
just gliding over the forest canopy.
Overall a very enjoyable experience.
Posted By Peter Hodgkins
Amazing and Enjoyable.
Beth, our hostess on gold class on the scenic rail was amazing and made our trip so much more enjoyable. Thanks Beth you did a great job.
Posted By Ruth
Fabulous scenery
It was a great day with fabulous scenery, I enjoyed it immensely
Posted By Lorraine Farmer
Kuranda Train & Skyrail Rates
Need Help With Your Booking?
Our Cairns Office is open again in 10 hours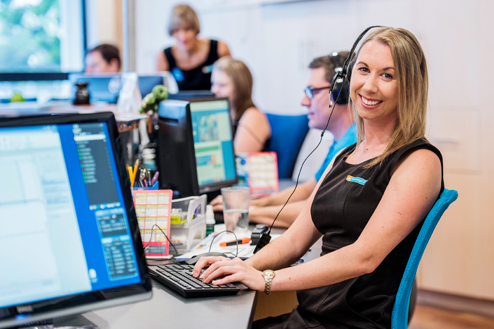 About Travstar Booking Requests
There are some things a computer can't do.
We love helping people plan their holidays and we want to make sure we get it right.
Some holiday packages can be quite complicated with multiple tours and accommodation, pick-up times and extras.
That's why every booking made through a Travstar Website is checked by our local consultants.
It takes a little bit longer to get your tickets but we want to make sure everything is going to run smoothly for you.
How long wil it take to get my tickets?
Our team are alerted to new booking requests as they come in. During office hours you can expect to have your tickets within an hour or two.
After office hours your tickets may take up to 12 hours to arrive.