Rainforestation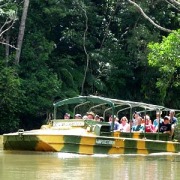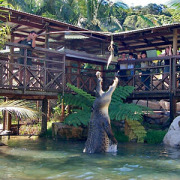 Rainforestation
Kuranda Nature Park
Pamagirri Dancers
Army Duck
FROM enquire PER PERSON
---
Inc. all levies & taxes

Rainforestation Info
RAINFORESTATION:

At the award-winning Rainforestation Nature Park you'll get to experience indigenous culture, Australian native wildlife and World Heritage Listed rainforest all on one site. Set on 100 acres (40 hectares) in the midst of World Heritage Rainforest, this unique tourist attraction is situated five minutes from Kuranda Village, and half an hour by coach from Cairns.
Learn about Aboriginal culture with an interactive experience.

Pamagirri Dreamtime Walk:
This half-hour guided tour along an all weather walk-way modelled on the Rainbow Serpent gives you fascinating insight into aspects of aboriginal culture.

Boomerang Throwing:
Try your hand at boomerang throwing - after a demonstration and a few lessons, you?ll be ready to test your skills with this ancient aboriginal implement. The area is specially netted for your safety, as boomerangs do come back!

Spear Throwing:
Observe spear-throwing - you'll be amazed at the distance the Pamagirri Guides can throw spears using a Woomera. One of our Guides, Jauwa, is listed in the Guinness Book of Records with a distance of 147.75 metres ? that?s one and a half football fields!

Rainforest Amphitheatre:
This natural setting provides a beautiful backdrop for The Pamagirri Corroboree, depicting aspects of including animals, food gathering, and hunting. The rainforest serves as the theatre walls whilst sounds of wildlife provide accompaniment to the haunting sounds of the didgeridoo and clapsticks.

Cultural Centre:
Here you'll see traditional Aboriginal dwellings and hear you Pamagirri Guide playing the didgeridoo, an ancient instrument. Listen carefully for sounds imitating Kangaroos or the Kookaburra.

Army Duck Rainforest Tour:
Experience the tropical rainforest from a totally unique perspective - aboard an amphibious World War II Army Duck. As you traverse through rainforest, your guide will point out and explain ferns, orchids, strangler figs and stinging trees, as well as birds such as the Azure Kingfisher and a host of other animals and reptiles. Splash into the lake and cruise up to the waters edge whilst turtles, fish and eels swim up close. Keep an eye out for water dragons or python?s sunbaking or slithering up trees.

Koala & Wildlife Park:
Wander at your leisure or join a guided group with experienced Wildlife Keepers. Covered boardwalks provide excellent viewing of native Australian animals, including crocodiles, wombats, dingoes, snakes, lizards and the cassowary. Hand feed kangaroos and wallabies. Safely view smaller freshwater crocodiles and their larger estuarine cousins, including "Jack The Ripper", one of the largest saltwater crocodiles in captivity - at over 5 metres in length, he weights almost one tonne!

Meet Keita the cassowary, a large, flightless bird. See endangered wild dingoes.
Tropical Fruit Orchard:
Learn about the exotic tropical fruits of the region and the world, with over 40 species on display including jackfruit, paw paw, lychees, mango, cocoa, carambolia, star apple and pineapple as well as regional produce such as tea, coffee and sugar cane.

Restaurants:
Colonial Restaurant is open for snacks, morning and afternoon tea.
Outback Restaurant styled as a traditional Aussie Outback venue, is ideal for BBQ lunches.

Rainforestation Package A includes:
* Pamagirri Aborignal Experience
* Army Duck Tour
* Koala & Wildlife Park
Shuttle Bus from Australian Butterfly Sanctuary to Rainforestation Nature Park is now free.
Free Shuttle Bus departs Butterfly Sanctuary at 10.45am, 11.45am, 12.15pm, 1.45pm
Guest Reviews
A great tour
Posted By Sue Mylius
Fantastic
Fantastic way to see the rainforest, especially if you are mobility impaired for any reason. The guide was very knowledgeable.
Posted By Kellie Bosanquet
Great Tour
Thank you Gene for customise the tour for us
Posted By Thi Thanh Van Tran
Very friendly and helpful
Kids loved the army duck. Great staff everyone Very friendly and helpful.
Posted By Suzann Murray
A Must!
The army duck is a must.
Posted By Michael Man
Need Help With Your Booking?
Our Cairns Office is open again in 4 hours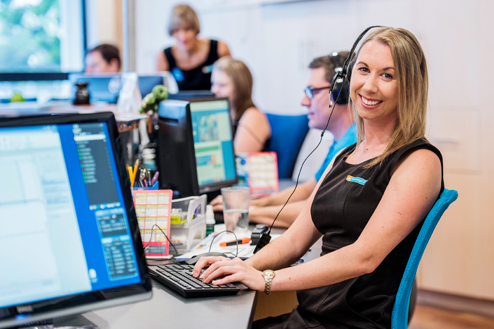 About Travstar Booking Requests
There are some things a computer can't do.
We love helping people plan their holidays and we want to make sure we get it right.
Some holiday packages can be quite complicated with multiple tours and accommodation, pick-up times and extras.
That's why every booking made through a Travstar Website is checked by our local consultants.
It takes a little bit longer to get your tickets but we want to make sure everything is going to run smoothly for you.
How long wil it take to get my tickets?
Our team are alerted to new booking requests as they come in. During office hours you can expect to have your tickets within an hour or two.
After office hours your tickets may take up to 12 hours to arrive.