Self-Drive Skyrail up, Train down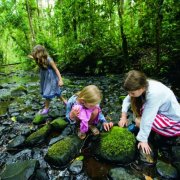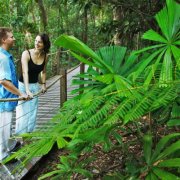 Self-Drive Skyrail up, Train down
Skyrail & Kuranda Train Self-Drive
Skyrail with flexible morning departure
Kuranda Train in the afternoon
FROM $117 PER PERSON
---
Inc. all levies & taxes


Skyrail Up & 3.30pm Train Down
Show Rates FROM $117 per adult

Skyrail Up & 2pm Train Down
Show Rates FROM $117 per adult
Self-Drive Skyrail up, Train down Info
SKYRAIL & KURANDA TRAIN SELF DRIVE (One way transfer)
(Self-drive; Skyrail Up, Train Down)

Itinerary: Skyrail Up, Train Down - Self Drive
Self-drive to Skyrail, Captain Cook Highway, Smithfield
Park your car free for the day
Check-in at Skyrail Terminal
Skyrail journey to Kuranda
Red Peak & Barron Falls Boardwalks
Free time in Kuranda
Kuranda Scenic Rail at 2pm or 3:30pm

Coach transfer back to your car from Freshwater Station
In summary: This tour is ideal for self-drivers who would like to do the Gold Class Train in the afternoon and for people who would like a later morning start. The departure time in the morning is flexible as the Skyrail is a Gondola system with continuous departures throughout the day. The flexibility offered to self-drivers with this tour is the start time in the morning. The Gold Class carriage is only on the 3.30pm train. There is also a train departure at 2pm without Gold Class. When you reach the end of your Kuranda Scenic Rail journey at Freshwater Station you will be met by a coach that will transfer you to the Skyrail Station at Smithfield to retrieve your car.

Gold Class: If you plan to do the Gold Class upgrade you will be served an alcoholic beverage if you wish. Some people prefer to do the Skyrail in the morning followed by the Gold Class Train in the afternoon and enjoy an alcoholic beverage in the afternoon.

Self Drive: If you have your own vehicle, you will not require transfers from your accommodation. This package automatically includes a one-way transfer from Kuranda Scenic Railway's Freshwater Connection Railway Station to Skyrail's Smithfield Terminal at the end of the day.
Skyrail Rainforest Cableway: Skyrail 1.5hr journey including free time at each stop as you make your way to Kuranda. There are two stops en-route to explore Barron Falls and Red Peak Rainforest Boardwalks.

Kuranda Village: Free time is allowed to explore this quaint village, including the Markets which operate daily.

Kuranda Scenic Rail: At Kuranda Railway Station, board the famous Kuranda Scenic Rail for your 1.5hr journey to Freshwater Connection Station.

**Please note this is a self-guided tour

OPTIONAL UPGRADES (ADDITIONAL COST)
Gold Class Kuranda Scenic Rail provides a premium experience for passengers wanting that extra comfort and a little bit of luxury for a most memorable experience. Gold Class includes:
3.30pm departure from Kuranda
Dedicated personalised Gold Class attendant
Individual seating, lounge-style chairs (24 seats in each carriage over 4 carriages)
Ambient, historical décor, including timber look flooring, historical photographs and cedar interior
Gift pack including Kuranda Scenic Railway badge, pen, postcard
Souvenir trip guide available in 9 languages
Optional exclusive tour of the Heritage-Listed Signal Cabin at Kuranda station
- Conducted 15 minutes after arrival for morning trains
Food & beverage offerings will focus on Queensland and local Tablelands produce such as:
o Gallo Dairyland Cheese
o Skybury Coffee & Daintree Tea
o Wondaree Macadamias
o Mango to Go (100% pure mango "ice-cream" style treat)
o Freshly baked muffins with local fruit
o Sirromet Wines & Great Northern Brewing Company Super Crisp Lager
Kuranda Wildlife Experience includes entry to the Kuranda Koala Gardens, Birdworld and the Australian Butterfly Sanctuary. You will have access to all three attractions at a great saving off the normal admission price!
Highly recommended upgrade! Skyrail Diamond View Gondolas provides guests with amazing panoramic views of the tropical landscape, Coral Sea and rainforest canopy, but also the unique perspective of looking straight down from the treetops to the forest floor through the glass flooring for the entire Skyrail experience. Taking a maximum of 5 persons and a waiting time of 7 minutes. (extra cost)
Language Options:
Queensland Rail have developed a unique and interactive app to give customers the opportunity to listen to commentary while they sit back, relax and take in the many historical sites on-board the Kuranda Scenic Railway. The apps are available in English, Japanese, Simplified Chinese/Mandarin & German for Apple from the iTunes app store and from Google Plus for Android users. Please ensure you download the app prior to visiting Kuranda Scenic Railway's Stations. If you don't have a headset they are available for purchase at the gift shops in Freshwater or Kuranda for $1.
GOOD NEWS! All payments made to Travstar do not incur a credit card surcharge.