12 Tours Found
We found 12 tours in the Rainforest Day Tours category
Paradise Rainforest Walk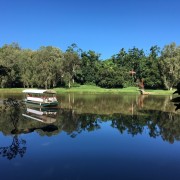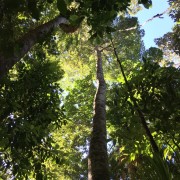 Paradise Rainforest Walk
Guided Interpretive Rainforest Walk
Kuranda Riverboat crossing
Ancient Tropical Rainforest
Cairns Hiking Tour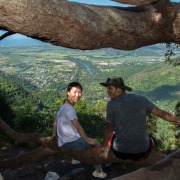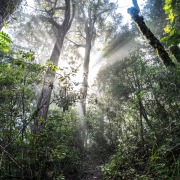 Cairns Hiking Tour
The only guided Hiking Experience in Cairns!
A cool off in Davies Creek
Scenic views from the summit
Waterfall Wanderers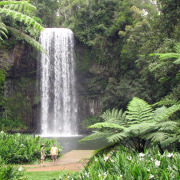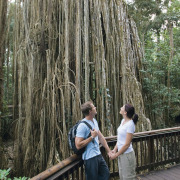 Waterfall Wanderers
Tablelands | Waterfalls | Rainforest
Includes Lunch & Transfers
Swim under waterfalls
Kuranda

Kuranda is a town on the Atherton Tableland in Far North Queensland, located 25 kilometres from Cairns or a scenic 40 minute drive up the Kuranda Range. Surrounded by tropical rainforest and situated adjacent to the Wet Tropics World Heritage listed Barron Gorge National Park, Kuranda receives thousands of visitors each week.
The famous Kuranda Train & Skyrail Cableway is what makes this a truly spectacular experience. The Kuranda Train departs Cairns Railway Station and Freshwater Connection twice daily to wind its way on a journey of approx 1 hour and 45 minutes through 15 hand-made tunnels, 37 bridges, World Heritage protected tropical forest, and spectacular waterfalls. Rising from sea level to 328m, it is an impressive journey which leads to a brief stop at Barron Gorge before concluding at Kuranda Village.
Kuranda offers a variety of wildlife attractions plus many shopping opportunities. An easy stroll around the village will introduce you to a range of market stalls with locally made arts & crafts, local produce, art galleries, specialty shops and more. The town is surround by tropical rainforest and there are several short rainforest walks nearby.
The Skyrail Cableway is sensational and offers a unique way to view the rainforest from another perspective. Spanning 7.5kms over pristine rainforest, you will glide just metres above the rainforest canopy before descending through the canopy layers and deep into the heart of the forest at Skyrail's two rainforest mid-stations. The Skyrail experience allows you to explore the wonders of an ancient tropical rainforest and learn about one of the most botanically fascinating areas on earth through a guided rainforest tour and also at the Rainforest Interpretation Centre. A Skyrail Experience will take approximately 1½ hours one way, or 2-2½ hours return.
Read more:
Kuranda in a Day!
Ultimate Kuranda Experience
Kuranda Experience
The Daintree Rainforest

The Daintree is like no other place on earth - it is the oldest intact tropical lowland rainforest in the world with a history stretching back over many millions of years. Impressively it also has the greatest diversity of plants and animals found anywhere in Australia, it is host to 13 of the world's 19 primitive flowering plant species and it is home to 28% of frogs, 65% of ferns, 40% of birds and 34% of mammals in Australia. In the opinion of Sir David Attenborough, it is the most spectacular and diverse rainforest region on earth!
The landscape is diverse with magnificent scenery, mountain ranges, fast flowing streams and waterfalls, deep gorges and dense rainforest. In addition to this the Daintree encapsulates outstanding coastal scenery that combines tropical rainforest, white sandy beaches and fringing reefs just offshore. This is an extremely rare combination.
There are many natural and often unique features to be explored and a guided tour will ensure you see the best of this living museum. Tours depart from Cairns daily and can be in 4WD or 8WD vehicle. The itinerary includes easy rainforest walks, sensational viewpoints, rainforest attractions, beach walks and a host of information by your friendly guide to really gather a greater understanding of this amazing region.
The Daintree Rainforest is located an easy 2 hour drive north of Cairns and Port Douglas, stretching from the Daintree Village, across the river, and encompasses Cape Kimberley, Cow Bay, Thronton's Peak, Cooper Creek, Thronton Beach, Noah Valley, Cape Tribulation and the Bloomfield Track to the north. The journey to the Daintree is all part of this unique and special experience. The Cook Highway from Cairns to Mossman is one of the most beautiful coastal roads in Australia and offers beautiful scenery ranging from secluded palm fringed tropical beaches, hidden coves and rugged headlands to the rich green of lush sugar-cane fields and rainforest covered mountains.
Read more:
Daintree Dreaming Cultural Journey
Billy Tea Bush Safaris with 4WD
Adventure Company with wildlife park
Cape Tribulation

The Cape Tribulation section of Daintree National Park is renowned as the place where where two spectacular World Heritage sites meet - the Daintree Rainforest and the Great Barrier Reef. Stretching from Cow Bay to the Bloomfield River, Cape Tribulation itself is a headland that juts out into the Coral Sea. The Kulki Boardwalk is a short 400m walk up the headland with great views of the mountain backdrop and Cape Tribultion Beach. A beautiful long beach walk links Myall Beach and Cape Tribulation Beach. The view from the southern side of the Cape is spectacular. The fringing reef at Coconut Beach is a great place to explore at low tide. Thornton Beach is also a great place to walk and experience 'where the rainforest meets the reef'.
Cape Tribulation has so many activities on offer including bush walking, kayaking, horse riding treks, snorkelling, exotic fruit tastings, zip lining through the rainforest canopy and 4WD safaris. There are also many walks taking in the beaches and rainforest. Cape Tribulation is where the bitumen ends and a Four Wheel Drive is needed to venture further north.

Read more:
Overnight and multi-day Cape Tribulation
Cape Trib & Daintree Rainforest
Billy Tea Bush Safaris
Mossman Gorge

Mossman is the gateway to the southern section of the Daintree National Park which incorporates Mossman Gorge, one of the most beautiful and accessible tourist sites in the Port Douglas region. Mossman Gorge lies 20km north of Port Douglas and approx 2km from the township of Mossman.
This area of National Park is part of the traditional homeland of the Eastern Kuku Yalanji Aboriginal people.For the Eastern Kuku Yalanji people many natural features of the landscape have spiritual significance including Wundu (Thornton Peak), Manjal Dimbi (Mount Demi), Wurrumbu (The Bluff) and Kulki (Cape Tribulation). Mossman Gorge is of particular significance to their culture with its water, mountains and rainforest holding many indigenous stories handed down through each generation of elders.
Mossman Gorge remains mostly untouched and in pristine condition with crystal-clear waters that cascade over granite boulders, dense rainforest canopy and more than 100 species of trees, shrubs and vines with the fig trees and their flying buttresses being one of the most popular attractions. A suspension bridge runs across Rex Creek close to where it enters the Mossman River, linking a 2.4-kilometre circular rainforest walk.
A "must do" for every visitor to Mossman Gorge are the indigenous guided Ngadiku Dreamtime Walks, conducted by the traditional owners of the Gorge, the Kuku Yalanji people. (Nar-di-gul) meaning stories and legends from a long time ago, takes visitors on a journey along private, easy graded tracks, visiting special places and culturally significant sites and over rainforest streams.
Tours that visit Mossman Gorge:
Cape Trib Connections - Budget Day Tour
Cape Tribulation & Daintree Rainforest
Daintree Dreaming
Wooroonooran National Park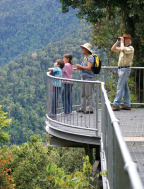 Located south of Cairns, the Wooroonooran National Park covers most of Bellenden Ker Range and includes Queensland's two highest mountains, Mount Bartle Frere (1622 m) and Mount Bellenden Ker (1592 m). Josephine Falls features a cascading waterfall and the beginning of the trail up Queensland's highest peak—Bartle Frere, while Palmerston (Doongan) is renowned for beautiful rainforest, wild rivers, steep gorges, cascading waterfalls and the Mamu Rainforest Canopy Walkway. The Mamu Rainforest Canopy Walkway is in the traditional country of the Ma:Mu Aboriginal people. The Mamu Rainforest Canopy Walk is located on the Palmerston Highway midway between Innisfail and Millaa Millaa. The walk offers spectacular views across the North Johnston River valley with the rare opportunity to walk through the tree tops and observe the numerous birds, fruits and flowers in the rainforest canopy. The tower at the end of the walk reaches 37m above the ground.
Read more:
Northern Experience Tablelands & Waterfalls
Uncle Brians Fun, Falls & Forest
Atherton Tablelands

The Atherton Tablelands is known for its cooler climate, rolling green hills, rich farmland and breathtaking waterfalls, and you can also find several small remnants of rainforest which once covered it. The Crater Lakes, both Lake Eacham and Lake Barrine, are surrounded by lush tropical highland rainforest. Walking tracks through the rainforest provide secluded forest-fringed views of the lake and excellent opportunities for viewing wildlife. Giant bull kauri pines a privately-owned teahouse and boat cruises are a popular attraction for visitors to Lake Barrine. Meanwhile Lake Eacham offers swimming, birdwatching, canoeing, picnic areas and shady walking tracks, which locals and visitors both love.
Malanda is a quiet town located about 25kms southeast of Atherton. It sits in the rolling hills and is surrounded by pockets of rainforest. Malanda Falls Conservation Park features two self guided walking trails that weave through the rainforest or along the banks of the North Johnstone River. The falls area provides a sandy rainforest pool for swimming and family picnics in the warmer weather. The Malanda falls flow all year round and its brook meanders through the rainforest providing a home to many turtles and platypus and other aquatic species. This area of virgin Rainforest is alive with birdlife and animals and is one of the few places that the rare Lumholtz Tree Kangaroo calls home.
Read more:
Northern Experience Eco Tour
Afternoon departure including dinner at Paronella Park
Uncle Brians Fun, Falls & Forest - Swim, Sing, Slide Rainforest Tour
The Waterfalls Circuit

The famous Waterfalls Circuit comprises of three magnificent falls which begin near the town of Millaa Millaa on the Palmerston Highway. The 15km sealed road circuit links Millaa Millaa Falls, Zillie and Ellinjaa Falls. Millaa Millaa is the first of three magnificent falls on the Millaa Millaa Waterfall Circuit and has probably the prettiest setting of any falls in Australia. Surrounded by lush rainforest, the falls cascade perfectly to a pristine waterhole below where you can enjoy a refreshing swim in the cool water. It has long been one of the most photographed, so make sure you bring your camera! Zillie and Ellinjaa Falls are also included on the circuit where you will find a viewing platform and beautiful scenery.
Apart from having the most photographed waterfall in Australia, our region can also lay claim to Australia's tallest waterfall (Wallaman Falls), the widest single-drop waterfall (Millstream Falls) and even a waterfall that featured as the tribal council on the second season of the show "Survivor" in Blencoe Falls.
If you're interested in seeing the great diversity of waterfalls in this area then start with the Barron Falls in Kuranda, then on to Davies Creek Falls, Emerald Creek Falls, Granite Gorge, Malanda Falls and finally the waterfalls circuit.
Read more:
Budget Tablelands & Waterfalls
Northern Experience - Tablelands, Waterfalls & Paronella Park
Climate & Weather

Visiting the rainforest in the wet season can be a major highlight for visitors. The rainforest becomes alive, waterfalls are in full flow and there is a sense of invigorated energy. There are quite a few activities which are actually enhanced by the wet season such as the Kuranda Train & Skyrail, and there's nothing quite like seeing the Barron falls in full flow! The wet season generally runs from December to May and the dry season from June to November, for most of the year the climate in Cairns is simply perfect, and whether the weather is wet or dry Cairns is well equipped for it!