About the Travstar Cairns office
Travstar is an inbound travel agency based in Cairns we specialise in creating unique Cairns & Tropical North Queensland Holiday Packages.
Our team consists of 7 friendly Cairns locals all with first hand knowledge and experiences of our lovely region. We are excited to share with you what Far North Queensland has to offer!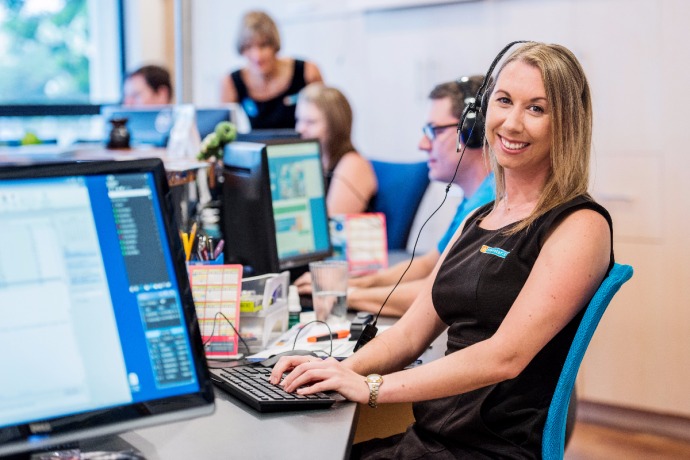 Our service
We can make bookings for all the accommodation and tours you see listed on our websites. We specialise in itinerary planning and can do all the hard work for you by finding the right experience to suit your needs.
there are no additional booking fees to book with travstar.
Can I call or e-mail a general enquiry?
Yes, Our team are ready to help you plan your holiday in Cairns.
You can email us direct at info@travstar.com with a general enquiry or you can give us a call on 1800663396 / +61 74040 2100. during business hours
Booking online with Travstar
We love helping people plan their holidays and we want to make sure we get it right.
Some holiday packages can be quite complicated with multiple tours and accommodation, pick-up times and extras.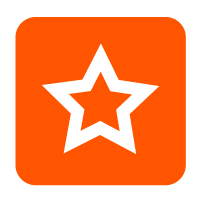 That's why every booking made through a Travstar Website is checked by our local consultants. It takes a little bit longer to get your tickets but we want to make sure everything is going to run smoothly for you.
How long will it take to get my tickets?
Our team are alerted to new booking requests as they come in. During office hours you can expect to have your tickets within an hour or two.
After office hours your tickets may take up to 12 hours to arrive.
I don't want to make a reservation online, what can I do?
You can call us during office hours. Our team are ready to help and have everything they need to confirm your booking over the phone.
Office Hours: 8am - 6pm - weekdays | 9am - 5pm weekends
International Callers: +61 7 40402100 | toll Free: 1800663396
What if I don't have a credit card?
We can still accept your booking by receiving payment via bank transfer into our account. Please contact us for banking details.
What if the hotel or tour that I have selected is not available?
We will notify you by email or phone if your chosen accommodation or tour is not available. We will do our best to suggest alternative options or dates.
What is the latest time that I can make my reservation?
Online booking close for the following day at around 5pm. you can still call us before 6 to secure your booking.
We would highly recommend booking in advance especially during high season or school holidays, as this will give you a better chance of securing your reservation.
How far ahead can I book?
You can book for 12+ months in advance, as long as we have the rates contracts in place with the operators. Please call if you can not see rates for the experience you are looking for.
When is peak season?
June – October is the peak holiday season in Cairns & Tropical North Queensland. It is highly recommend to book accommodation well in advance to avoid disappointment.
Can I specify my room preferences?
Special requests can be entered into the Additional Information box on our secure form. Whereas the hotel staff will do their best to accommodate special requests, we cannot guarantee that your requests will be granted.
What acknowledgement will I receive on booking?
The confirmation voucher is your ticket. Once your booking is confirmed, we will send you a PDF confirmation voucher by email detailing your booking.
the details of your booking/s will also be in the body of the e-mail.
Please print the PDF voucher and present when checking in and when boarding each experience. when booking packages including multiple experiences the PDF will be a multiple page document.

Changes & Cancelations
Can I change my reservation?
As long as you give us enough notice and depending on the availability, there will be no problems for us to change your reservation.
What if I need to cancel my reservation?
As long as you give enough notice there should be no problems with cancelling your booking. Please check the cancellation policy, which is outlined on your confirmation voucher, as late cancellations will incur a penalty.
What is the cancellation policy?
You will need to check the cancellation policy issued on your quotes or confirmation vouchers as they are dependent on the nature of the product or service purchased.
Usually the operator will want to keep 100% if the cancelation is made withing 24 hours of the event.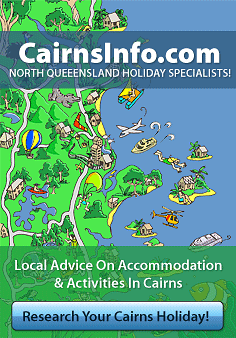 Will I lose my deposit already paid?
The deposit amount is non refundable, however it can be used as a credit towards any new bookings you would like to make. There is no time limit on when this credit must be spent.
Prices and payment
What is the currency?
All quotes and rates on our websites are in AUD $
Are the room rates on your site per person or per room per night?
The quoted room rate is per room per night. The rate will reflect the number of persons you entered on your enquiry form.
What age do the children's rates apply to?
The children's rates in Cairns & Tropical North Queensland generally apply between the ages of 4-14 yrs; however in some instances they may start from 2yrs up to 17yrs. Please check with each individual operator for details.
Am I eligible for the family rate?
Families of 2 adults and 2 children between the ages of 4 –14 yrs are eligible for the family rate only.
What credit/debit cards are accepted?
We currently accept Visa, Mastercard, Diners & Amex
Are taxes included in the rate?
Yes. The Goods and Service Tax (G.S.T) is included in all rates advertised.
Is there a fee for using our booking service?
There is no charge to use our services. We offer free friendly local advice!
Is it safe to use my credit card on the Internet?
Yes. Your credit card details will be encrypted ensuring the highest security. At no times will your debit/credit card details be transmitted unencrypted over the Internet. For further information please refer to our privacy statement.
What do you do with my personal information?
We have the utmost respect for your privacy and security. We never divulge any information in our fully encrypted database account to anyone without your consent. Once you enter the secure form to make a booking you will be guaranteed of a safe and smooth transaction.
How accurate is the information provided?
Although we endeavor to publish the most accurate, up-to-date information possible regarding costs, dates and times, this information is bound to change frequently and updating as quickly as we would like is not always possible. We therefore cannot guarantee the accuracy of this material and suggest that you use it as a guide only. For further information please refer to our terms and conditions .
Travel Insurance
We strongly recommend the purchase of travel insurance including cancellation cover.
We recommend that the insurance covers loss of deposit and other monies through cancellation, loss or damage to personal baggage and loss of money, medical expenses, and additional expenses to cover hotel accommodation and costs should any services need to be extended or curtailed due to illness or other insurance risk.
Who do I contact if I need help?
You can contact our travel consultants 7 days a week.
Office Hours: 8am - 6pm - weekdays | 9am - 5pm weekends
International Callers: +61 7 40402100 | toll Free: 1800663396
Or send us an email to info@travstar.com we look forward to hearing from you!
Our Cairns Team
Kelsi, Gene, Nat, Kim & Jodi keep the Cairns Travstar office open 7 Days a week, 364 Days a year (We close on Christmas Day).
We check every booking that comes through to make sure the details are correct and are available to our customers for phone support while you are travelling.
Our goal is to make sure your Tropical North Queensland holiday goes according to plan.
Feel Free to contact us with any questions you have regarding your booking:
1800 663 396