BIRDWATCHING CAIRNS
The Cairns Esplanade is one of the most interesting birdwatching spots in north-eastern Australia.
Over 200 species of birds recorded and is an extremely popular bird watchers precinct. It is one of the best spots for Asiatic shorebirds on the eastern coast of Australia and is recognised worldwide for its importance as shorebird habitat, with large naumbers of birdwatchers visiting each year.
The best times to visit is about two hours before high tide or from about an hour or so after high tide.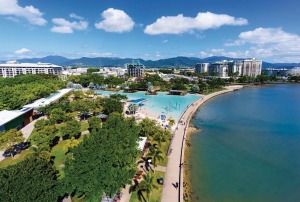 Notable species include:
Australian Pelican
Stiated Heron
Nankeen Night Heron
Black-tailed Godwit
Terek Sandpiper
Grey-tailed Tattler
Great Knot
Red Knot
Sanderling
Red-necked Stint
Sharp-tailed Sandpiper
Curlew Sandpiper
Broad-billed Sandpiper
Beach Stone-curlew
Pacific Golden Plover
Grey Plover
Lesser Sand Plover
Greater Sand Plover
Gull-billed Tern
Little Tern
Pied Imperial-Pigeon
Helmeted Friarbird
Varied Honeyeater
Yellow Honeyeater

Cairns Botanical Gardens
Like the esplanade, the Cairns Botanical Gardens is excellent area for bird watchers. Dedicated birdwathers should plan to stay here for at least a few hours.
There is always a chance for some of the more elusive species such as Black Bittern., White-browed Crake and Little Kingfisher, as well as Pygmy-geese.
The Centenary Lakes are connected to the Botanic Gardens by a low lying boardwalk through a pristine swamp forest and melaleuca wetlands.
The Freshwater Lake here has birds, turtles and many waterlillies and the gardens here have a picnic pavillion and facilities making it the perfect spot for a family picnic.
There is also a Saltwater Lake on the other eastern side of the park where you can see mangrove habitats including mud skippers, crabs, saltwater fish and mangrove birds.
The boardwalk between the gardens and the lakes leads to a footbridge over a tidal mangrove channel where Common Sandpiper, Mangrove Robin and Large-billed Gerygone are often seen.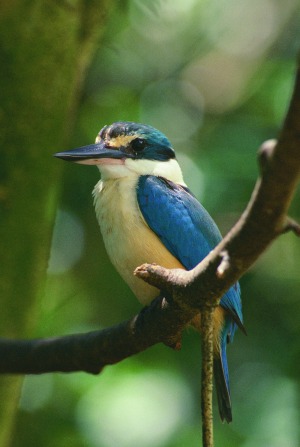 Notable species include:
Orange-footed Scrubfowl
Magpie Goose
Green Pygmy-goose
Black Bittern
Brahminy Kite
Bush-hen
Common Sandpiper
Whiskered Tern
White-winged Black Tern
Double-eyed Fig-Parrot
Gould's Bronze-Cuckoo
Azure Kingfisher
Little Kingfisher
Large billed Gerygone
Helmeted Friarbird
Yellow Honeyeater
Brown-backed Honeyeater
Mangrove Robin
Shining Flycatcher
Varied Triller
Black Butcherbird
Yellow-bellied Sunbird

There is also a very popular walking track entry in this vicinity called the Red Arrow Walk and the Blue Arrow Walk. This gets a little busy in the morning and
afternoon when locals use it to tone up and get fit.
Birdworld is located at Kuranda. This is a very popular attraction to visit if you decide to do the Kuranda Train and Skyrail daytrip.