CAIRNS ESPLANADE
The Cairns Esplanade is one of the most interesting birdwatching spots in north-eastern Australia and very easy to access from most hotels located in the city area...
The Cairns Esplanade runs from the famous Cairns swimming lagoon down to the mangroves at the Northern end. It is 3 km long and is family fun and fitness heaven. Ideal for roller blading, bike riding, jogging or just a very pleasant stroll.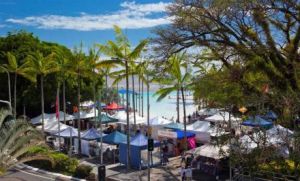 At the Northern end there is a playground for younger children and picnic BBQ area with seating. This is a very popular place for childrens parties however in Summer there can be sand flies this far down due to the mangroves. It is not necessary to pre-book BBQ's but we do advise you to get there early if you are planning a party.
Walking south from here towards the city there are a number of sculptures by local artists. Roland Nancarrow 'Windblown Leaves' was inspired by abstract forms of our native local rainforest fan palm. Kevin Mayo created 'Horizon Line' inspired by dancing figures that cast interesting shadows and appear to change with the water and light reflections. My personal favourite is Dominic Johns 'Telescopus' that is a very large shell like sculpture created by this mosaic artist. It is positioned close to the Floriana Guesthouse and the Cairns Base Hospital.
You will also notice that many of the homes along this stretch are still intact which is excellent, however I expect as Cairns continues to develop some more of these lovely old Queenslander style homes will disappear.
The Esplanade is planted with trees and some have been dedicated to important members of the community and also in memory of people passed. There is lighting right along the boardwalk. It has become a very popular locals exercise area in the mornings and is an excellent promenade for families in the late afternoon.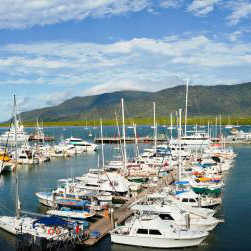 The Skate park is extremely popular with the local big and little kids and is the biggest skatepark in Australia. It has a clover bowl with hips and pockets, a half pip whip section and snakes, walls and intersecting paths. You don't have to be an expert to have a go but I think it is best to have some moves up your sleeve as the kids using this park have some brilliant manouvres and look very fit.
The Volleyball courts are an excellent way to enjoy some time with friends and is a great place to hang out especially for Backpackers (closed every Wednesday until 2pm for maintenance).
Muddy's Playground caters for children from 1 years to 10 years with a number of different types of playground equipment from little toddler rides and interactive sculptures right through to quite challenging pyramids. There is a cafe here so there is no need to bring a picnic if you are on holidays (closed on Tuesday mornings until midday however the council endeavours to have at least 50% of the playground available during this time).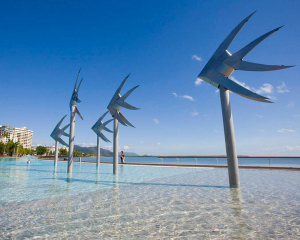 The Lagoon swimming pool is 4800 square metres and is the perfect option for year round safe and warm swimming. There are sandy edges for building sand castles and playing in shallow water. There is also one side of the lagoon that has timber decking, moderate shade and deeper water. The Lagoons open every day of the year from 6am to 10pm from October to March and from 7am to 9pm from April to September (Every Wednesday the pool is closed for maintenance until 12pm).
It is not possible to swim in the beach in front of the Cairns Esplanade or in the beach in front of the Lagoon. When the tide goes out you will notice that this is mud flats and you will get stuck in this very sticky mud so please do not attempt to swim here.
CAIRNS ESPLANADE DINING
The Cairns Esplanade runs for 2.5 kilometres with mangroves at the northern end and the newly constructed public swimming lagoon and Reef Fleet Terminal at the Southern end.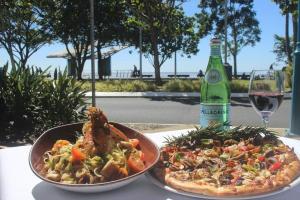 Opposite the lagoon and between Florence and Spence St is where you will find a great selection of restaurants, cafes and food halls. This 3 block strip is easily the most popular restaurant hub in Cairns and has something to offer every taste and budget.
This area is in the vicinity of Mantra Trilogy, Mantra Esplanade and Royal Harbour. Close by is the Shangri-La & Hilton.
Our Favourites:
Villa Romana -Italian sense of style
Cosmopolitan cafe setting with Mediterranean, essentially Italian wining and dining.
Barnacle Bills - Seafood
One of the first seafood restaurants in Cairns. We still love it. Great lunch specials too!
The Raw Prawn - Seafood
Spacious, all seafood is cooked with delicacy & precision.
La Pizza - Italian
Wonderful staff wonderful location wonderful view. Perfect for families. Awsome pizza!!!
CAIRNS ESPLANADE SKATE PARK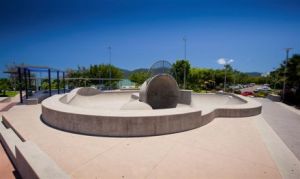 The Cairns Esplanade has undergone a huge $44 million redevelopment & beatification project in the last few years. The latest addition to the Northern Esplanade is the Skate Park & Volley Ball courts.
The Esplanade skate park is superbly designed with fantastic deep bowls and viewing areas. There are also some smaller bowls and ramps for the up and coming pro skaters and BMX riders.
The park is located just 15 mins walk North along the esplanade from the Cairns CBD