CAIRNS CALLERIES & MUSEUMS
Cairns Art Gallery: 4046 4800
(Cnr Abbott and Shields Streets. Open Monday to Saturday 10am-5pm. Sundays and Public Holidays 1pm-5pm)
NorthSite Contemporary Arts, Cairns: 4050 9494
(Bulmba-ja Arts Centre, 96 Abbott St. Open Monday to Saturday 10am-5pm. Admission Free)
Tanks Art Centre: 4032 2349
(46 Collins Ave, Edge Hill. Open Monday to Friday 11am-4pm)
The Cairns Museum: 4051 5582
(City Place. Open Monday to Saturday 10am - 3pm, closed public holidays)
Mulgrave Settlers Museum: 4056 1810
(60 Gordon St, Gordonvale. Open Monday to Saturday 10am-2pm, closed public holidays)
The Australian Sugar Industry Museum: 4063 2656
(Bruce Hwy, Mourilyan. Open Monday to Saturday 9am-5pm, Sunday 9am-3pm)
The Mareeba Heritage Museum: 4092 5674
(Kennedy Hwy, Mareeba. Open daily 8am-4pm)
The Beck Museum Aviation and Military Collection: 4092 3979
(Kennedy Hwy, Mareeba. Open daily 10am-4pm, closed Christmas Day and Good Friday)
Hou Wang Chinese Temple & Museum: 4091 6945
(86 Herberton Rd, Atherton. Open Daily 10am-4pm, closed Christmas Day and Good Friday)
The Old Port Douglas Court House Museum: 4099 4635
(Wharf Street, Port Douglas. Admission free. Open 10am-1pm daily)
CAIRNS MUSEUM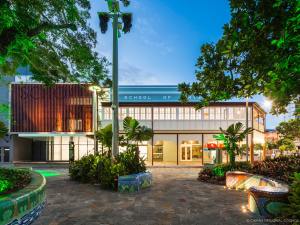 For only $5/adult and $2/school child or $12 for a family of 2 adults and 2 children under 17 the Cairns Musuem is almost free. We would love you to support the Cairns Historial Society and Museum.
The Cairns Museum located on the corner of Sheilds and Lake St presents a history of Cairns and District in static and pictorial displays. Beginning with our Aboriginal and Islander beginnings, the Chinese influence and early timber, mining and agricultural industries, the displays touch on every period of our development from foundation to the present day.
Maritime and railway historical items are presented on the spacious verandahs, while displays reflecting our domestic artifacts, the impact of European culture and local Aboriginal history are presented in the main showrooms.A representation of an early Chinese Joss House is an important feature.
A range of Society publications and monthly bulletins are available for sale at the counter and a video outlining the attractions of Cairns and District is constantly displayed for the enjoyment of visitors. The Cairns Museum is fully airconditioned.
Open Monday-Saturday 10 a.m.-3 p.m.
Visit the Cairns Museum website for more information:
www.cairnsmuseum.org.au
There is also a museum gift shop that aids the running of the Cairns Museum. The shop carries a range of tourist souveniers, travel books, videos, maps and postcards.
CAIRNS REGIONAL GALLERY
Cairns Regional Gallery is Far North Queensland's only visual art museum and in 2005 it celebrates it's 10th Birthday: a decade of documenting and presenting history, heritage and contemporary culture of this vast and distinctive region of Australia and the world through the visual arts, craft and design.
Housed in a refurbished heritage building in central Cairns, the Gallery incorporates four individual exhibition spaces inside the building, showcasing an average of 30 exhibitions per year, and featuring the work of national and international artists, with a strong focus on local and indigenous works of art.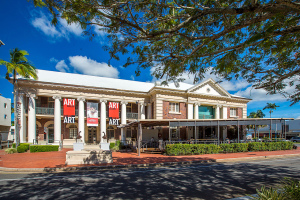 The Gallery is also accompanied by a stylish gift shop and café. The Gallery Shop has a wide range of functional, artistic, local and designer gifts at a variety of prices, the Gallery Shop can make finding that perfect gift an enjoyable journey.
Located at the front of the Gallery is the highly acclaimed café, Perrotta's. Discover the tantalising flavours, superb beverages and excellent service the local food critics rave about, it is the perfect way to conclude and relax after your visit to the Gallery.
Exhibitions change every four to eight weeks ensuring there will be something new to see every time you visit, with displays ranging from paintings, to sculpture, installations, photography and prints. A stimulating program of workshops, lectures and special events are held regularly to compliment these exhibitions.
Cairns Regional Gallery is a limited liability and non-profit organisation, and is a controlled and funded entity of Cairns City Council.
This dynamic public art museum was officially opened on 15 July 1995. In recent years the Gallery has strengthened its role as a leader in cultural tourism, recognised by winning the Tropical North Queensland Heritage & Cultural Tourism Award in 2002 & 2003 and a finalist in 2004.
Cairns Regional Gallery is a non-profit organization listed on the National Register of Cultural Gifts Organisations. Donations of $2 or more are tax deductible.
It is the dynamic combination of the region's cultural diversity, tourism and the distance from Australia's capital cities that sets Cairns, and the Cairns Regional Gallery, apart from other regional arts centres.
Facilities:
Disabled Access, Disabled Restrooms, Parents Room, Reading Room, Guided Tours (by appointment), practical Artist Workshops and Fine Art Classes (by booking only), Gallery Shop, Café

Opening Hours:
Mon - Sat 10:00 am - 5:00 pm
Sun& Public Holidays 1:00 pm - 5:00 pm
Street Address:
Cnr of Abbott & Shields Streets, Cairns, Queensland, Australia, 4870