CAIRNS MARKETS
There are excellent Markets in North Queensland which all sell a combination of local art and craft, locally grown exotic fruit, vegies, flowers and souvenirs.
CAIRNS NIGHT MARKETS
From 5pm the Cairns Night Markets come alive, providing a great atmoshpere for after hours shopping.
Offering over 70 fascinating outlets promoting everything from homewares, giftwares, tattoos, crocodile skins and pearl. Expect to find massage stands, childrens novelties and an excellent glass blowing artist.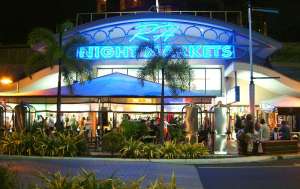 The market's innovative design captures all of the atmosphere of the outdoor markets with the convenience of indoor air conditioned comfort.
The Cairns Esplanande boasts internationally renowned restaurants and cafes and the Cairns Night Markets endeavour to continue this trend with our Esplanade front food court. Whether you are wanting some quick take away food or some of the unique tastes from different cultures, the Cairns Night Markets food court has a lot to offer.
The Cairns Night Markets can be accessed from either The Esplanade or Abbott St entrances.
Where: 71-75 The Esplanade
When: Everyday
Time: From 5pm
KURANDA HERITAGE MARKETS
Come and enjoy the market in the rainforest!
Kuranda Village is famous for arts and crafts and indigenous artefacts and the excellent attractions of the Butterfly Sanctuary, Koala Gardens, Birdworld and the Aviary, to name but a few.
The original Kuranda markets are held Wednesdays, Thursdays, Friday and Sunday. The Kuranda Heritage markets are open daily from 9am to 3pm.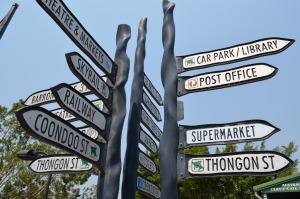 Attractions at the Kuranda Heritage Markets include:
Souvenirs - from toys to well-priced opals, boomerangs, Authentic and locally painted Didgeridoos with free lessons available for everyone.
Local Art & Crafts - from timber to precious metals, jewellery, fashion garments to puzzles.
Food & Drinks - snacks, sit-down meals, Thai noodles, tasty vegetarian, tropical beer garden.
Entertainment - from the extreme to the cultural, organised or just happening!
While at the Kuranda Heritage Markets you can also enjoy the incredible BirdWorld with over 80 species of brilliant Australian birds (including Cassowary) and exotic species from rainforests around the world.
Just a short walk away is the Australian Butterfly Sanctuary, the largest butterfly enclosure in Australia with over 2000 tropical butterflies. And for the full wildlife in the rainforest experience, visit the Koala Gardens, where you can see an assortment of Australian animals in their natural surroundings.
Where: Kuranda Village
When: Everyday
Time: 9am - 3pm
PORT DOUGLAS SUNDAY MARKETS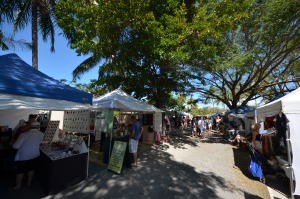 Port Douglas Markets are on every Sunday at Anzac Park from 8am to around 1pm.
Located in Anzac Park, right on the waterfront overlooking the Coral Sea, the markets are a delightful mix of local art, craft, souvenirs and fresh produce.
The markets are a great place to find scores of interesting items. Locals come from all over the Far North to sell their products to inquisitive tourists and locals alike. Here you'll find original arts and crafts, jewellery, pottery, tropical clothing, fruit and vegetables, glassware, books, homemade foods, unique Australian goods, souvenirs and more.
Port Douglas is a 1 hour scenic drive north of Cairns.
RUSTY'S MARKETS
Many Cairns locals & holiday makers do their weekly shop at Rusty's Markets for fruit and vegies on Friday, Saturdays & Sundays. There are some craft stalls, but this is a brilliant place for fresh juice and local produce.
On Fridays the market starts so this is the best day for fresh fruit and vegies. They also have flower and home made soap vendors on Fridays. Billy's coffee is very popular!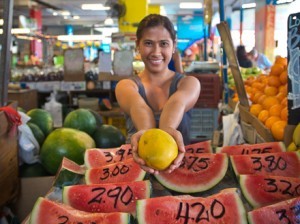 On Sundays there is a more bric-a-brac secondhand goods market theme.
From an insignificant beginning of some 6 stall holders Rusty's has grown into an enormous three day market with over 180 stall holders. It has become renown for its colourful displays of exotic fruit, vegetables, exotic flowers, bric-a-brac, delicatessens, specialty products & an excellent selection of food & beverage stalls.
Rusty's is named after the late Rusty Rees, who started & expanded the market. The new owners, Gilligan's Backpacker Hotel & Resort, have faithfully carried on the tradition & Rusty's continues to offer it's weekly delights to shoppers & tourists alike.
Rusty's Market is now an established Cairns tourist icon & certainly worth a visit. When in Cairns why not drop in any Friday to Sunday. Rusty's is located between Grafton & Sheridan Streets.
*On the Sheridan St side there are some great Thai & Vietnamese food stalls. Fantastic value authentic Thai & Vietnamese dishes.
OPENING TIMES:
Friday: 5am to 6pm
Saturday: 6am to 3pm
Sunday: 6am to 2pm
PARKING:
Paid parking is available on Sheridan & Grafton Streets.
CAIRNS ESPLANADE MARKETS
The Esplanade markets get into full swing on the promenade (just by the lagoon) every Saturday between 8am - 4pm. Look for the colourful Cairns Esplanade tents.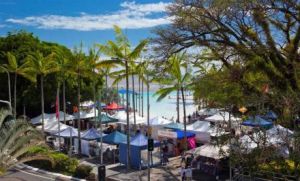 Market day is a showcase of local quality stalls ranging from contemporary jewellery, woodcraft, pottery, airbrush tattoos, clothes, skincare, much needed relaxing massage stalls, and so much more.
Browse through the extensive array of stalls picking up those hard to find special pieces while enjoying the sights and sounds of local entertainment artists as they showcase their talent.
With the markets set among Cairns most picturesque location, the lagoon, bring your swimmers and enjoy a relaxing dip after the markets and then visit one of the many local award winning restaurants. Make a day of it!
Where: Cairns Esplande (next to the lagoon pool)
When: Every Saturday
Times: 8am - 4pm