CAIRNS TOURIST INFORMATION
General information for vistors visiting Cairns & Tropical North Queensland
HANDY VISITOR INFO
Public Transport:
Black & White Taxis: 131008
Buses (regional)
Sunbus: 4057 7411
(Cairns & Suburbs Bus termnal at City Place, Lake St, Cairns)
Australia Coach: 4048 8355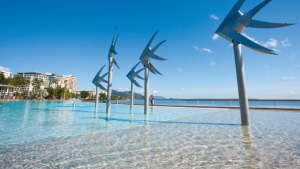 (Airport Bus)
Sun Palm Express: 4099 4992
(Regional transfers)
Whitecar Coaches: 4091 1855
(Cairns to Tablelands)
Country Road Coachlines: 4050 0599
(Cairns to Cooktown)
Buses (interstate)
Greyhound Australia 1300 473 946
McCafferty's: 131 410
(Reef Fleet Terminal, Cnr Spence St)
Premier Motor Service: 133 410
(Lake St Bus Terminal)
Railway
Queensland Rail Travel Centre: 4036 9250
Bunda St, Cairns.
Airlines (International)
Air New Zealand: 131 223
Air Niugini: 131 233
Cathay Pacific: 131 747
Continental Airlines: 4034 9122
Qantas: 131 223
Airlines (Domestic)
Qantas: 131 223
Virgin Blue: 136 789
Macair Airlines: 131 528
(Islands, Peninsula and Gulf)
Skytrans Airlines: 4046 2462
(Peninsula and Gulf)
Road Conditions Report
RACQ www.racq.com.au
1300 130 595
Bank Hours:
Monday to Thursday 9:30am - 4pm
Friday 9:30am - 5pm
Saturday and Sunday - Closed
Post Offices
Cairns Poste Restante: 131 318
13 Grafton St, Cairns. Open Monday to Friday 9am to 5pm
Orchid Plaza
Level 2, Lake Street, Cairns. Open Monday to Friday 9am to 5:30pm, Saturday 9am to 12pm.
Cairns Central
Level 2, Mcleod Street, Cairns. Open Monday to Friday 9am to 5:30pm, Saturday 9am to 12:30pm.
Palm Cove
Paradise Village Shopping Centre, 117 Williams Esplanade
Port Douglas
Cnr Owen and Macrossan Street
Shopping
Cairns Central & Suburban Centres
Most open Monday to Saturday 9am to 5:30pm, Thursday nights until 9pm, Sunday 10:30am to 4pm. Most supermarkets and large chain stores often open until 9pm on weeknights.
Pier Shopping
Open everyday 9am - 9pm
Cairns Central Business District
Most stores open Monday to Friday 9am to 5pm and Saturday 9am to noon. Supermarkets and tourist stores open seven days a week and longer hours.
CYCLONES

Cairns has a Tropical climate, with generally hot and humid Summers and milder dryer Winters. The average annual rainfall is 1992 mm on an average 154 days. The majority of Cairn's rainfall occurs during summer between January and March.
The monsoon trough is close to Cairns from December to March bringing with it warm to hot, humid conditions and the possibility of thunderstorms and tropical cyclones. Thunderstorms regularly develop over the ranges inland from Cairns, but seldom move off the ranges across the City.
On the 3rd of February 2011 Cyclone Yasi crossed the coast near Mission Beach, 138 km South of Cairns. This was a maximum Category 5 cyclone when it was crossing the coast. Cyclone Yasi was a strong and large system and maintained damaging winds and heavy rain as it travelled west to Mount Isa. Tully and Cardwell suffered major damage to structures and vegetation with the eye of the cyclone passing over Dunk Island and Tully. The resort islands of Dunk and Bedarra were closed after the event and are yet to be re-opened. Cairns was on the edge of the destructive winds and experienced Gale Force Winds. Mission Beach and Tully are about a 2 hour drive south of Cairns.
In 2012 Cairns has not experienced a cyclone. The outlook for 12/13 tropical cyclone season is released in October 2012. We always consult www.bom.gov.au when we are in the cyclone season. If you would like to read more complete data on Tropical Cyclones make sure to visit this site. It is the Australian Government Bureau of Meteorology.
On the 12th of January 2009 Tropical Cyclone Charlotte in the Gulf of Carpentaria combined with a King tide caused flooding rains throughout the city of Cairns. On Tueday the 13th of January the weather is fine with a bright blue sky and the water has drained away from the city.
Prior to this the last tropical cyclone experienced in North Queensland was Cyclone Monica in April 2006 which caused extensive rain damage. Cyclone Monica arrived about a month after Cyclone Larry in 2006.
Cyclone Larry crossed the coast at Innisfail in on the 23rd of March 2006. Innisfail is a one and a half hour drive south of Cairns. Cyclone Larry reached a category 5 just before landfall and caused extensive damage to local crops. The worst town affected by Larry was Silkwood with 99% of the houses damaged. Cairns was lucky with minimal damage and relatively low rainfall. The day after Cyclone Larry was lovely dry, clear weather.
Prior to this we experienced Cyclone Ingrid in early March 2005. Cyclone Ingrid affected Lockhart River and Cooktown but had a low impact on Cairns.
Cyclone Steve arrived in late February 2000. Steve was a Category 2 when it crossed the coast then weakened and departed our area to re-intensify in the Gulf of Carpentaria. Cyclone Steve is notable for its longevity and traversal on Northern and Western Australia but never reached severe intensity. It hung around for a long time but did not create a problem for Cairns after the 27th of February 2000.
The months from May to October are dominated by the sub-tropical ridge, with Cairns under the influence of the south east trade stream. These moist onshore winds often produce diurnal showers, peaking overnight and morning and weakening during the afternoon.
The tropics has fairly uniform temperatures throughout the year. Typical daytime min/max temperature ranges in Cairns are 23C/31C in mid-Summer and 18C/26C in mid-Winter.
The prevailing winds are East to South-easterly with strongest winds (cyclones excluded) usually occurring during April and August. During the summer months, North to North-easterly sea breezes dominate the winds along the coast.
The cyclone season is normally confined to between December and April but exceptions do occur. The most active year to date from official records was 1977, when Cairns was influenced by four tropical cyclones.
PARKING NEAR REEF FLEET TERMINAL
There are a number of private Car Parks close to the Reef Fleet Terminal.
Hilton Cairns International Public Parking: It is possible park in the public undercover secure car park under the Hilton International for $10/day. This is a small Car Park so there may not be space. If you are only needing parking for one day for a reef trip you can put $10 in coins into the parking meter on exit. If you are staying overnight at an Island and need overnight or extended parking you will need to go to the Hilton reception before departing on the ferry. Pre-pay for your parking and the reception provides you with a receipt that must be folded in such a way inside your vehicle on the dashboard displaying the pre-paid dates easily visible to security. Security is tight and this must be displayed. 6 minute walk to Reef Fleet Terminal.
The Pier, Shangri-La Parking: This undercover secure Car Park is large and very close to the Reef Fleet Terminal. Rates vary depending on the number of hours you spend but on average are $15/day. An overnight stay where you depart in the morning and return the following afternoon is about $40. There is a ticket machine here and you pay just before hopping into your car to depart. 5 minute walk to Reef Fleet Terminal.
Car Parking at the Cruise Liner Terminal is available for long term use. It is $10/day and can be for up to 10 days. There are on-site ticket machines. This is an outdoor carpark and is a 5 minute walk from the Reef Fleet Terminal. It is suitable for high vehicles such as campervans and 4WD's. Entry for this Car Park is from either the corner of Wharf and Lake Streets or the corner of Wharf and Abbott Streets. 7 minute walk to Reef Fleet Terminal.
There is not extended time free parking in Cairns City. There are some areas that offer free parking for up to 3 hours during some time periods. Parking is regulated and is $1.40/hour.
CASSOWARIES
Cassowaries are an endangered species found throughout the rainforests, and nearby woodlands and swamps of North Queensland. These large flightless birds play an important role in the dispersal of rainforest plant seeds.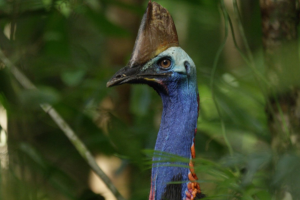 Cassowary populations face a variety of threats. As habitat disappears, human contact with cassowaries is increasing. Cassowary behaviour is unpredictable. Cassowaries are known to kick with their large clawed feet. This can be dangerous for people and pets.
Cassowaries are potentially dangerous. Avoid unnecessary risks and help protect cassowaries by following these guidelines in cassowary territory.
Never approach cassowaries
Never approach chicks - male cassowaries will defend them.
Never feed cassowaries - it is illegal, dangerous and has caused cassowary deaths.
Always discard food scraps in closed bins.
Always slow down when driving in cassowary territory.
Never stop your vehicle on the road to look at cassowaries.
Keep dogs behind fences or on a leash.
Report cassowary sightings and incidents to your local Queensland Parks and Wildlife Service Office.
CAIRNS TOURISM HISTORY
By The Cairns Historical Scociety
By the end of the 1870's Cairns was a busy port with the first wharves in Cairns being owned by Burns Philp, Wilson Hart and some local merchants. A connecting network of steamer services extended from Albany to North Queensland on an inter-colonial basis and in 1879 the entrance to the Barron River was marked allowing small craft to use it.
In 1890 occasional pleasure cruises to Green Island began and in 1906 The Cairns Post said that "in time to come it will prove to be the popular marine resort of the whole region".
By 1895 there was a system of ships travelling from Melbourne to Sydney, Brisbane, Mackay, Townsville and Cairns on a weekly basis; and a weekly tour sailing to Cooktown via Sydney, Brisbane, Maryborough, Bundaberg, Gladstone, Rockhampton, Mackay, Bowen, Townsville, Dungeness, Cardwell, Mourilyan, Geraldton (now called Innisfail), Cairns and Port Douglas. In 1900 there were four ships that advertised routes that included Sydney, Brisbane, Bundaberg, Rockhampton, Mackay, Townsville and Cairns and ten which advertised Maryborough, Bundaberg, Gladstone, Rockhampton, Mackay, Townsville, Lucinda Point, Cairns, Port Douglas and Cooktown.
In 1907 a tourist guide to North Queensland told tourists "the tourist will not find himself an object of interest here. Admiring visitors are too plentiful to excite curiosity and he may go about the business of sightseeing absolutely unembarrassed". As can be seen from the number of steamships arriving in Cairns and a tourist guide to show visitors where to go, tourism in Cairns had well and truly started, even in the early 1900's. To cater for these tourists, in 1908 a new ship was introduced to ply the tourist trade off Cairns and Port Douglas, sailing between reefs and island channels for many years .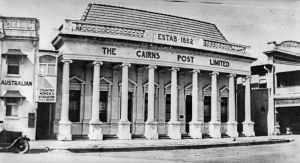 It was reported in the 1915 "The Pocket Queensland" that Cairns was one of the best know tourist resorts in Australia and that every year saw an increasing number of tourists from the southern States. Three lines of coastal steamers regularly travelled between Cairns and all southern ports besides numerous smaller steamers trading with the ports between Cairns and Townsville. During the 1920's tourist boats would arrive every Friday and disgorge their 2000 passengers during the tourist season. These tourists were split into groups with one group being taken to see Green Island and Kuranda while the other group would go to Yungaburra. Tourism emphasized natural beauty such as the rainforest jungle, underground streams and waterfalls and the views from the Range Road (Gillies Highway).
In 1924 Hayles Magnetic Island Pty Ltd decided to expand their Townsville operation to Cairns, with Charles Hayles in charge. He began a launch service from Cairns to Cooktown, weekly and from Cairns to Turtle Bay every Sunday and every second Sunday to Green Island. The inaugral service to Green Island occurred 25 November 1924 per M V Malanda. The service to Turtle Bay was closed when the use of Turtle Bay became restricted as it formed a part of the Yarrabah Aboriginal Reserve. The service to Green Island increased to three days per week.
In the 1930's the Hayles family took passengers from cruise ships and showed them the coral reef using special floating glass boxes attached to small boats, a method which had never been used before anywhere in the world. Hayles also ran charter cruises in the area which included trips to Upola Cay and Oyster Cay to view the sea birds as well as reef walking and fishing. Blake Hayles became new manager of Cairns Branch in 1948 when his father Charles retired. Blake designed a new version of the glass-bottom boat, featuring glass in the bottom of the boat, which replaced the old method of floating glass boxes. In order to address the issue of overcrowding on Green Island in 1983 Hayles began cruises to Michaelmas Cay and Hastings Reef. They also pioneered the use of the semi-submersible for coral viewing.
Another trip that was available in Cairns during this period was the Manly; a motor launch which took visitors on a calm water cruise that included a trip around Admiralty Island. It was considered a good opportunity to view the "favourite haunts and breeding ground of North Queensland crocodiles with the possibility of viewing one". Other attractions on this trip included the boat party landing to view a tree-climbing fish, the mud-skipper of the mangrove swamps.
The 1938-39 edition of the Queensland Government Tourist Brochure called 'Holiday Haunts' offered regular weekly steamer services operating between Melbourne and Cairns and vice versa with prices ranging from £4/12/6 for a trip from Brisbane to Cairns one way in 2nd Class to £47/10/- for a return trip from Fremantle to Cairns in 1st Class. The brochure also advertised day trips such as visiting Lake Eacham and a day tour by launch to Green Island to inspect the Coral Gardens.
After the War the tourists again began traveling to Cairns and in 1954 another world first, this time an underwater observatory was built on Green Island.
Cairns was a popular destination with game fishing enthusiasts since the landing of the first 1000 pound black marlin in 1966 and in 1971 the Harbour Board built mooring facilities for charter and power boats operating out of the port. To encourage this industry in 1971 a new terminal was built by Hayles Magnetic Island Pty Ltd which included all amenities necessary for the benefit of tourists. By the end of the 1970's tourists had many choices. They could cruise Trinity Inlet or the Mulgrave and Russell Rivers or select from several island and reef cruises with coral viewing, snorkeling, diving and fishing.
The Great Barrier Reef Marine Park in the 1980's carried an estimated 150 000 visitors a day which by 1994-95 had increase to about 1.5 million visitors a day with growth estimated to be 10% per annum. Currently using the GBRMP are vessel-based day trip cruise companies encompassing small yachts and powerboats carrying less than 12 people at at time; ships which are bigger than 35 meters with up to 450 passengers at a time; extended vessel-based tourist operations with ships undertaking extended trips through the reef with overnight stays usually in a number of different places and structure-based tourist operations using such structures as pontoons.
Currently Cairns and the Whitsundays, which comprise less than 4% of the GBR Marine Park, attract 95% of the tourist visitors to the reef. Tourism, in the future, will continue to be an important part of the Great Barrier Reef usage.