ANNUAL EVENTS IN CAIRNS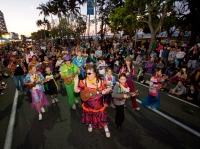 Cairns hosts many annual events which reflect the tropical atmosphere environment and can enhance your holiday experience when visiting the region.
We have listed a few of the major events here but there are many more on offer. To find more events in cairns and around the region visit the www.cairnsevents.com website where you can search for current events for your dates.
CAIRNS INDIGENOUS ART FAIR
When: July
Where: Cairns Esplanade
Cairns Indigenous Art Fair ( CIAF ) - Much more than an Art Fair.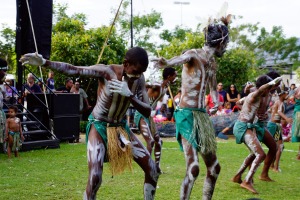 Australia's Premier Indigenous Art Fair will shine a spotlight on emerging and established visual artists.
Much more than an Art Fair, CIAF is a platform for artists to tell their stories through performance: music, song and dance; theatre, screen and fashion; workshops and informative talks.
CIAF is committed to providing an ethical marketplace for the sale and purchase of Queensland Indigenous art and features the best contemporary and traditional Aboriginal and Torres Strait Islander art from Queensland.
Perfectly located in the city all art on display is for sale at the excellent Cairns Cruise Liner Terminal on the waterfront. This is a unique event that invites first-time buyers, investors and the curious to seek out exciting new artists.
Come and view the paintings, sculpture, ceramics, photography, new media art, works on paper and fibre art, while enhancing your understanding of Queensland`s Indigenous artists and art work.
CAIRNS SHOW
When - Mid July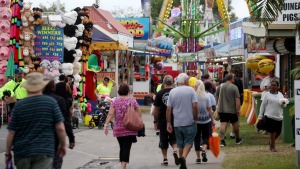 Location: Cairns Show Grounds
Each year Cairns Show brings to you a variety of entertainment to be enjoyed by all ages.
The Cairns Show is an annual event held at the Cairns Show grounds just 5 minutes from the City Centre. Over 3 days visitors can experience Performing artists, Historical displays, Farm & Produce exhibits, Wood chopping competitions & local businesses displaying their wares.
For the children & young at heart, Side Show Alley is a 3 day, fully equipped fun park with rollercoasters, Dodgem cars and all the rides and entertainment you would expect.
The first Cairns Show was held in September 1891. Originally the show consisted of Trade & agriculture exhibitions and competitions.
For visitors to the region the Cairns Show offers a great insight into the region and a seriously exciting day.
CARNIVAL ON COLLINS
When: Usually held on Father's Day, (the first Sunday in September)
Where: Collins Avenue, Edge Hill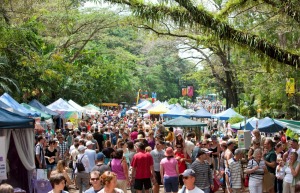 Come and celebrate Fathers Day on Collins Avenue with markets, music, food, kids' entertainment, buskers and much, much more!
Carnival on Collins is a great family fun day featuring loads of free entertainment for people of all ages. Local art, craft, produce and plants are available at a diverse range of market stalls, with free, live entertainment on the main stage in the Cairns Botanic Gardens. There is the children's entertainment area, roving buskers and food and drink stalls.
Carnival on Collins celebrates it's 29th birthday. Indulge in a wide range of activities, entertainment and market stalls.
9am - 3pm and entry is FREE
CORAL COAST TRIATHLON
When: June
Where: Port Douglas
CORAL COAST TRIATHLON is a tradition in Tropical North Queensland. Taking place on in June, the Coral Coast Triathlon starts and finishes in the paradise of Port Douglas with a course featuring Four Mile Beach. 5150 (Olympic), Sprint and Enticer distance options will be available for both individuals and teams.
FESTIVAL CAIRNS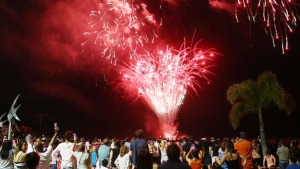 When: September
Where: Cairns
Held annually during the August and September Festival Cairns is one of Australia's leading regional cultural festivals.
As Cairns becomes the stage of fun and festivities, the Festival harnesses the strengths of Cairns' natural ambience, beautiful scenery, balmy spring weather and quality cultural and tourism attractions to create a unique festival experience.
From signature food and wine events and performances by guest national and international artists, to multi-cultural and community celebrations that showcase the region's talent, Festival Cairns is a celebration of Tropical Australia's diverse cultural life.
Ticketed events are complimented by a wide range of free outdoor performances including the Festival Finale which attracts an audience of around 40,000.
Cairns Festival Signature Events
Saturday Grand Parade & Fireworks
An iconic event in the Cairns community attracting over 20,000 spectators each year. Incorporates the traditional crowd pleasers the Parade of Lights and Explosion of Lights. Starting at Minnie St at 3.30pm floats of every shape and size will meander along the esplanade heading for Fogarty Park. The parade will be followed by fireworks, around 9pm.
Festival Family Concert
Throw a blanket down on the grass near the Lagoon and enjoy a late afternoon wind down with this FREE concert featuring the best of local talent.
IRONMAN CAIRNS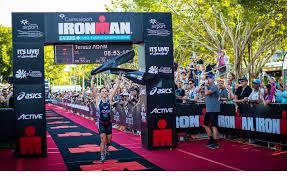 When: June
Where: Cairns
Situated at the gateway to the Great Barrier Reef, Cairns Airport IRONMAN Cairns is set in one of the world's most iconic tropical locations and boasts a stunning backdrop that will take your breath away.
With arguably the most spectacular bike course in the world, competitors race up the Captain Cook Highway hugging the coastline from Cairns to Port Douglas.
From reef to World Heritage listed rainforest, and a run along the stunning Cairns boardwalk, the race finishes in the heart of the city.
This race has become a 'must-do' on the IRONMAN circuit, and there is every reason to believe the hype.
North Queensland locals support this event with spectacular enthusiasm and welcome athletes and their families and friends from all over the world to our tropical city.
OPERA IN THE OUTBACK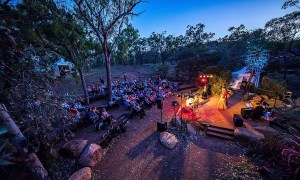 When: October
Where: Undara Lava Tubes
Pitch your tent, Roll out your swag or get into your caravan for Australia's most unique, magical outback event.
If you enjoy a magical evening and love superb singing then come and be entertained over 3 nights by a sparkling and theatrical performance of your favourite songs from all the greatest operas, Broadway shows and contemporary classical hits to be held once again in the Ooramin Place Amphitheatre at Undara Experience.
Sitting out under the stars in the amphitheatre while the sun sets, you will be mesmerised by professional opera singers in this unexpected setting.
Voted Best Festival & Event in Tropical North Queensland in 2009.
How to Get There: Undara Volcanic National Park is 275km South West of Cairns on the Savannah Way. (Allow 4 hours driving time from Cairns.