CAIRNS CITY
Cairns is the heart of the Tropical North and is an excellent base for exploring this region. The Cairns International Airport is a short ride from the city centre. The Cairns Marina & Reef Fleet Terminal is only one block from the city centre and is the departure point for most Great Barrier Reef trips.
In the evening this small cosmopolitan centre offers the 100 000 residents and visitors a choice of over 100 restaurants. With an abundance of fresh seafood, exotic tropical fruits and the piquant flavours of native Australian cuisine, dining out is always a great experience.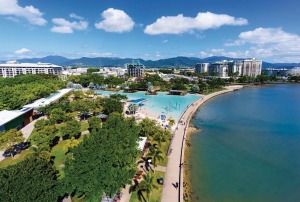 Set in a prime location in the city centre, The Reef Hotel Casino complex offers everything you would expect from a boutique casino including restaurants, bars & entertainment.
The Cairns City Esplanade has recently undergone a major re-development which includes a swimming lagoon, waterfront boardwalks, BBQ areas & a children's water park playground.
The lagoon precinct spans 4 hectares, and is capable of accommodating 1000 swimmers at a time. It is open for free public use between 6am and 10pm daily.
CAFES IN CAIRNS
Cafes we like within walking distance of Cairns City hotels: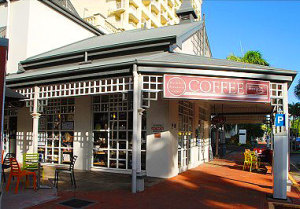 Sweet Bistrot
Sweet Bistrot is next door to the Pullman Cairns International. Opposite Reef Hotel Casino. This cosy little family run cafe serves yummy quiche, toasties and very good coffee. Located on Abbott St only 50 metres from our Travstar.com office. Yippee!
The Chamber Room
The Chamber Room fragrance of coffee is comforting. Delicious fresh made savoury and sweet muffins. Located in the laneway between Pullman Cairns International lobby on Abbott St and Lake St.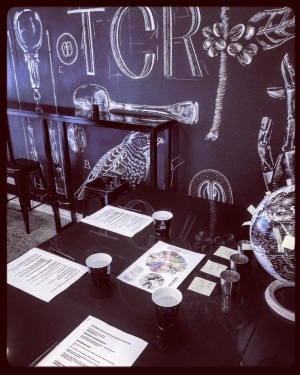 Che Zest
Che Zest in the original Cairns Ambulance Brigade Building on the corner of Aplin and Grafton St. This is within walking distance of The Hotel Cairns. They serve delicious fresh french breads and pastries.
Bang Espresso
Bang Espresso is a little edgy and does great coffee. Located on Spence St between Abbott and Lake St.
Caffein'd
Caffein'd is located on Grafton St diagonally opposite the entrance to the Rusty's markets. This is a fabulous spot for excellent coffee on a Saturday morning or any other time.
Blackbird
Blackbird Espresso Specialty Coffee: Looking for great coffee? Black bird is very popular and was reated 2nd in Australia on Beanhunter! Located in Cairns City in the Ocean Walk arcade.
Cafe Semra
Cafe Semra: We really like the coffee here. Cafe Semra is new it's not drawing in the crowds.. yet. They get's great reviews for their breakfasts. Drop in while you are here. 46 Lake St, Cairns City QLD 4870.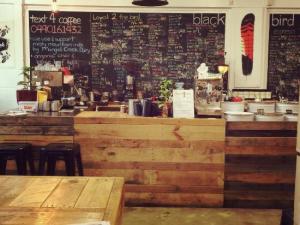 Meldrum's
Meldrum's is Cairns favourite Pie shop. Every visitor needs to try one of these pies. This pie shop must be the most awarded in Australia. Absolutely unbeatable and also on Grafton St.
Perrotta's
Perrotta's fits into the restaurant and cafe criteria. All locals love Perotta's and you will too. Outside the gallery on the corner of Abbott & Shields St close to the swimming lagoons. This is an ideal spot for people watching too.
Cairns Gong Cha
Bubble Tea is on the rise and Cairns now has a Gong Cha. Located in Cairns Central shopping centre in the first floor next to the escalators.
CAIRNS CENTRAL
Cairns Central is the largest shopping centre in Far North Queensland and has been servicing the local region since 1997. The centre is fully enclosed and offers an extensive range of stores and services. It has over 180 stores together with Myer, Target, Coles, BI-LO and Birch, Carroll and Coyle.
It is the perfect place to relax, catch up with friends or have a family day out. With cinemas and a variety of restaurants, cafes and food court selections, you won't have to look further for something to do.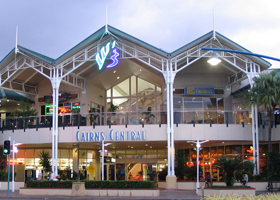 Birch, Carroll and Coyle offer a 6-screen cinema complex with all the latest in movie entertainment. Sit back and relax at the cinema for a bigger and better experience only at the movies!
The food court also offers a wide selection of your favourite fast food, including Noodle Box, McDonalds, Subway, KFC and Curry D'Lites.

During school holidays Cairns Central Shopping Centre often has free family style entertainment.

In Cairns we have Thursday night shopping at our major shopping centres. The centre is open until 9pm on Thursdays.

Cairns Central enjoys an easily accessible location, with Sheridan Street and Mulgrave Road both leading into the centre of Cairns. Situated on the corner of McLeod and Spence Streets, Cairns Central offers free undercover parking with access via Aplin Street, Spence Street and Bunda Street.

The Cairns Central train station is located at the rear of the centre and operates the Kuranda Scenic Rail, The Sunlander, The Queenslander and the Tilt Train.

Centre Hours
Monday 9:00am - 5:30pm
Tuesday 9:00am - 5:30pm
Wednesday 9:00am - 5:30pm
Thursday 9:00am - 9:00pm
Friday 9:00am - 5:30pm
Saturday 9:00am - 5:30pm
Sunday 10:30am - 4:00pm
CAIRNS CITY DINING
The Inner City area bordered by The Esplanade, Florence, McLeod and Wharf Sts is home to a diverse collection of Restaurants, Bars and Cafes. Cairns has many Jems hidden away in arcades and side streets which will offer the holiday maker something different from the usual tourist hot spots.
Our Favourites:
C'est Bon: French
Exquisite dishes, delightful service, comfortable setting. Our favourite for lunch & dinner.
Cést Bon is set within a light filled circular dining room and provides an excellent wine list for wine connoisseurs. An ideal setting with set lunch and dinner menu.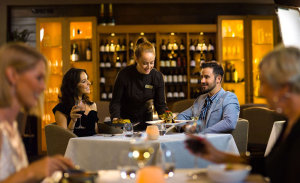 Tamarind Restaurant: Asian, seafood.
Intimate and exclusive, Asian fusion fine dining and wine.
Gambaramba Noodles: Japanese
This is a gem, traditional japanese noodles on Spence St. Great value sets.
The Roti Shack
The Roti Shack sources only the freshest ingredients and everything is made from scratch on the premises daily, including the roti bread. Customers can see the creation of the roti from start to finish in the open plan kitchen. They only use free range chicken and local beef and cater for vegans with the vegetarian range. Even the Trinidad chillies are grown at home to create a flavoursome chilli sauce that compliments the curry flavours perfectly.
The Roti Shack, 4/93 Lake St, is open from 11am-8pm Tue-Sun.
Cafe China: Chinese.
Yum Cha on Saturday & Sunday at 11am, Yummy...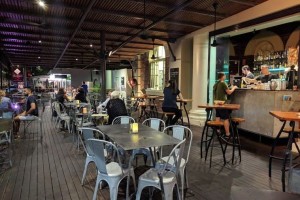 Perrottas: Italian /Mediterranean and open til late.
Alfresco dining at the gallery. Popular brunch and lunch. Always good for a coffee stop too.
Snoogies in Main Street Arcade: Healthy.
Delicious salads and vegetarian lunch dishes. Wraps and fresh juices.
Caffiend: Unique cafe on Grafton St.
Very popular for breakfast and lunch and occassionally hosting dinners.
JUICE BARS
Juice Bars & healthy cafes we like within walking distance of Cairns City hotels: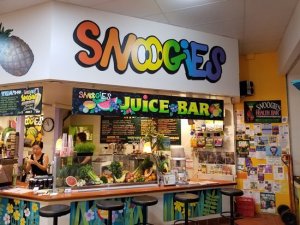 Snoogies is a little vegetarian juice bar and healthy lunch spot in Main Street Arcade between Grafton & Lake St in the city. With a food court environment with a number of options including Thai, Indonesian, Japanese and Chinese stalls. Located on Spence St between Abbott and Lake St.
Paleo Cafe is located on Grafton St opposite the entrance to the Rusty's markets. They offer a range of healthy products for sale as well as juices and delicious breakfast & lunch options.
Tiny'shas delicious healthy wholesome breakfast & lunch options and is also located on Grafton St, south of Gilligans Backpackers. Cross at the lights.
Lafew Tea Houseis home of Kombucha. Kombucha is a probiotic culture filled with enzymes, yeasts & good bacterium. It is a Living drink that tastes great! Kombucha may improve digestion, joint health and immunity. It has high levels of Glucosamine and B-vitamins. It may regulate blood sugar and alkalize the body. This is an ancient elixir of health. 33 Sheridan St opposite Rustys Market. Open Tuesday - Sunday
THE PIER
Below the Shangri-La hotel & perched above the marina and you will find a wonderful selection of restaurants. The Pier complex has recently been refurbished and the boardwalk opposite the marina houses some of the best dining experiences in Cairns.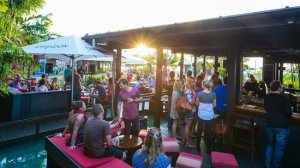 The best way to get there is to walk along Esplanade boardwalk, past the lagoon until you reach the marina.
Further along the boardwalk, past the Reef Fleet Terminal and Harbour Lights hotel is the "Mondo Cafe Bar & Grill". Mondo's is a fantastic outdoor dining experience with a relaxed atmosphere and absolute waterfront location.
Our Favourites:
Salt House Modern Australian
On the waterfront at the far end of the marina is a fabulous place for a cocktail followed by dinner.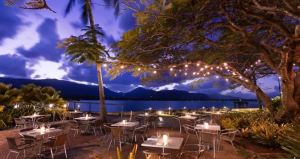 Mondo Cafe Bar & Grill: International
Relaxed dining with the best waterfront location. A true local favourite.
Restaurant M Yogo: French Japanese cuisine
Multi Award winning restaurant oozing with flavour and style dining overlooking Marlin Marina
Pesci's On The Water: Mediterranean & Seafood Restaurant
Alfresco dining overlooking the Marina.
Tha Fish: Seafood
Next to Pesci's. Great Seafood dining
Ochre: Australian Cuisine
Specialising in fresh local seafood, game and native bush foods. Try some Crocodile, Emu or Kangaroo! This is Cairns most awarded restaurant and caters to most large events in this region. Highly recommended and a must if you would like to experience true Australian flavours.
REEF FLEET TERMINAL
Located in Cairns City right next to the Swimming Lagoon is the departure point for the majority of the Great Barrier Reef Day & Overnight Trips in North Queensland.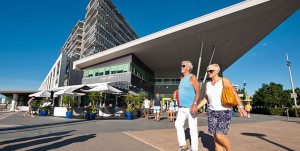 Reef Fleet Terminal

The Reef Fleet Terminal is an airport style terminal where visitors check in before departing on their Great Barrier Reef Adventure. The Terminal was completed in 2004 and offers a cafe and some retail shops for last minute breakfast & sun screen purchases.

Marlin Jetty
On the Marlin Jetty you will find the vessels for some of the smaller tour operators who do not have a desk at the Reef Fleet Terminal. The vessels are well signed and the staff will check you in before you board.
SHIELDS STREET
Shields St Precinct is 5 city blocks in length and passes through the City Place (outdoor shopping mall) between the Lagoon end of the Esplanade and Cairns Central Shopping Centre.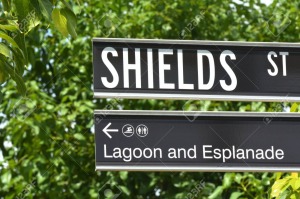 Shields St has a steady stream of traffic and a wide variety of Restaurants, Cafe's, Bars & Pubs.

The most popular restaurant strip is between Grafton & Sheridan St. This small stretch of pavement offers some of the best dining experiences in Cairns.

Our Favourites:

Bellocale:
We loved this friendly Italian restaurant and in the short time it has been open in Cairns we have noticed it's popularity soar. Highly recommended!

La Fettuccina: Italian
This is a very trendy and popular Italian restaurant with alfresco dining.

Kanpai: Japanese
Cosy atmosphere, courtyard, shochu & karaoke rooms!

Perottas: Italian & Contemporary
Cairns Art Gallery Café and serves breakfast, lunch and dinner as well as great coffee.

Fetta's Greek Taverna is around the corner on Grafton St: Greek
Authentic Greek meal in taverna with traditional dancing and plate smashing. The food is excellent here. It is ideal for a fun event!