CAIRNS & THE SURROUNDING REGION

Cairns is a large town in the tropics of Far North Queensland. The streets are lined with palm trees, the township is surrounded by rainforest clad mountains, the Great Barrier Reef is an hours boat ride away and the tropical climate promotes a laid back lifestyle. Where would you find this in any other city?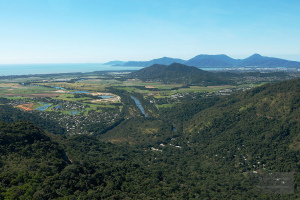 In the last decade Cairns has undergone an exciting and major facelift, with the completion of the new Esplanade development, a Reef Fleet Terminal and marina upgrade. These extensive projects have really brought the city together, as a destination for both locals and tourists alike.

The Esplanade is the main focal point of the city and a popular recreational area. The panoramic views of the Coral Sea, rainforest mountains, mangroves, and marina provide the perfect backdrop for any outing. Take a walk out to the White Boats that are always parked on the main Marina near the Salthouse restaurant at the Northern end. White Boats that have parked here in the past are owned by some of the wealthiest people in the world and are a great treat to see.



The recently completed boardwalk along the Esplanade is beautiful, and the Cairns Swimming Lagoon Pool is very popular with tourists and locals. There are BBQ's and excellent facilities. This man-made waterhole certainly makes up for the fact that there is no beach in Cairns itself. Yes, no beach in Cairns! The tidal mudflats are instead an interesting and unusual asset to the city, and vital for the migratory bird life. Bird watching is a very popular activity for thousands of locals and tourists.
For the kids Muddys Playground on the Esplanade is paradise! This modern fun playground features water fountains, climbing frames, brightly coloured sculptures and interactive fun for kids of all ages.

There is plenty going on in the main city area too, with a large number of restaurants, bars, shops, theatres, cinemas and cafes to choose from. The Reef Casino provides nightly entertainment, and the Rainforest Dome is a handy stop for those who want to experience the rainforest in short time. The recently revamped Pier Marketplace features a number of exclusive alfresco dining options overlooking the marina, and come September the Festival Cairns programme provides weeks of cultural performances, including live music and special events. Many of these events are free while some have entry fees.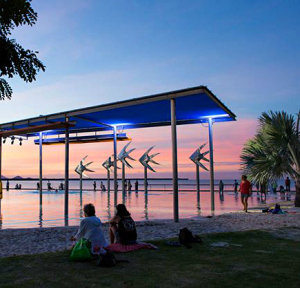 Also, dont forget the nearby natural water attractions nearby such as Crystal Cascades, Ross & Lock, Lake Placid, and Copperlode Dam. These destinations are all a short drive from Cairns.

If you prefer a beach holiday then the Cairns region has plenty of beaches to choose from. Trinity Beach and Palm Cove are the most popular Northern Beaches, located just a 15 to 20 minute drive from the city. Cairns is a unique location. You will have easy access to the citys attractions, while Port Douglas is only a 1 hour drive to the north.

All in all, Cairns has over 600 tours departing daily, giving you the biggest and most accessible range of day and overnight trips available. Visiting the
T:\travstar admin\reports\reports form\region guide content.rpt
ATHERTON TABLELANDS
Atherton Tablelands is a scenic one hour drive west from Cairns. Choose between driving via Kuranda on the Kuranda Range which is the less winding range or, up the Gillies Highway.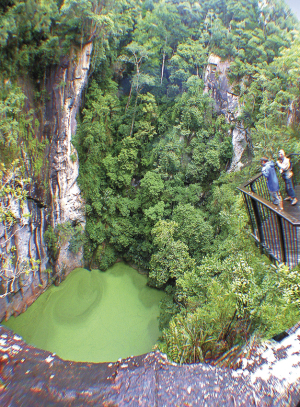 Situated between the Bellenden Ker Range and the Great Dividing Range, the Atherton Tablelands is regarded as the 'food bowl of the tropics'.
At an altitude of 400 – 1100 metres it is a very unique and special place with much of the landscape shaped by volcanic activities.
The rural landscape of the Atherton Tableland is green throughout most of the year. Among the rolling hills dairy cattle and deer graze on green pastures and farms grow tea, coffee, nuts, corn, vegetables and flowers for local and export markets. Everything thrives on this cool tropical plateau where temperatures and humidity are generally lower, providing an ideal break away from the heat of the coast.
For visitors, the Tablelands present opportunities for bush walking, mountain biking, bird watching, wildlife cruises, marsupial spotting, hot air ballooning and water sports as diverse as fishing to waterskiing.
Winding roads lead to spectacular lookouts and waterfalls, and highlights include Australia's widest waterfall - Millstream Falls - and many others flowing all year round, the deep blue waters of extinct volcano crater lakes - Lake Barrine and Lake Eacham, and the Hypipamee National Park and crater near Herberton.
Among the World Heritage listed rainforests, national parks, mountains, rivers, lakes and waterfalls are some of Australia's richest agricultural lands and charming small townships. Classic old hotels, motels, guest houses, backpackers, farm stays, and caravan and camping parks provide the ideal base for exploring. Fine dining restaurants are plentiful, and weekend country markets are a fascinating treat with locals sharing their arts, crafts, music and festivities.
Atherton Tablelands towns are among the tidiest in Australia, the gardens a brilliant mix of tropical and cool climate trees and flowers.
Each town has its own special attractions:
Mareeba:
Coffee Works
Skybury coffee
Golden Pride Winery
De Brueys Boutique Winery
Mareeba Wetlands
Annual rodeo
Mareeba Drive-in Theatre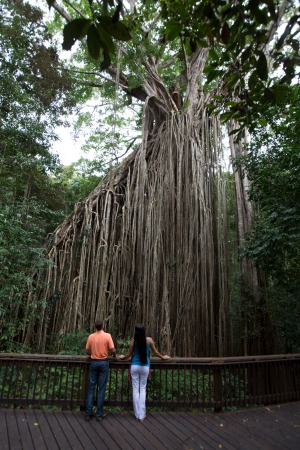 Tolga:
Tolga Woodworks/ Tolga Museum
Tinaroo Dam Spillway
Cathedral Fig Tree
Lake Euramoo
Mt Uncle Distillery
Atherton:
Crystal Caves
Chinese joss house & Museum
Steam train
Yungaburra:
Yungaburra Markets
Lake Eacham Hotel
Platypus Platform
Galleries and interesting stores
The Curtain Fig Tree
Heritage buildings
Millaa Millaa
Millaa Millaa Falls
Misty Mountain Trails
Mungalli Creek Dairy
The Waterfall Circuit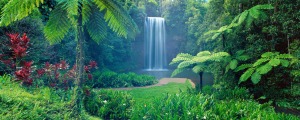 Malanda:
Malanda Falls
Nerada Tea Plantation
Malanda Dairy Centre
Majestic Theatre - Original old movie theatre
Herberton
Herberton Historic Village
Spy & Camera Museum
Mining Museum & Information Centre
Heritage & Walking Trails
Ravenshoe
Queensland's highest town
Windy hill wind farm
Historic steam train 'Capella' on Sunday
Innot Hot Springs
Hot Springs
Gem fossicking
Fishing
Bird Watching
Chillagoe
The Tablelands area has well marked self-drive tours and rainforest hikes. Scenic roads lead to the tablelands from the coast and tours leave from the coast daily.
BRAMSTON BEACH
Bramston Beach is a remote and peaceful beachside community 80 km south of Cairns. Located 17 km off the Bruce highway through fields of swaying sugarcane, banana plantations and rainforest Bramston Beach is easily accessed by road. This is the first accessible beach South of Cairns city.
Bramston provides the ideal location for family getaways, and is also popular with older travellers wanting to avoid the hustle and bustle of Cairns.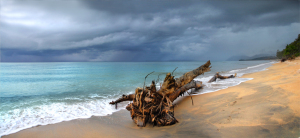 There is a picnic area and a caravan park and campground. There is an excellent cafe with great burgers and fresh fish and chips. There is no public transport service in the area.
The unspoilt beach is long and you can swim all year round because of the stinger net. There is also a lifeguard on duty during holiday periods.
The area around Bramston is a nature lovers paradise, the ideal haven for fishing, boating, swimming and relaxing. Local wildlife includes Cassowaries, wallabies and many tropical birds. Bramston Beach is the perfect seaside destination to base yourself for visiting Mount Bartle Frere, Queensland's highest mountain, the Babinda Boulders, Paronella Park, Josephine Falls and Eunbenangee Swamp National Park.
The nearest town is Mirriwinni on the Bruce Highway.
Surrounded by frangipani, tropical orchids and a wide variety of colourful plants.
For the experienced, fit, and well prepared bushwalker, Queensland's highest mountain, Mt Bartle Frere, is nearby and a climb to the summit is an adventure best tackled over two days. Be prepared for some very steep terrain and rock scrambling in places.
Alternatively it is possible to hike to 'Broken Nose' in one day for the energetic and fit. This is not as challenging as hiking to the summit. This track begins on the same track as the hike to the summit of Mt Bartle Frere.
For those who seek a more soft adventure, plunge into the icy waters of Josephine Falls. This is a magical looking three tiered waterfall with a large wide rock face that visitors slide down when the conditions are right. The walk in is paved and is a gentle walk through very pretty rainforest. There are stairs down to the waterfall and the facilities are well maintained.
Babinda Boulders is also a very pretty swimming hole. Here you can dangle your feet in the cascades around smoothed Boulders. Sit on a warm rock in the middle of clear rainforest water in pristine surroundings.
Eubenangee Swamp National Park is also nearby. If you enjoy birdwatching this is a fabulous place to spot Jabiru, Spoonbills, Egrets, flocks of Finches and many rainforest birds, flitting in amongst the melaleucas.
THE CASSOWARY COAST
The Cassowary Coast is an amazingly green Australian region, situated south of Cairns, extending to Cardwell. This stretch of the north Queensland coastline is an environmental showcase featuring lush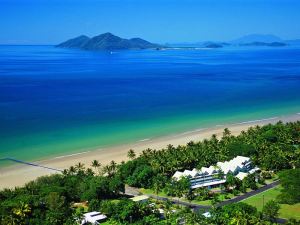 rainforests, thunderous rivers and spectacular beaches.
The Cassowary Coast is surrounded by state forest that is one of the last habitats of the Cassowary, a large, colourful, flightless bird that is the icon of this region. The cassowary is an essential aspect in spreading the seeds of certain rainforest trees, via their fruit, thus ensuring the tropics stay the same way they have for millions of years.
The Cassowary Coast is a must-see for nature lovers, with rivers and streams providing fantastic fishing, amazing birdlife for birdwatchers and pristine wilderness for bushwalkers.
One of the most prominent natural wonders, visible from most places in the area, are Queensland's highest mountains. The peak of Mount Bartle Frere extends to 1622m. Mt Bellenden Ker is the second highest mountain in Queensland, reaching 1592m and between the two mountains rests a valley full of amazing walks. It's here that you'll encounter many of the region's impressive flora and fauna.
Other attractions of the Cassowary Coast include the amazing beaches. Dotted along the Cassowary Coast are your traditional palm-tree lined areas, to beaches that offer rainforest canopy just beyond the sandline.
The 'Jewel' of the Cassowary Coast is Mission Beach, a little hideaway off the main road and enveloped in tropical rainforest. Offshore is the amazing group of islands incorporating the very popular "Dunk Island".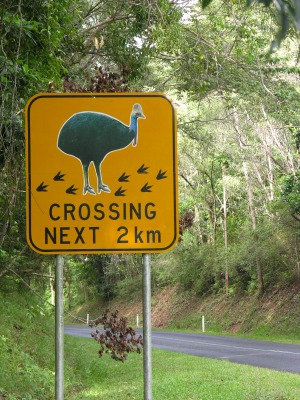 The Cassowary Coast stretches from Cairns to Cardwell, taking in some amazing scenery along the coast including beaches, rainforests, wet tropics, national parks, waterfalls and islands.
This area alone has over 25 tropical islands off its coast, over 12 mainland National Parks, and it is the closest mainland access in Queensland to the Outer Barrier Reef. It encompasses the four shires of Cairns City, Johnstone, Cardwell & Hinchinbrook.
On the Cassowary Coast you will pass through many small townships surrounded by banana and sugarcane farms. Nestled in away from the main highway are golden stretches of beach and quaint holiday villages. Inland from the coast are rainforests, mountains and fresh water swimming holes that are very popular swimming areas and picnic stops.
The natural attractions are easily accessible, just off the highway are places such as the Mulgrave Valley, the Boulders, Josephine Falls, Mt. Bartle Frere, the Palmerston National Park, Mission Beach, the Tully River and Cardwell's Forest Drive.
Etty Bay is home to some Cassowary's. It is a pristine perfect tropical beach. Make sure you pop in and have a look at this tropical paradise. Be very wary when driving around here as Cassowary's are endangered and naturally have no road sense.
CLIFTON BEACH
Clifton Beach is only 20 minutes drive (22kms) from Cairns city and 15 minutes drive from Cairns Domestic & International Airports. Located on a long stretch of beach which also takes in Palm Cove and with views out onto Double & Haycock Islands it assures picturesque scenery all day long.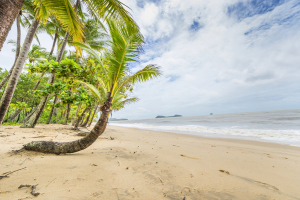 There are accommodation options ranging from one and two bedroom self contained apartments to three and four bedroom villas located along the beachfront.
The Esplanade nature strip is ideal for morning walks or evening strolls and has a beautiful BBQ picnic area complete with children's playground and Surf life guard and protected swimming enclosure for the months when marine jelly fish inhabit our tropical waters.
What attracts visitors is the same thing that the residents love - a peaceful beach, delightful restaurants nearby, and a modern shopping complex about 3 minutes by car consisting of a Coles supermarket, cafes, bakery, liquor store, Post Office, newsagency, hairdresser, chemist, doctors and dental surgery, homewares, restaurants and much more. This is primarily a residential suburb in Cairns and most tour operators do not pick-up from here.
ELLIS BEACH
There is a delightful cafe & bar situated close to the beach The Ellis Beach Bar & Grill that has Live Music.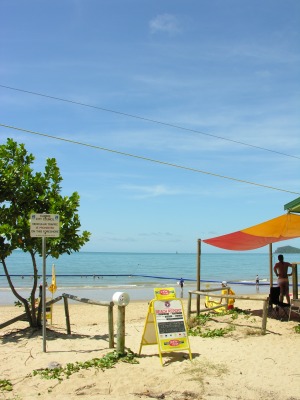 Located 30 minutes drive North of Cairns is Ellis Beach with a backdrop of extremely high rainforest covered mountains and an outlook to Double Island it is a very pretty beach. Ellis is a popular destination for locals and visitors.
Heading further North you will see the ocean as you drive along the highway, it is a lovely drive all the way to Port Douglas.
There is a Surf Club that has regular Sunday meetings, A Caravan Park with beach side bungalows and absolute beachfront accommodation with many shady palm trees. As with most beaches in North Queensland Free beachfront BBQ's are provided for picnics.
You will need to drive to this beach, as it is not part of a bus service.
A stinger resistant swimming enclosure is located at Ellis Beach during the summer months (usually November through to April).
FITZROY ISLAND
Only 45 minutes from Cairns, Fitzroy Island is one of the most unspoilt islands on the Great Barrier Reef.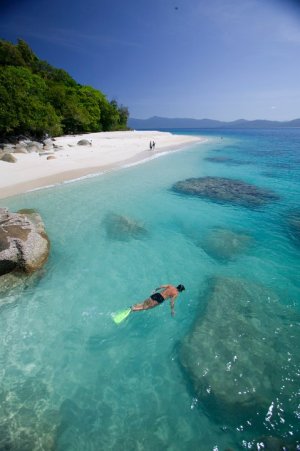 Fitzroy Island is actually a mainland island, originally part of the coastal mountain range of Malbon Thompson Mountain Range located behind Cairns (including Bellenden Ker, Mount Bartle Frere and Walshes Pyramid).
Fitzroy Island was connected to the mainland approximately 10,000 years ago, when the Ice Age ended (approx. 8,000 years ago) the ice caps melted and the ocean rose an estimated 100m, and the valley between Fitzroy and the other mountain peaks flooded. This left it an isolated island.
Fitzroy Island is actually the top of a submerged mountain. Most of the island's water comes from a natural freshwater spring originating in the Tablelands near Mareeba, and surfacing in the National Park bush behind the main complex.
Being a continental island, Fitzroy is covered with lush, pristine rainforest. Getting wet and exploring the coral reef surrounding the island, where tropical fish present a rainbow of colour, is as easy as stepping off the beach. Bird Life, Sea eagles and a variety of other species can be seen in the national park.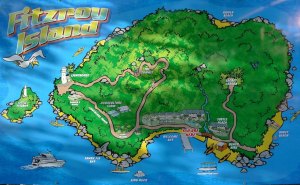 There are also many National Park rainforest walking trails around the island. The walks offer spectacular views across the island and surrounding reefs.
Other popular activities to choose from include sea kayaking, snorkelling, glass bottom boat tours and the ocean trampoline.
Fitzroy is easily accessible with daily departure from Cairns at 8am, 8:30am, 11am and 1.30pm and departing the island at 9.30am, 12.15pm, 4.30pm and 5pm. There are 4 different ferry operators who run transfers to Fitzroy Island. They all have different departure and return times. There are two operators who do offer local rates and if you are a local with local ID you need to contact these companies directly for special rates. These operators do not always offer local specials.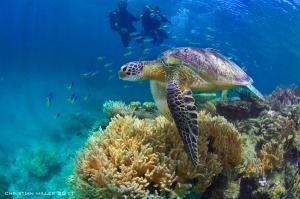 It depends on the time of year and school holidays. It is not possible to just arrive and jump on the boat. If you do want to confirm a daytrip to Fitzroy Island it is defintely advisable to pre-book.
There is one resort on the island. There is also a bar and restaurant.
Our company has an excellent range of packages as well as accommodation rates for the island. Ferry transfers and Outer Barrier Reef trips are also included in some packages and offer substantial savings.
The beach on Fitzroy Island is made up of hard corals and is a little tough on soft feet. We suggest wearing rubber shoes that can get wet for the day.
GREEN ISLAND
Green Island is a 6000 year old coral cay located right on Australia's beautiful Great Barrier Reef, conveniently situated just 27 Kilometres east of Cairns. Green Island is home to over 120 species of native plants, colourful bird and marine life and beautiful coral gardens to explore.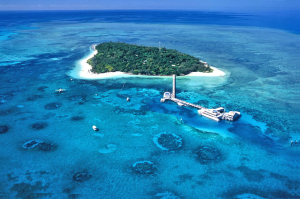 As a coral cay is naturally formed very slowly of a build-up of sand on a reef the water is quite shallow and has a gentle and slow drop-off into deeper water. This makes Green Island the perfect island for toddlers to paddle and for beginner snorkellers to practice.
Green Island is widely regarded as one of the world's most eco-sensitive tourism developments. Structurally, all resort buildings and infrastructure (e.g. boardwalks) were built with minimal vegetation clearing, in many cases the structures were built around the trees.
No building extrudes above the tree canopy, therefore preserving the natural appearance of the island from the water, shoreline and air.
The majority of the Resort's structures have no gutters ensuring that the rainfall is allowed to fall and replenish the moisture levels required to support vegetation from the island aquifer. The Resort also has a desalination plant.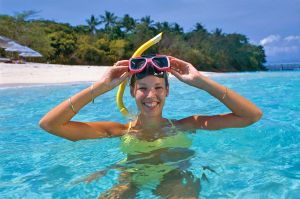 There are a variety of full and half day packages to the island. The full day package offers passengers the chance to view the coral reef & abundant fish life on the Glass Bottom Boat or snorkelling tour. Passengers can relax on the sheltered beach with plenty of shady retreats or snorkel & swim in the cool island waters before enjoying a delicious buffet lunch.
Day Visitors:
There are 2 large day trip operators who visit Green Island daily with regular ferry times and also a sailing day cruise called Ocean Free that combines a sailing daytrip to the reef off Green Island with tender trips over the island for a look around.
Big Cat Green Island Cruises offers 9am, 11am and 1pm departures with a range of return times so that you can spend as little as 2 hours or as much as 5 hours on the island. The Big Cat catamaran is a 1 hour journey from Cairns Reef Fleet Terminal to Green Island.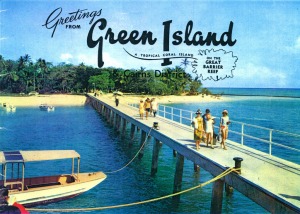 The Reef Rocket is a 45 minute journey. Guests are required to check-in at least 45 minutes prior to departure.
The Reef Fleet Terminal is at the marina in the city of Cairns and if you are staying in a city hotel it is not usually necessary to book a hotel transfer.
These tours can be combined with options such as snorkelling, a glass bottom boat tour, a semi-submarine tour or a buffet lunch. The lunch is served on-board the Big Cat vessel. The various combinations can also include hotel transfers if these are required.
Great Adventures also offers Green Island daytrips with 3 departure times: 8:30am, 10:30am and 1:00pm from Cairns.
Return ferries depart the island at 12:00pm, 2:30pm and 4:30pm for day visitors.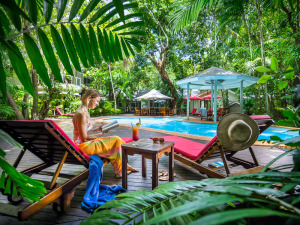 With these flexible ferry times guests can spend from over 2 hours up to 6.5 hours on the island.
The ferry is a comfortable large catamaran and travel time is 50 minutes. Check-in time at the Reef Fleet Terminal is required 45 minutes prior to departure. Great Adventures own Green Island Resort and guests who book with Great Adventures enjoy free exclusive access to the island swimming pool.
There is a Great Adventures counter on the island where staff can assist Great Adventures day visitors. Great Adventures guests also receive a self-guided island walk map.
Great Adventures also offer combinations where you can visit Green Island for 2 hours followed by a trip to the Outer Barrier Reef all in one day. This is a very popular daytrip idea.
There are a number of dining options and food outlets on the island for day visitors.
Emeralds Restaurant is an elegant air-conditioned restaurant with an outdoor terrace option.
The Canopy Grill is open during the day only and serves burgers and fish & chips under the rainforest canopy.
Lite Bites Ice Cream Parlour during the day only and serves ice-cream, cakes, sandwiches, milk shakes and other snacks.
Reflections Pool Bar serves cocktails and rinks. or lunch from It is also possible to bring your own picnic lunch.
For those who would like to indulge in the complete reef experience Green Island Resort is the perfect relaxing getaway.
There is a seperate resort pool and the resort is tucked away in a private section of the island and does not feel busy.
There are 3 departures from Cairns Marina daily making matching flights and ferries relatively easy. You can be sipping a cocktail on a tropical island in no time.
Laze in lounge chairs around the pools or along the beach, with shade from your own personal parasol. For the naturalists, guided rainforest walks, evening nature walks and stargazing are all offered. Fish feeding, windsurfers, surf skis, canoes, snorkelling equipment, glass bottom boat tour are just a few of the free activities available to House Guests.
For those with romance in mind Green Island Resort offers a truly unique romantic experience with private dining for two under the stars. The resort also is happy to prepare gourmet picnic hampers.
Scuba diving, including Introductory or Certified, Outer Reef Tours to the Great Barrier Reef, parasailing, helicopter and seaplane scenic flights are some of the optional tours also available.
Green Island Resort:
On the Great Barrier Reef is one of the most unique and memorable destinations in Tropical North Queensland. The very private 46 room resort offers 2 room types all with lovely balconies with rainforest outlooks. All rooms are set in clusters under the rainforest canopy and adjoining central facilities via raised covered walkways.
TheReef Suite is perfect for Honeymooners and is a split-level luxury suite of 66 square metres, large king size bed, spacious lounge area, separate bath and shower, and private balcony.
The Island Suite are spacious guest rooms with 56 square metres. They can be either double or twin rooms, some inter-connecting or adjoining. All rooms have a separate shower and bath, and balcony. These rooms are set in clusters of 4 with 2 rooms upstairs and 2 rooms on the ground level.
Dining:
Emeralds Restaurant is Green Island's signature restaurant and is open for breakfast, lunch and dinner. The Canopy Grill serves your favourite burger or the freshest seafood. A barbeque buffet lunch is available from 11am until 2.30pm with casual outdoor dining. Lite Bites serves ice cream, coffee, snacks, milkshakes and sandwiches. Reflections Pool Bar tempts you with specialty cocktails, beer or just a soft drink. Sit back at the bar or lay back on the pool deck. A true Island Resort atmosphere.
Accommodation Transfers:
Great Adventures departs from Trinity Wharf however a coach pick up service is available from all accommodation in Cairns, the Northern Beaches & Port Douglas. These hotel transfers are an additional cost.
Diving & Snorkelling:
reat Diving Adventures offers scuba diving for both introductory and certified divers at Green Island. No experience is necessary to take a fully supervised introductory dive. Certified divers can enjoy spectacular dives at the specially selected sites. A new dive school, recently introduced on Green Island, conducts PADI qualified courses over a three or four day duration.
Guided snorkel tours are also conducted and are highly recommended. They are a great way to maximise your experience on the Great Barrier Reef.
Resort Guests:
Green Island Resort consistently receives excellent feedback on Travstar.com. We have fabulous 2 and 3 night package rates that represent excellent value year round.
When comparing Green Island Resort with other Island Resorts please consider all of the inclusions in the package that you will need to add on to the cost of another Island stay.
Guests on the Island are treated like VIP's.
Guests check-in at the Reef Fleet Terminal and their luggage is then delivered to their room on the Island.
Guests are greeted by a concierge on arrival at the Island and walked along the jetty to the Reception.
Included in your stay:
Return ferry transfers from Cairns
Fresh beach towels
Sun lounges with umbrellas on the beach
Snorkelling gear for the duration of your stay
Kayaks
Non-motorised water sport equipment such as kite surfers
A private resort pool for Island guests only
A private guest lounge for Island guests only
A high calibre of restaurants including 5 star breakfast with all the trimmings.
A high calibre of service
Hospitality trained staff
Surf life saver on the beach
5 star luxury room with all amenities
Free Wi-Fi around the pool
HOLLOWAYS BEACH
This cosmopolitan village by the sea and it's numerous attractions are just 10 minutes North of Cairns.

Relax in a tropical atmosphere amid overhanging coconut palms, the ozone of the beachfront and the calm temperate waters of the Coral Sea at hand.
Holloways Beach offers budget holiday apartments, B&B's, as well as an absolute beachfront cafe and restaurant.
Visitors from interstate and overseas to gather explore and loosen up at one of Cairns several beautiful northern beaches.
The cafe is just metre's away from the waters edge and is a great outdoor wine and dine spot to unwind for breakfast - early brunch or a late lunch.
Unsurpassed tropical atmosphere, a unique garden setting overlooking the Coral Sea out to the Great Barrier Reef.
It's worth checking out this delightful seaside location, one of Cairns best kept secrets.
KEWARRA BEACH
Home to the superb Kewarra Beach Resort, Kewarra Beach also shares the same stretch of sand as Clifton & Palm Cove.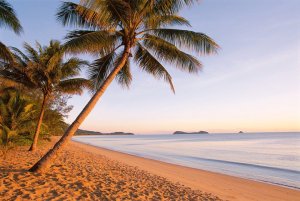 Kewarra Beach Resort is located at the northern end of Kewarra Beach and shares this beach with a small number of Cairns most exclusive residences.
The free standing bungalows at the Kewarra Beach Resort are set within a natural Aussie bush setting with a Billabong. The resort is right on the beach and offers beach dining under the stars in the evening.
This resort has a restaurant, bar and very established tropical gardens.
You really do feel away from it all however all tour companies do pick up here.
KURANDA VILLAGE
Kuranda also known as "The Village in the Rainforest", is located 300m above sea level and enjoys a climate cooler and less humid than Cairns. The journey to Kuranda is an easy half hour drive from the centre of Cairns. A popular option to get to Kuranda is to take a tour that includes the famous Kuranda Scenic Railway and Skyrail Cableway.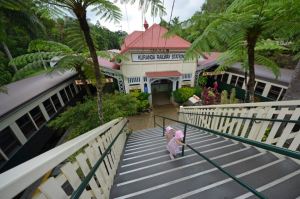 The Kuranda Scenic Railway winds its way from Cairns to Kuranda. Constructed between 1882 and 1891, it is considered an engineering feat of tremendous magnitude. This amazing train journey will take you past the Baron Gorge Observation Deck, to the giant bridge over Stoney Creek and through 15 hand-made tunnels and 37 bridges that were hand carved from the cliffs.
Enjoy spectacular views from the open-air railway train windows as it comes to a halt at Stoney Creek falls for some amazing scenic photo opportunities.
The award winning Skyrail Rainforest Cableway will take you on a 7.5km journey over the rainforest canopy and deep into the forest, with two rainforest mid-stations providing the opportunity to explore this unique environment from the forest floor. Gliding just meters above the rainforest canopy in a 6-person gondola cabin the Skyrail journey will give you an intimate rainforest experience.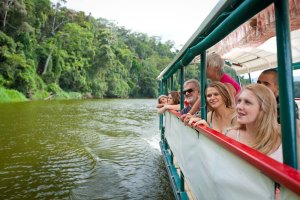 At Kuranda, you'll discover a variety of unique attractions, including the bustling village markets, the internationally renowned Rainforestation, Bird World, and the colourful Australian Butterfly Sanctuary.
It is an exciting and vibrant community offering a unique blend of indigenous culture, pioneering heritage, alternative lifestyles and the many artistic talents of its inhabitants. Many popular Aboriginal artists live locally and sell their art in the village craft shops and galleries.
Kuranda's famous Original Markets operate 7 days a week from 9:30 am through until 3.00 pm. The Heritage Markets also operate daily.
Rainforest and Riverside walks are easily accessible from the Village centre and the Barron falls which are an awesome sight to see (especially during the wet season) are just a short drive from the village.
Kuranda Koala Gardens
Koala Gardens is wildlife attraction located at the heritage markets. Koala Gardens gives you the opportunity to see some of Australia's most unique wildlife up close.
Birdworld:
A must see in Kuranda Birdworld has the largest collection of free-flying birds in Australia. See the spectacular birds at home in their huge flight aviary, landscaped with lakes, ponds and waterfalls. There are more than 75 species of native birds including Regent Bowerbirds, parrots and the endangered Cassowary. Hand feeding opportunities are available and remember to bring your camera!
Butterfly Sanctuary:
At the Australian Butterfly Sanctuary more than 1500 colourful tropical butterflies - all residents of the local area - flutter around their enclosure in complete safety.
This is Australias's largest live butterfly display. In a lushly landscaped enclosure with running stream and native tropical plants, literally hundreds of brilliantly coloured butterflies will surround you, including the flashing, dancing electric-blue Ulysses, regarded by many as the unofficial emblem of Tropical North Queensland. Wear something bright (either red or white) and entice the butterflies to land on you!
MACHANS BEACH
When traveling north from Cairns the first beach that you will encounter is Machans Beach. WIth a population of just under 900 Machans, as the locals call it, is a quaint little residential community which has managed to avoid the progress of commerce and development.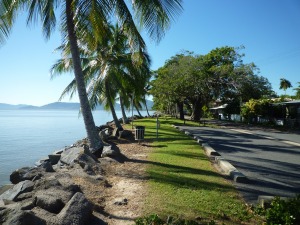 Unobtrusively nestled amongst the houses you will find a post office, a fish and chip shop, Sports Club and tennis courts, service station and Boat Ramp on the Barron River. Machans also has one restaurant that sits on O'Shea Esplanade so that you can look over the water while you dine.
The sun and moon rise over the sea at Machans Beach and is at times quite spectacular many of the local residents often picnic on the beach and watch the sun and moon rise.
Although it is called a beach the sand spends most of it's time under water so it not ideal for swimming but at the northern end of O'Shea Esplanade there is a large beach area ideal for sun bathing and swimming. There are also wind surfers who frequent the beach. A few hundred metres along the northern end of the beach is Holloways beach which has a stinger net.
Fishing is a popular past time for the locals as this is where the Barron River flows into the sea. Dolphins pass by during the months of July and August and can be seen just a few metres off the beach front.
Machans Beach is the first beach north of the City. It is located on the mouth of the Barron River & is adjacent to the airport. Machans is a quaint residential area.
MISSION BEACH
Mission Beach is a scenic 2 hour drive South of Cairns.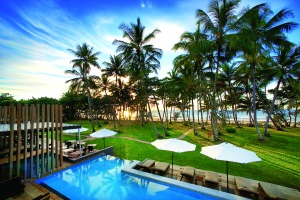 Mission Beach is one of those lazy, idyllic little locales you always knew existed along the north Queensland coast, you just didn't know exactly where... If you need respite from crowds, stress, and having to get dressed for dinner, you'll find it here.
Hugging the coast for about 15km, Mission Beach is a beautiful wide stretch of sandy beach with clear waters. Absolutely perfect for beach combing. The beach stretches past a handful of villages from Garners Beach in the north to Kennedy Bay in the south. Along the stretch is sleepy Bingil Bay, Mission Beach proper, Wongaling Beach and South Mission Beach. You'll find a range of low key, low rise accommodation, shopping and restaurants, and access to rainforests, beautiful beaches, and the Family group of islands.
Be cautious when driving. Cassowaries crossing! The rainforests surrounding Mission are famous for being one of the few areas the large endangered native birds are still found. Prominent signs warn of the possibility of encountering them and be warned, they dash out of the greenery with little dalliance.
There is a coastal bush walk and a 10 minute amble from the Southern end of Mission Beach to Lover's Beach where you can fish or swim.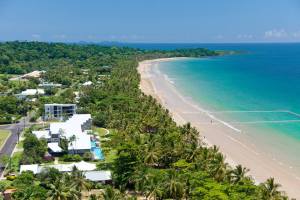 Accommodation
There is a wide range off accommodation from backpackers, holiday apartments and resorts to private beachfront villas. Accommodation options include motel-style beachfront resorts, self-contained units, rental beach houses and you can't go past the camp grounds and caravan and cabin parks that are cheap as chips and afford million dollar views.
Dining
Mission Beach Village has a selection of restaurants, cafes & boutiques.
Activities
For a small village Mission Beach has a lot of activities on offer right at it's door step.
There are two great barrier reef trips which depart daily as well as skydiving, white water rafting, Day Trips to the islands, Water Sports Hire, walking tracks river cruises.
Getting There
Self driving from Cairns is recommended.
PALM COVE BEACH
Palm Cove is a 25-minute drive north of Cairns and has developed into an exclusive resort and Spa destination with a range of Award Winning local Day Spas.
This beautiful destination has attracted passionate restauranters and Palm Cove restaurants have won Gourmet Traveller magazine awards and many of the restaurants face the beach. Absolutely perfect for diniing at any time. Fashion boutiques and galleries also run along the beachfront.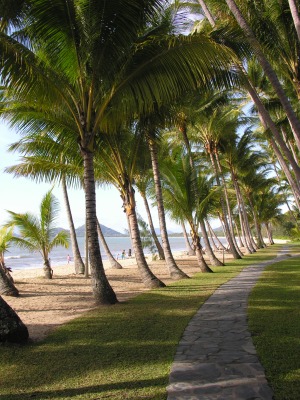 This tropical seaside village has an excellent new surf lifesaver club on the beach with a fabulous family friendly restaurant.
Palm Cove Beach is the North's most popular wedding beach with many weddings taking place every weekend. Angsana has a beachfront chapel at the Southern end of the beach. If you would like to arrange your wedding on this beach there are four zones that can be booked through the Cairns Regional Council for a very small fee.
There is a very popular jetty ideal for local fishermen who regularly catch mackerel, Giant Trevally or "G.Ts" and shark. Next door to the Palm Cove Watersports near the jetty is a Food Van. The chap here rents out fishing equipment if you feel like throwing in a line.
Palm Cove Watersports offers sunrise and morning kayaking tours. The morning tour is a longer tour and circumnavigates Double Island and Scouts Hat. Depending on conditions there is also sometimes an afternoon tour.
The beach is within a very long cove that stretches all the way to Kewarra Beach making it perfect for long walks.
Joggers, walkers and cyclists love the tropical lifestyle and beautiful scenery.
In 2014 the Iron Man Cairns started at Palm Cove Beach. This is a fabulous location for a large event with the beach providing a natural theatre to watch the action.
Shady palm trees line the beach and clusters of beautiful Melaleuca trees shelter the resorts. Beach shacks, restaurants and 5 star resorts line the beachfront. There is a wide range of accommodation available here.
PORT DOUGLAS
Port Douglas is a spectacular one hour drive north of Cairns along one of the most scenic coastal roads in Australia. Offering the distinctive laid back atmosphere of a beachside resort, Port Douglas has quickly transformed from a sleepy fishing village to Australia's premier holiday destination.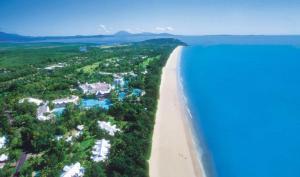 With glorious Four Mile Beach, the world class Marina Mirage, golf courses, fine dining restaurants, 5 star accommodation and the surrounding World Heritage Rainforest, Port Douglas has much to offer visitors to the Tropical North.
The village itself boasts award winning restaurants, sidewalk cafes, boutique shopping and galleries, all framed by tree lined streets and historic North Queesland architecture.
An extensive range of accommodation is available for all budgets from 3 Star to 5 star resorts, family holiday apartments and luxury beachside villas.
Port Douglas is regarded as the most popular base from which to explore the northern areas of the Great Barrier Reef and rainforests of Daintree and Cape Tribulation. There are over 100 tours departing the village daily catering to all ages and tastes and making the most of this unique location.
A tropical old world charm provides the appeal of Port Douglas as a holiday destination that exceeds all expectations. Port Douglas is a Tropical Paradise you may never want to leave.
TRINITY BEACH
Trinity Beach is a true favourite with locals and tourists alike. Only 15 minutes from the Cairns Airport, here you have a lovely private cove with a rocky walk and headland at the Southern end and over 1 km of beautiful palm fringed sandy beach with great facilities.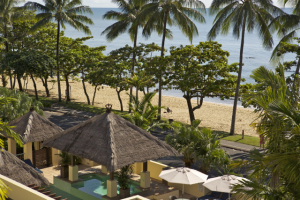 It is about a 20 minute walk from one end of the sandy cove to the other. At the Southern end there is a walking track with a stone seat perched high on a large rock formation. This is the perfect spot to watch sunrises, sunsets, dolphins and boats. There are rock pools with a variety of marine life, crabs and shells. Exploring beaches is fun for for all ages. Keep an eye open for turtles popping their heads up as there are a few locals.
Fishing off the rocks is also a fun activity.
This popular beach has water sports equipment for hire near Lunico in the main section of the Beach.
If you have never visited and are trying to ascertain if this is the place to lay your hat for a holiday we describe Trinity Beach as a quiet and relaxed beach that offers a wide range of value holiday accommodation from beachfront luxury houses and apartments. You will find the apartments here are the best value beachfront apartments in North Queensland. The entire range of budgets and needs are catered for at Trinity Beach from an indulgent honeymoon to an affordable family holiday.
At the Northern end of the beach there is a large modern tavern. There is also a council stair that leads up to a pretty little track with a lookout at the end. This is a great photo opportunity.
Right along the quiet beachfront there are up market houses and holiday accommodation and also some restaurants. Restaurants include Italian, Mediterranean, Seafood, Thai and Aussie BBQ.
Generally people who are staying at Trinity Beach hire a car so that they can self drive tour around beautiful Tropical North Queensland. However, if you are looking to escape, rest and soak up the sunshine it is possible to simply stay put at Trinity Beach without a car. The local supermarket will drive you and your shopping back to your accommodation.
Airport Shuttle Coaches service Trinity Beach and can be arranged. Bus transport runs at convenient and regular intervals, both day and night. All tours can pick up from here.
Trinity Beach has won numerous awards including North Queensland's Friendliest & Cleanest Beach 2004.
TRINITY INLET
Trinity Inlet is home to a rich and diverse array of wildlife including crocodiles, native birds and over 70 species of fish. Linking Cairns to the sea, this tropical tidal estuary services freight, leisure and fishing vessels.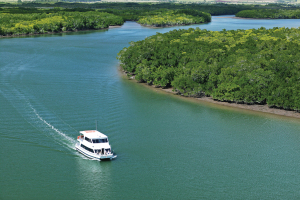 The Cairns Habitat tour combines a calm water cruise along the picturesque Trinity Inlet, with a visit to the Cairns Crocodile Farm.
M.V. Habitat Explorer is a modern, air-conditioned 14-metre catamaran providing the ultimate in cruising comfort. Departing twice daily from the Reef Fleet Terminal in Cairns, this tour gives visitors a chance to discover the secrets of this unique and special mangrove-lined waterway.
You can enjoy crocodile spotting in safety aboard the M.V. Habitat Explorer at Australia's largest commercial farm, whilst enjoying an informative commentary.
There is also a magic opportunity to view these fascinating reptiles up close during the Crocodile Farm Tour. This tour through the farm includes an informative commentary about crocodiles, and the fascinating industry.
Your coach journey to or from the crocodile farm travels through sugar cane fields just to the South of Cairns and heightens the overall Tropical North Queensland experience.
The half day cruise departs at 9.30am and 1.30pm. Morning/Afternoon tea is included
This Cruise is available as a full day trip including Green Island.
THE DAINTREE RAINFOREST
Rainforests don't get much more special than the Daintree, one of the most unique ecosystems in the world.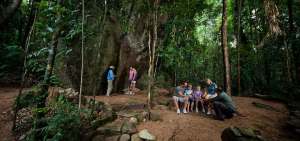 The Daintree Rainforest is over one hundred and thirty-five million years old. This is the only World Heritage listed area in the world where two ecosystems exist side by side - the magnificent underwater world of the Great Barrier Reef and the lush tropical rainforests of the Daintree.
The Daintree rainforest is situated an easy 2-hour drive north of Cairns along one of the most beautiful coastal roads in the world. The Cook Highway north of Port Douglas offers beautiful scenery ranging from secluded palm fringed tropical beaches, hidden coves and rugged headlands to the rich green of lush sugar-cane fields and rainforest covered mountains.
The Daintree region, encompassing the rainforest of Daintree National Park, extends over a large area. The northern section is often referred to as the "The Daintree" or the "Daintree Coast" and covers the coastal lowland area between the Daintree and Bloomfield Rivers and this is where "the rainforest meets the reef".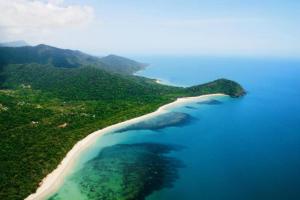 The southern Daintree region stretches from the rainforest walks of Mossman Gorge on the Mossman River northwards to the Daintree River and includes rainforested coastal ranges, pristine beaches, tropical farmlands, a wildlife sanctuary, horse-rides, tropical gardens and tiny, historic Daintree Village which is still home to descendants of some of the original pioneering families.
Connecting the southern and northern Daintree regions is one of Australia's last remaining car ferries, which operates across the Daintree River every day from dawn until late at night.
Daintree Village, which gave it's name to the region, is perched on a bend of the Daintree River, just further on from the turn off to the Daintree Ferry. This little township and its surrounding scenic valleys have a permanent population of about 100 people.
Visitors are very well catered for with plenty of accommodation options, and restaurants and cafes offering fresh local cuisine. Daintree is also well known for it's local arts and crafts. Visit the souvenir shops and also the timber gallery and pottery studio for many interesting and locally made gifts.
Wildlife of every kind flourishes on the Daintree River and its banks, it has become a bird watchers haven.
Riverboat tours are an excellent way to view the forest and its inhabitants. The area's most infamous inhabitant of all are the estuarine crocodiles. During the winter month's daily visitors arrive to see crocodiles sunning themselves on the riverbanks, and view the rich and varied plant life in the rainforest and mangrove forests.
There are many locally owned and operated tour companies offering excellent guided rainforest walks, river cruises and wildlife viewing around the area.
YORKEYS KNOB BEACH
Yorkeys Knob is a 10 minute drive north of Cairns City.
This lovely wide beach is extremely popular with Kite surfing enthusiasts, and is an interesting beach with a long walk to the inlet at the Southern end, looking across to Holloways Beach.
There is a café and News Agency at the Northern end of the beach.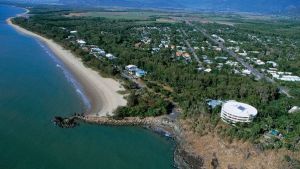 On the main street is a small shopping centre where you will find a Kite Surfing where you can organise lessons. Other shops include a Bakery, Coffee Shop, Fish and Chip shop, Video hire, Bottle shop, IGA, Hair dressers and Krocodilos Restaurant.
There is also an excellent marina with a Yacht Club & bistro that is popular with locals as well as a full golf course. Next to the Golf course is a Community park with Tennis court and a small hall for hire.
The beach was named after a colourful fellow who lived on the point in the 1900's.
Half Moon Bay Golf Club has a tight par 70 all-weather-course overlooking the Coral Sea. The fully licensed Club House features bar, meals from the Star Apple Restaurant, snacks, and showers. The well stocked Pro Shop is open daily for all your golf needs, and lessons with our PGA Golf Pro are available.
Half Moon Bay Golf Club is membership based with public access. Visitors are most welcome.
YUNGABURRA
The Heritage Village of Yungaburra is a small village close to many extinct volcanoes, crater lakes and waterfalls, just a 60 minute drive from the coastal city of Cairns.
The village has remained the same for almost 100 years, with 28 Heritage listed buildings, making it the largest National Trust village in Queensland. Many of the original buildings are still being used today, for example, the historic Lake Eacham Hotel and the Yungaburra Chapel.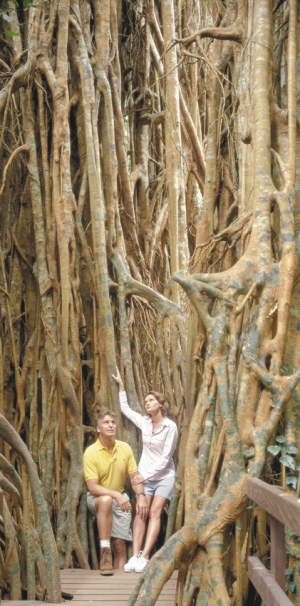 The Lake Eacham Hotel attracts visitors with its old world architecture and displays of historic photographs of the area's early saw milling days. The interior of the hotel still displays its original magnificence, a showpiece of Federation architecture, using locally felled and milled timbers like cedar and silky oak.
The Yungaburra Village Chapel is now the oldest building in the Yungaburra Village. Originally built in 1901 in Atherton as the Methodist Church, it served the community for 60 years. It has recently been restored to its former glory in a traditional Queenslander style, reflecting a simple yet elegant blend of old time charm and modern beauty. The Chapel now serves the community of Yungaburra as the ideal venue for wedding ceremonies, seminars, conferences, concerts and recitals.
Like many of the Tableland towns, Yungaburra has an undeniable country charm and has several art and craft galleries and displays, restaurants, and a wide variety of accommodation.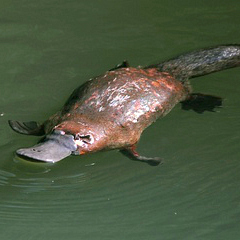 A popular icon of Yungaburra is the Yungaburra Markets, these take place on the fourth Saturday of each month. They are the most popular markets on the Atherton Tablelands, boasting over 320 regular stall holders. They showcase the regions produce, culture and crafts, selling everything you could imagine from jams to homemade outdoor furniture. The markets are held in the main park opposite the Lake Eacham Hotel, from 7:30am to 12:30pm.
Yungaburra's central location makes it the ideal focal point for any visitor interested in recreational activities including sailing, horse riding,boating, swimming, canoeing, bush-walking, water-skiing and sail boarding.