RED ARROW WALK
The Red Arrow Walk is a short loop walk that takes about 20 minutes for a person of average health. It is 1.3 km and is strenuous in parts. Some people say it takes 40 minutes but I think this would be a maximum time.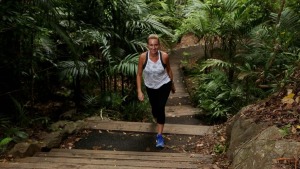 The Red Arrow Walk is extremely popular for local health enthusiasts very early in the morning and after 5pm every day.
Mt Whitfield Conservation Park is an island of rainforest only ten minutes from the Cairns central business district and surrounded by suburban homes. Although not part of the World Heritage Area, Mt Whitfield provides an easy introduction to the tropical rainforest environment and contains two walks. The shorter 1.5 kilometre Red Arrow track takes about 40 minutes and includes a series of steep steps which meander through the forest to the top of a rise with excellent views of the city, ocean and mangroves.
The path is well maintained and easily accessible. You will pass through a range of rainforest vegetation, introduced bamboo groves and a grassy open woodland at the top of the hill. Brush turkeys and other birds are easily heard and observed. Throughout the walk there are interpretive signs about the plants and animals. There are also numbered markers indicate places of cultural and historical significance which are described in a booklet identified. Bird and tree lists and Yirrganydji Cultural and Historical Trail booklets are available from the shop in the main gardens area.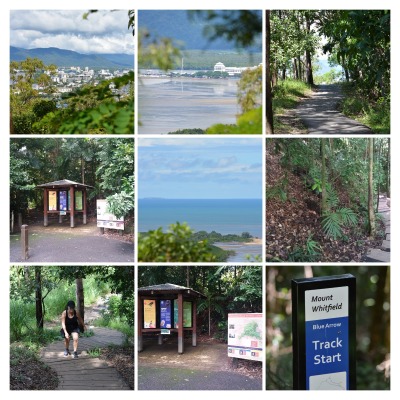 Cairns Botanical Gardens:
Originating as a recreational reserve in 1886, the Flecker Botanic Gardens were established in 1971. Today the gardens are managed by the Cairns City Council and encompass an area of 38 hectares which includes a wide variety of native and exotic flora. Attractions include an Aboriginal plant use garden, a rainforest boardwalk, the Gondwanan Heritage Trail, a fernery, an orchid house, fresh and saltwater lakes, and the Mt. Whitfield cultural and historical trail. The area is divided up into three sections - the main gardens on Collins Avenue, Mt. Whitfield Conservation Park, and Centenary Lakes.
The Botanic Gardens are approximately four kilometres north of Cairns City Centre. Take the Captain Cook Highway (Sheridan Street) north, make a left turn onto Collins Avenue.
The Red Arrow entrance is located just past the tanks, about a kilometre along. Public Transport is available on the Marlin Coast Sunbus. Route 18 departs from the Lake Street Transit Mall. The Flecker Botanic Gardens are now officially known as the Cairns Botanic Gardens. once you are on the track, so make sure someone knows where you are. Give yourself around 3 hours minimum for the return trip. And take plenty of water!
THE BLUE ARROW WALK
For the adventurous, the 5.4 kilometre Blue Arrow track loops through the Mt. Whitfield Conservation Park. This is a long walk with rough track. Plan to head off early as the heat in North Queensland is extreme especially in Summer, Nov-Feb.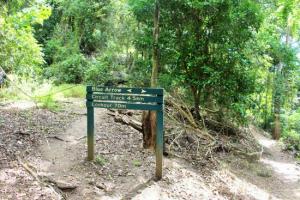 This walk is a continuation of the Red Arrow walk and branches off near the top of the hill. This 2-3 hour walk can be rough and steep in places and is recommended only for fit hikers. You should carry water and wear strong shoes. Mt Whitfield and Mt Lumley are over 300 metres above sea level and offer spectacular lookouts over Cairns and surrounding areas. You will traverse virgin rainforest, open woodlands and creek crossings and are likely to see agile wallabies and other wildlife.
Mt Whitfield Conservation Park is an island of rainforest only ten minutes from the Cairns central business district and surrounded by suburban homes. Although not part of the World Heritage Area, Mt Whitfield provides an easy introduction to the tropical rainforest environment and contains two walks.
How To Get There:
The Mt. Whitfield Blue Arrow Walk begins at the reserve's entrance on Collins Avenue, just past the tanks. There are regular bus services from the city centre, which is about 10 minutes away. While in the area, visit the rest of Flecker Botanic Gardens and take a stroll along the 500m boardwalk to Centenary Lakes, a favourite spot for bird watchers.
CRYSTAL CASCADES TO LAKE MORRIS
The track to Lake Morris is located on the path to Crystal Cascades. Mobile reception is poor once you are on the track, so make sure someone knows where you are. Give yourself around 3 hours minimum for the return trip. And take plenty of water!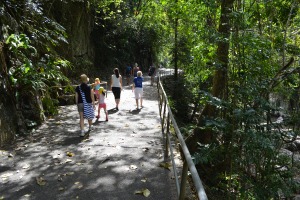 The walk to Lake Morris starts just next to the picnic area & toilet block at Crystal Cascades, about 150 metres along the path from the car park.
The scenic path to Crystal Cascades is easy going and has many small waterfalls and a wonderful rainforest environment.
I recommend jumping in for a swim after you tackle the Lake Morris trail. There are many spots to choose from along the path.
The Crystal Cascades waterfall is located at the end of the path. Beyond this point are the water intake pipes, so no swimming is allowed past here.
Some say 45 minutes to the top, but we beg to differ. This track is definitely not moderate. The first half hour is quite steep and then it tapers off. Make sure you have shoes with good grip.
Once you have reached the timber power-pole, there is a nice view over brinsmead valley and towards Yorkeys Knob. From here on the track widens (for vehicle access) and is less steep.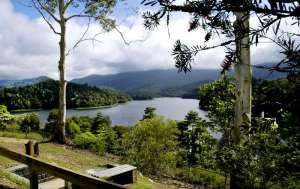 When you reach the yellow gate turn right and walk along Lake Morris Road towards the lake and lakeside Cafe.
Just before you reach Lake Morris there is a sign with a map of the area.
After the walk, I wanted to order everything on the menu. Coffee & Sandwiches were great!
Enjoy the serene views over Lake Morris before some well-earned lunch.
The less strenuous trek down the hill is a good chance to take in some of the surrounding rainforest environment. The track can be a little slippery so take your time & Enjoy!
DAINTREE RAINFOREST WALKS
There are a range of walks that you can take into the Daintree rainforest - beach walks, boardwalks, guided walks and longer treks with real jungle trails for those feeling fit!
The popular Mardja Botanical Walk is located 10 minutes drive to the south of Cape Tribulation. A boardwalk and concrete pathway leads you through high value rainforest with interpretive signs to Oliver Creek, where you can sit and watch out for crocodiles. The walk takes around 30 minutes, with the best times being early morning or late afternoon to avoid the tourist rush.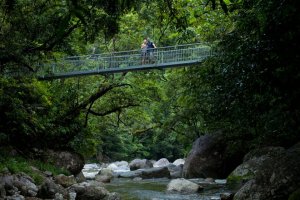 There are also numerous tour companies offering guided day walks and nocturnal walks. You can experience the thrill of searching for crocodiles at night on the night walks, or learn about the history of the ancient Daintree Rainforest, its conservation, ecology, bush food, traditional culture and its unique wildlife on the interpretive daytime walks.
Animal sightings on these walks include pythons, spiders and small native marsupials such as bandicoots and melomies.
Mason's Tours have guides who can take you to the best areas on real jungle trails. They do not use boardwalks or concrete paths, they are typical jungle trails perhaps resembling an Aboriginal Road that would have existed here before the arrival of Europeans.
The half day walk is located on Mason's own 170ha property bounded by the Wet Tropics World Heritage Area. This slow paced walk covers 3 – 5km, features a special guide, real jungle tracks and a refreshing swim in Myall Creek – is there a better way to be introduced to the Daintree rainforest at Cape Tribulation?
Coopers Creek Wilderness run guided walks daily. This section of the Daintree is considered to be the world's oldest rainforest - a living museum.
Visitors to Coopers Creek can be assured that their contribution payments will assist the land managers in maintaining the rainforests of Cooper Creek Wilderness. These tours have been designed to provide exclusive experiences away from mass tourism.
DOUGLAS TRACK TO RED BLUFF
Douglas Track is a long walk on rough track with moderate difficulty. It is 9 kilometres and we suggest you allow at least 4 hours to complete this walk.
Douglas Track is one of the various walks that make up a network of trails throughout Barron Gorge National Park. Cairns and Kuranda locals consider themselves highly fortunate to have such a beautiful, wild rainforest valley in their backyard. From the Rainforest Estate, the track follows an old sealed road up to a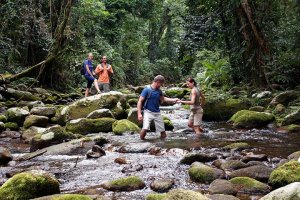 water tank and then winds through the scrub up to the Cairns-Kuranda railway line. From the nearby bridge you can continue climbing up to Red Bluff where McDonalds Track links in from Wrights Lookout. Red Bluff offers spectacular views down the valley, across Cairns suburbia and to the coast.
This area has some historical significance, containing old railway and mining camps. From Red Bluff you can continue to climb along the ridge to Glacier Rock. Here is a wonderful spot to rest and take in the glorious scenery of the gorge below and the coastal vista beyond. The walk from Glacier Rock to Speewah is through some well preserved upland rainforest with frequent ups and downs and small streams. Keep an eye out for cassowaries and other wildlife.
There are numerous links to other walks in this area, and it helps if you take a map. You can do the entire walk and arrange a pick up at the other end, or walk from either end to Glacier Rock (about half way) and back. Another option is to use Smiths track to return to your starting point. The Gandal Wandun Link Track (1.2 kilometres) can be used to walk from Douglas Track to Smiths Track closer to the Speewah end of the walks. McDonalds Track can be used to go from Red Bluff to Wrights Lookout near Barron Falls.

How To Get There:
From the Cairns end:
Drive to Kamerunga and turn to Stoney Creek and the Rainforest Estate. Follow the road up the valley and park at Stoney Creek carpark and walk across the creek towards the weir. There is a signposted turnoff on your right to the Douglas Track. Or turn right at Douglas Track Road roundabout. At the top of the hill you will see a turn around area and signs marking the beginning of the walk.

From the Speewah end:
Turn left off the Kennedy Highway at Douglas Track Road (to Speewah). Take the next right onto Speewah Road and drive to Stoney Creek Road. Follow Stoney Creek Road past Kelly Road and across a small bridge. The track soon after on the left leads to the QPWS carpark. The track entrance is to your right, close to Surprise Creek.
HINCHINBROOK ISLAND
2 hours drive South of Cairns is Australia's largest island National Park, Hinchinbrook Island. Hinchinbrok is separated from the mainland by the deep, narrow, mangrove-fringed Hinchinbrook Channel. The Island is approximately 37km. long and 10km. wide. Including the main beach at the resort there are 11 beautiful secluded sandy beaches.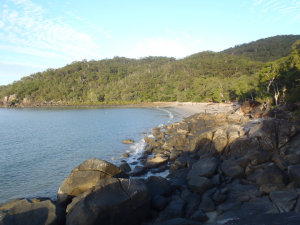 Thorsborne Trail Hinchinbrook Island
Thorsborne Trail or East Coast Trail - (3 - 7 day Trek)
The Thorsborne Trail (commonly known as the East Coast trail) is reputedly one of the world's best backpacking adventures. This 32km trail winds its way along the eastern edge of the magnificent island in the shadow of the rugged Mt. Bowen.
It snakes its way through a tropical wilderness, along spectacular ocean beaches and crosses numerous crystal clear mountain streams. Camp sites are on beautiful beaches, beside fresh water streams or near magnificent mountain stream waterfalls with great safe freshwater, swimming. From Ramsay Bay in the north to George Point on the southern extremity of the island, this walk is a must for those wanting to experience all of the magnificent splendour and isolation this unique island has to offer.
The trail is marked with triangular orange markers on trees at irregular intervals, especially on creek crossings and other places where the trail itself may be indistinct. Rock cairns are also used to help guide walkers along the trail. It is an ungraded trail and is rough with loose stones, slippery creek crossings and, in wet weather, slippery hillsides.
The trail can be walked from either direction with most walkers completing it in 3 nights (4 days) with the average duration between designated camping sites only 3 - 4 hours. Prevailing weather conditions can have an influence on walking times e.g. slippery surfaces due to rain; heat and humidity.
While the trail presents seasoned walkers with a challenge, inexperienced and the young at heart adventurers, with sufficient planning, will find the experience extremely rewarding.
Walkers must be totally self sufficient. Fuel stoves are required. Abundant fresh water is available at campsites, however, towards the end of the dry season, local knowledge on water availability is required. (DERM rangers or the ferry operator may be consulted).
Walkers are required to obtain a National Park permit to access this trail. Only 40 walkers are issued with a permit at any one time. Book well ahead, particularly for the Australian winter months or you may not be able to acquire a permit.
Permits & Notes For Trail Walkers
Call 131 304 or visit www.qld.gov.au/camping. Trail maps and notes can also be obtained from this website.
The Queensland Department of Environment and Resource Management have comprehensive trail note which are a must for intending walkers. The notes can be obtained from the Rainforest and Reef Centre Cardwell or from the ferry operator. To make a booking for a permit online go to the DERM website. A copy of the notes can be printed from here also. It is advisable to obtain a copy of the notes beforehand to assist in the planning process.
For information on permits and trail notes you can call into the Rainforest and Reef Centre CARDWELL Q 4849 AUSTRALIA.
Safety
Fresh drinking water is available in the clear mountain streams along the trail. Towards the end of the "dry season" it may be necessary to seek good water further upstream. The ferry operators will be able to give you current advice on water availability at the different campsites.
Fuel Stoves
Hinchinbrook Island is managed as a " fuel stove only " area to reduce the risk of wildfires and lessen degradation at campsites. Fires are not allowed.
Native Rats & Insects
Native fawn footed melomys and the giant white-tailed rat are present at most campsites. To avoid damage to packs, tents and food supplies it is necessary to remove all food from your pack at night and place in rat proof storage boxes.These are very pretty and friendly native animals and not an introduced rodent.
It is important to use insect repellent, usually only early in the morning and again late in the evening, to avoid bites from insects such as sand-flies, mosquitoes and marchflies.
Planning your trip
This is a wilderness area. You need to be self-reliant and self-sufficient. You will need to:
Plan food for at least three nights + allow 1-2 days extra food for safety.
Carry adequate water carrying utensils (usually a minimum of 2 litres per person)
Wear sturdy, reliable footwear.
Wear a hat and sunscreen.
Carry a basic first aid kit.
Carry tide tables.
Use a fuel stove for cooking and heating.
Use a lightweight waterproof tent that screens out insects.
Use insect repellent and clothing to avoid insect bites.
Have lightweight sleeping equipment.
Cold climate sleeping bags will be too hot.
Have a waterproof clothes bag.
Have strong rubbish bags for the removal of ALL rubbish.
Carry nourishing lightweight food, not canned or in jars.
The Mountains
Much of the mountain area is covered with fragile heath vegetation. To protect the unspoiled nature of the mountains and in the interests of safety, access to these areas is restricted. A special permit is required to access these mountains.
Mt. Bowen
This is the highest peak on the island (1121m) and the most popular with climbers. A very limited number of permits are issued to access this area. On average, first time climbers take 1.5 days to reach the summit. There is no trail up the mountain and climbers must rely on their own navigational skills. In summer it is a very hot climb and the summit is often in cloud. Winter days are much cooler and there is greater probability of the summit being cloud free.
Mt. Straloch
In December 1942, an American B24 Liberator bomber known as Texas Terror left Townsville for Cape York on the northern tip of Australia with a crew of five and seven passengers aboard. It ran into a severe electrical storm and crashed near the summit of Mt. Straloch. All aboard were killed. Due to the difficult terrain the remains of the wreck have had little disturbance since that fateful day. The climb to the wreck site and back can be achieved in a day in good conditions. Local knowledge is required for the climb. The local ferry operator can assist with this knowledge.